MAY 2016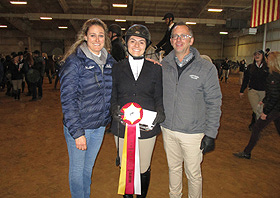 From left to right are Centenary College co-coach Heather Clark, Cheyenne Bianchi and co-coach Michael Dowling. A sophomore from Skaneateles, New York Bianchi was second in individual intermediate over fences at Zone 3 Zones in Logan Township, New Jersey on April 10th. Zone 3 held the final Zones show anywhere within the IHSA and once that show was over only the year-end IHSA National Horse Show remained on the official IHSA schedule.
IHSA Nationals will take place May 5th through 8th inside Alltech Arena at the Kentucky Horse Park in Lexington, Kentucky. For those who cannot be there in person, please visit the IHSA's official website, IHSAinc.com, then scroll over "Nationals" and choose the "Results" tab to see who is placing where as the show progresses. Campus Equestrian hopes to post photos from Nationals hopefully before the month of May is over.

---




Campus Equestrian's Facebook Updates let everyone know when specific areas of the site have been updated. Become a Facebook Fan of campusequestrian.com and you will be informed when we have posted new results, new stories or modified information of some kind.
ZONE 1 ZONES RESULTS
The Class-by-Class Results from IHSA Zone 1 Zones in South Hadley, Massachusetts on April 9, 2016...

Now Posted
ZONE 2 ZONES RESULTS
The Class-by-Class Results from IHSA Zone 2 Zones in Canton, New York on April 9, 2016...

Now Posted
ZONE 3 ZONES RESULTS
The Class-by-Class Results from IHSA Zone 3 Zones in Logan Township, New Jersey on April 10, 2016...

Now Posted
ZONE 4 ZONES RESULTS
The Class-by-Class Results from IHSA Zone 4 Zones in Fredericksburg, Virginia on April 9, 2016...

Now Posted
ZONE 5 ZONES RESULTS
The Class-by-Class Results from IHSA Zone 5 Zones in Hardeeville, South Carolina on April 2, 2016...

Now Posted
ZONE 6 ZONES RESULTS
The Class-by-Class Results from IHSA Zone 6 Zones in Plymouth, Michigan on April 2, 2016...

Now Posted
ZONE 7 ZONES RESULTS
The Class-by-Class Results from IHSA Zone 7 Zones in Canyon, Texas on April 9, 2016...

Now Posted
ZONE 8 ZONES RESULTS
The Class-by-Class Results from IHSA Zone 8 Zones in Stanford, California on April 2, 2016...

Now Posted
FINDLAY, OH SEMIFINAL RESULTS
The Class-by-Class Results from IHSA Semifinals in Findlay, Ohio on March 19th and 20th, 2016...

Now Posted
MURFREESBORO, TN SEMIFINAL RESULTS
The Class-by-Class Results from IHSA Semifinals in Murfreesboro, Tennessee on March 19th and 20th, 2016...

Now Posted
GALVA, IL SEMIFINAL RESULTS
The Class-by-Class Results from IHSA Semifinals in Galva, Illinois on March 19th and 20th, 2016. This is the first time an IHSA Semifinal event has taken place in Galva, at the facility associated with Black Hawk College...

Now Posted
2015 HOLIDAY TOURNAMENT OF CHAMPIONS
On December 5th Centenary College hosted the Holiday Tournament of Champions invitational for the seventh time. And the host school racked up a record number of points at a tournament event. They needed to, as another team was on their heels throughout...

Full Story