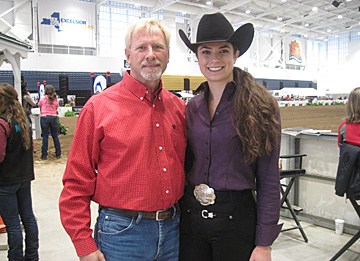 West Texas A and M senior Kendall Woellmer is seen here with her Father at 2019 IHSA Nationals. Woellmer competed in five different classes over the four-day weekend including the individual AQHA high point open rider division. Had 2020 IHSA Nationals taken place Woellmer would have represented Zone 7, Region 2 in the individual AQHA for a third consecutive season, trying to better her third place ribbon in 2018 and fourth place in 2019.
WHAT MIGHT HAVE BEEN: THE 2020 IHSA LEADERS (TEAMS AND OPEN RIDERS)
Had the coronavirus not swept across earth the 2019-20 IHSA season would not have truly ended until May 3rd, when the western team awards would have been given out in Syracuse, New York much like they were the previous May 5th. But in reality the season ended on March 8th, when the last class of the day was pinned in any number of places. It might have been at Stonegate Farm in Coolville, Ohio, where Zone 2, Region 5 was stageing what they thought was their next-to-last regular season hunter seat show. Or perhaps it was the Adelphi University show on Long Island. Zone 2, Region 4 shows are known to run late into the afternoon if the host school allows for a great number of rides.
It doesn't really matter where that show was. When it was over so was the 2019-20 IHSA season. It was inevitable that the IHSA would need to cancel all remaining shows at some point. Many schools, with and without an IHSA team, started sending students home and telling them to prepare for on-line classes to complete the semester. A few schools had even prevented their students from competing in an IHSA event (or other sporting events) the previous weekend due to known coronavirus cases within a certain radius of campus. Most winter college sports were reaching their playoff seasons and with each passing day for the calendar week ending March 14th many leagues started to cancel their post-season tournaments. The Big East Conference had perhaps the most memorable ending to their basketball season. With four tournament games scheduled at Madison Square Garden on Thursday, March 12th the second of the four games reached halftime. With the second half minutes away from starting the Big East fell in line with others, cancelling the rest of the game and all those yet to be played later in the day.
It was later that Thursday that the IHSA sent out a communication to their membership that the rest of the season had been cancelled. This was the correct decision and there was urgency to make certain no one came in contact with or unknowingly spread the virus at one of four shows scheduled nationwide on Friday the 13th (yes, a Friday).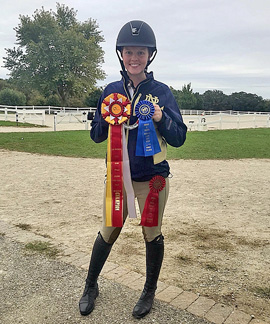 Emily Moll of the University of Notre Dame/St. Mary's College (IN) (pictured) won a close race to finish on top of the Zone 7, Region 4 hunter seat open rider standings. Only a junior, Moll will have another opportunity to work her way back in 2020-21 (photo by Elizabeth Keuler and courtesy Emily Moll).
Because of the timing most regions had completed their regular seasons, and all but one of the western regionals were also over and done with. The field of teams for the three Semifinal events was in fact set.
Perhaps more than half of the hunter seat Regional shows had not taken place, and a few regions lost regular season shows that might have happened as late as March 28th. There were a few close team races that were not truly settled by March 12th, and even one region where two riders were tied for high point open rider with one show remaining.
Therefore unlike previous IHSA seasons where the field is whittled down to those that show at IHSA Nationals, and from there the many team and individual National Champions are crowed, 2019-20 will be remembered like the 1994 Major League Baseball season. Those who remember that time will recall players went on strike on August 11th for a number of reasons. During the fall the owners decided to cancel the playoffs and World Series, making it the first time a successful major sports league cancelled their post-season. A global pandemic is obviously a far more important reason to cease play until a safer time prevails, but anything be it sports-related or not during this time will be remembered for what came to an abrupt halt. Therefore 2019-20 will be remembered by those riding within the IHSA as the season without a proper ending.
This writer always looks forward to the Semifinal events held in the month of March and the Zones events a week to two weeks later. Each features large team competitions which radically reduce the field of teams which qualify through to IHSA Nationals. They are truly the most exciting competitions to watch though for the competitors it probably carries with it the most pressure-filled moments of their riding lives. This writer also looks forward to posting the results, as a complete rundown of who placed where can be difficult to find through another source.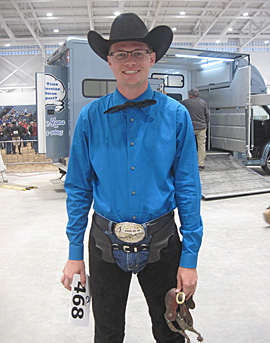 From Punta Gorda, Florida, Matthew Winter of the University of Florida (pictured) qualified to represent the combined Zone 5, Region 3/5 at Nationals in the individual AQHA high point for the third year in a row. Winter would have been one of five riders entered to have previously competed in the individual AQHA high point at an IHSA Nationals event (Woellmer, Gina Ulveie of St. Andrews, Travis Fortune of Murray State and Madison Long of North Dakota State are the others).
The best this writer can do in 2019-20 is to try and post the list of each IHSA team that captured their region title in 2019-20, be it hunter seat or western. Teams that were ahead prior to a cancelled regular-season show or shows will be denoted by a asterisk (*). Also a list of each region's top open riders is presented here. These are the riders who had the most combined open flat and open fences points if they rode hunter seat and the most combined open reining and open horsemanship or rail points if they rode western. Each of the hunter seat open riders would have automatically qualified to compete at one of the eight Zones shows in the Cacchione Cup classes. The top three riders in the Cacchione class at each Zones show would have advanced to IHSA Nationals to compete for the actual Cacchione Cup. Each of the western open riders would have automatically qualified to compete for the individual AQHA award, not at Semfinals but rather at IHSA Nationals. Because there are currently only 24 western regions all 24 year-end leaders go directly to Nationals to compete for the top individual award for any IHSA western rider. It is worth noting that these 24 western open riders are the only riders anywhere in the IHSA this season that truly had a spot at the National show which would have taken place again this year in Syracuse, New York April 30th through May 3rd. Though there are hundreds of riders nationwide who either showed in a 2020 Regionals competition or had qualified for one, only the leading western open riders had bypassed the elimination rounds for teams and individuals that Semifinals and Zones present.
When this story was originally posted there were a few "blanks" which needed to be filled in. Thankfully several IHSA coaches came through with the missing rider and team information which made our list complete.
We would like to thank Krista Steinmetz from the Purdue University coaching staff for letting us know that the Boilermakers were once again high point hunter seat team in Zone 7, Region 1. Also a thank you to Murray State University head coach Sue Robinson for filling in the blanks on three Zone 5, Region 1 riders and teams. Ditto thanks to St. Mary-of-the-Woods hunter seat coach Tabatha Taylor who confirmed the rest of Zone 7, Region 1. And thanks to Dawn Ross for several riders and teams in multiple Zone 8 Regions.
--Steve Maxwell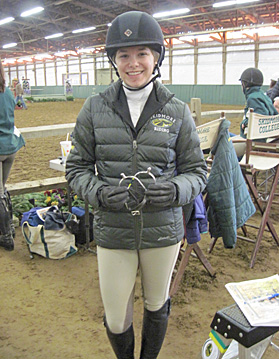 Though a broken collarbone kept her out of the final fall Zone 2, Region 3 hunter seat show, Mara Chemerinsky of Skidmore College (pictured) was ready to go at the next IHSA Show in February. Chemerinsky finished five points ahead of Morrisville State's Marcus Livermore to earn a place at Zone 2 Zones in the Cacchione Cup competition.
The 2020 IHSA HUNTER SEAT LEADING OPEN RIDERS or CACCHIONE QUALIFIERS, as of the final shows held anywhere on March 8, 2020. An Asterisk (*) denotes a rider in a region where at least one regular season show was scheduled March 13th or later. Riders would have competed in both a flat and fences phase at their respective Zones shows with the top three combined judges' scores sending those riders to IHSA Nationals to compete for the Cacchione Cup:
ZONE 1, REGION 1: Katelyn Billington, Rhode Island College*
ZONE 1, REGION 2: Claire Azar, Dartmouth College
ZONE 1, REGION 3: Sara Hearn, Mount Holyoke College
ZONE 1, REGION 4: Emma McConville, Stonehill College
ZONE 1, REGION 5: Clara Bechtold, University of Connecticut
ZONE 2, REGION 1: Claudia Freeman, Rochester Institute of Technology
ZONE 2, REGION 2: Devan Graham, Syracuse University
ZONE 2, REGION 3: Mara Chemerinsky, Skidmore College
ZONE 2, REGION 4: Tomiko McGovern, Long Island University
ZONE 2, REGION 5: TIE - Alexis Kupic, Seton Hill University and Logan Mayhew, Bethany College*
ZONE 3, REGION 1: Gabriella Fournier, Penn State University*
ZONE 3, REGION 2: Catherine Delany, West Chester University
ZONE 3, REGION 3: Madison Myro, Centenary University
ZONE 3, REGION 4: Emma Brown, Rutgers University*
ZONE 3, REGION 5: Kelly Bohnenberger, University of Delaware*
ZONE 4, REGION 1: Lily Conteh, Towson University*
ZONE 4, REGION 2: Madeline McManus, Virginia Tech
ZONE 4, REGION 3: Sydney Eller, St. Andrews University
ZONE 4, REGION 4: Eliza Vanderwoude, Randolph-Macon College
ZONE 4, REGION 5: Bobbie Adsit, Emory and Henry College
ZONE 5, REGION 1: Lucy Reich, Middle Tennessee State University
ZONE 5, REGION 2: Grace Saad, Georgia Tech
ZONE 5, REGION 3: Kayla Jacobs, Georgia Southern University
ZONE 5, REGION 4: Elizabeth Nick, Louisiana State University
ZONE 5, REGION 5: Adam Edgar, Savannah College of Art and Design*
ZONE 6, REGION 1: Nicole Lindquist, Lake Erie College
ZONE 6, REGION 2: Danielle Duryea, Otterbein University
ZONE 6, REGION 3: Shannon Allen, Miami University of Ohio
ZONE 6, REGION 4: Lauren Kinley, Michigan State University
ZONE 7, REGION 1: Drew Arnold, St. Mary-of-the-Woods College
ZONE 7, REGION 2: Caitlyn Russell, University of Oklahoma
ZONE 7, REGION 3: Kayley Melton, University of Minnesota at Crookston
ZONE 7, REGION 4: Emily Moll, University of Notre Dame/St. Mary's College (IN)
ZONE 7, REGION 5: Jamie Gerber, Illinois State University*
ZONE 8, REGION 1: Kelsi Okun, Stanford University
ZONE 8, REGION 2: Jackie Marks, University of Southern California
ZONE 8, REGION 4: Kylie Vroman, Central Washington University
ZONE 8, REGION 5: Allison Zimmerman, University of Denver*
The 2020 IHSA WESTERN LEADING OPEN RIDERS or Individual AQHA AWARD QUALIFIERS, as of the final shows held anywhere on March 8, 2020. All Western Regions had completed their regular seasons except Zone 8, Region 2. It appears Zone 8, Region 2 completed only four Western Shows which would mean the region would not have been legal for the season (minimum five shows needed to send riders and teams to the post-season). Zone 8, Region 2 would have held shows over the March 13-15 weekend. Chloe Alhaig of Arizona State was ahead and is listed with two Asterisks below (**) to indicate this unusual status. All riders would have competed at IHSA Nationals in both the reining and rail phases of the individual AQHA high point competition:
ZONE 1, REGION 3/5: Abby McGinn, University of Massachusetts at Amherst
ZONE 2, REGION 1: Emma VanDyne, Alfred University
ZONE 2, REGION 2: Erin Washburn, Oswego State University
ZONE 2, REGION 3: Angela Pratt, Morrisville State College
ZONE 2, REGION 5: Ashly McClintock, Slippery Rock University
ZONE 3, REGION 1/2/4/5: Kayla Kimble, Penn State University (State College)
ZONE 4, REGION 3/4/5: Gina Ulveie, St. Andrews University
ZONE 5, REGION 1: Travis Fortune, Murray State University
ZONE 5, REGION 2: Hart Daniels, Mississippi State University
ZONE 5, REGION 3/5: Matthew Winter, University of Florida
ZONE 6, REGION 1: Ashton Knerr, University of Findlay
ZONE 6, REGION 2: Nigel Lancaster, Ohio State University
ZONE 6, REGION 3: Nathan Sparren, Midway University
ZONE 6, REGION 4: Margaret Cash, Albion College
ZONE 7, REGION 1: Kendall Viel, Ball State University
ZONE 7, REGION 2: Kendall Woellmer, West Texas A and M University
ZONE 7, REGION 3: Madison Long, North Dakota State University
ZONE 7, REGION 4: Teah Taylor, Black Hawk College
ZONE 7, REGION 5: Anna Woolsey, Northeastern Oklahoma A and M College
ZONE 8, REGION 1: Christian Toy, Cal Poly - San Luis Obispo
ZONE 8, REGION 2: Chloe Alhaig, Arizona State University**
ZONE 8, REGION 3: Sarah Thomson, Rocky Mountain College
ZONE 8, REGION 4: Clancy Erlin, Oregon State University
ZONE 8, REGION 5: Matthew Graves, University of Nebraska at Lincoln
The 2020 IHSA HUNTER SEAT LEADING TEAMS as of the final shows held anywhere on March 8, 2020. An Asterisk (*) denotes a region where at least one regular season show was scheduled March 13th or later. Teams would have competed at their respective Zones shows with the top two teams at each Zones show advancing through to IHSA Nationals:
ZONE 1, REGION 1: Roger Williams University*
ZONE 1, REGION 2: University of New Hampshire
ZONE 1, REGION 3: Mount Holyoke College
ZONE 1, REGION 4: Boston University
ZONE 1, REGION 5: Sacred Heart University
ZONE 2, REGION 1: Binghamton University
ZONE 2, REGION 2: St. Lawrence University
ZONE 2, REGION 3: Skidmore College
ZONE 2, REGION 4: Long Island University
ZONE 2, REGION 5: Seton Hill University*
ZONE 3, REGION 1: Penn State University (State College)*
ZONE 3, REGION 2: Delaware Valley University
ZONE 3, REGION 3: Centenary University
ZONE 3, REGION 4: Rutgers University*
ZONE 3, REGION 5: University of Delaware*
ZONE 4, REGION 1: Goucher College*
ZONE 4, REGION 2: University of Virginia
ZONE 4, REGION 3: St. Andrews University
ZONE 4, REGION 4: Sweet Briar College
ZONE 4, REGION 5: Emory and Henry College
ZONE 5, REGION 1: Middle Tennessee State University
ZONE 5, REGION 2: Berry College
ZONE 5, REGION 3: Georgia Southern University
ZONE 5, REGION 4: Louisiana State University
ZONE 5, REGION 5: Savannah College of Art and Design*
ZONE 6, REGION 1: Lake Erie College
ZONE 6, REGION 2: Otterbein University
ZONE 6, REGION 3: University of Kentucky
ZONE 6, REGION 4: Michigan State University
ZONE 7, REGION 1: Purdue University
ZONE 7, REGION 2: West Texas A and M University
ZONE 7, REGION 3: University of Minnesota at Crookston
ZONE 7, REGION 4: University of Notre Dame/St. Mary's College (IN)
ZONE 7, REGION 5: Illinois State University*
ZONE 8, REGION 1: Stanford University
ZONE 8, REGION 2: University of Southern California
ZONE 8, REGION 4: Washington State University
ZONE 8, REGION 5: Colorado State University*
The 2020 IHSA WESTERN LEADING TEAMS, as of the final shows held anywhere on March 8, 2020. All Western Regions had completed their regular seasons except Zone 8, Region 2. It appears Zone 8, Region 2 completed only four Western Shows which would mean the region would not have been legal for the season (minimum five shows needed to send riders and teams to the post-season). Zone 8, Region 2 would have held shows over the March 13-15 weekend. Arizona State was ahead and is listed with two Asterisks below (**) to indicate this unusual status. Each team would have competed at one of three Semifinal events, with the top three teams at each Semifinal advancing through to IHSA Nationals. The location of the Semifinal for each team is listed following their name:
ZONE 1, REGION 3/5: University of Massachusetts at Amherst (Reedsville, WV)
ZONE 2, REGION 1: Alfred University (Reedsville, WV)
ZONE 2, REGION 2: Oswego State University (Galva, IL)
ZONE 2, REGION 3: Morrisville State College (El Reno, OK)
ZONE 2, REGION 5: Youngstown State University (Reedsville, WV)
ZONE 3, REGION 1/2/4/5: University of Delaware (El Reno, OK)
ZONE 4, REGION 3/4/5: St. Andrews University (Reedsville, WV)
ZONE 5, REGION 1: Middle Tennessee State University (Galva, IL)
ZONE 5, REGION 2: Berry College (Galva, IL)
ZONE 5, REGION 3/5: University of Florida (El Reno, OK)
ZONE 6, REGION 1: University of Findlay (Reedsville, WV)
ZONE 6, REGION 2: Ohio State University (Galva, IL)
ZONE 6, REGION 3: Midway University (El Reno, OK)
ZONE 6, REGION 4: Albion College (Galva, IL)
ZONE 7, REGION 1: Ball State University (Reedsville, WV)
ZONE 7, REGION 2: West Texas A and M University (El Reno, OK)
ZONE 7, REGION 3: North Dakota State University (El Reno, OK)
ZONE 7, REGION 4: Black Hawk College (Galva, IL)
ZONE 7, REGION 5: Northeastern Oklahoma A and M College (El Reno, OK)
ZONE 8, REGION 1: Cal Poly - San Luis Obispo (Galva, IL)
ZONE 8, REGION 2: Arizona State University** (Galva, IL)
ZONE 8, REGION 3: Utah State University (Reedsville, WV)
ZONE 8, REGION 4: Oregon State University (Reedsville, WV)
ZONE 8, REGION 5: University of Nebraska at Lincoln (El Reno, OK)