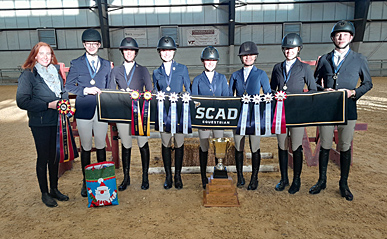 Former Savannah College of Art and Design rider Tatum Tatreau (on far left) poses with the Bees after their win at the December 2022 Holiday Tournament of Champions in Blacksburg, Virginia. SCAD would host and win the Winter TOC on January 28th to claim the series trophy for the fifth consecutive season not counting the 2020-21 covid season (and the Bees won the only TOC show held in May 2021 during the lost covid year).
TWO ACCOUNTS IN ONE STORY: THE 2023 WINTER AND SPRING TOURNAMENT OF CHAMPIONS PRESS RELEASES
(Tournament of Champions creater Jim Arrigon, who with wife Gwen puts on a series of Tournament of Champions shows every season, sent us press releases following both the January 28, 2023 Winter Tournament of Champions invitational in Hardeeville, South Carolina and the March 25, 2023 Spring Tournament of Champions invitational in Findlay, Ohio. We present edited versions of Arrigon's press releases back-to-back in this article).
College Equestrian coaches are never surprised when Savannah College of Art & Design wins the Tournament of Champions and nobody expected it to be easy against SCAD on their own horses (the event was held at SCAD's Ronald C. Waranch Equestrian Center in Hardeeville, South Carolina - Editor). The group of teams gathered for the 2023 Winter Classic - the third of the 2022-23 Tournament of Champions Series - looked like a group that might have someone to knock them off. It didn't happen.
Winter Classic 2023 was comprised of arguably the best field of teams in recent Tournament history. Participating coaches and colleges accounted for no fewer than 19 IHSA Team Championships! There were 10 former Tournament Medal Champions competing and 12 First Place teams from 12 different IHSA regions from coast to coast. The Judge was Woody Dykers, from Atlanta, who had judged Tournament a couple times prior.
It didn't look like a rout at the start. Penn State's Emma Pell won the first blue ribbon in Open Fences to start the day, then Kayla Ryan won the second Open section, riding for Stanford University. Francesca Nervick started SCAD rolling with a blue in the first Intermediate Fences section for SCAD Yellow team (SCAD had two teams as the host), giving Yellow a one-point lead over Penn State that they would never give up the rest of the day.
By midday - following all the Open and Intermediate classes - SCAD had taken hold of the top spots, with SCAD Yellow in the lead followed by the SCAD Black team. Boston University crept into 3rd Place with a steady stream of reds and yellows, just edging out Sacred Heart, Penn State and Stanford who were all tied for 4th Place. SCAD dominated the lower levels in the second half of the show; Sacred Heart and Boston U continued scoring points and Skidmore, South Carolina and Purdue began showing their strength.
In all SCAD's two teams took 9 of the 16 blue ribbons in team classes - the Yellow team got 5 while Black had 4. Next best were Stanford and Sacred Heart each with 2 blues. Purdue's late day blue ribbon leapfrogged them into the team ribbons (from outside the top ten to eighth place).
One of the big stories of the Tournament was the High Medal showdown between SCAD's Celia Cram and Cole Jackson of Goucher College - the two of them accounted for 5 of the last 7 Tournament High Medal Championships. Throw in SCAD freshman Alex Alston, who had recently led three phases of the USEF Show Jumping Talent Search before finishing fourth overall. Mount Holyoke's Emmalyn Mirarchi had won the Low Medal last semester and Sacred Heart's Lilly Bove has come close to winning high medal several times before. In the end Dykers saw it just like most others, with Cram (from Aiken, South Carolina) winning her fourth Tournament High Medal with Jackson in Reserve (Alston, in his first TOC appearance finished third). Cram now becomes the only rider to win 4 Tournament High Medals, surpassing Tufts University's Chase Boggio and Delaware Valley University's Ciara Menkens who previously won three times. Keep in mind that Cram is only a sophomore.
The Low Medal marked a first for Tournament of Champions, as Audrey Washington took the medal home to the west coast as Stanford's first Tournament champion. Sara Schultheis took Reserve for Goucher. Sydney Jasney won the Low Medal at this show a year ago and was there again riding for Skidmore but did not compete in the medal divisions.
The Equestrian Talent Search (ETS) Medal is a similarly formatted class for high school-aged riders, offered a couple times a year at Tournament of Champions events. Riders have a chance to work with college coaches and be seen and evaluated for scholarships. Fourteen young riders from ten different states began the competition, with eight jumping in the final round. The winner was Olivia Carmouche of Newark, Delaware. If that name sounds familiar it is because her mother Whitney is the longtime coach of the University of Delaware (Whitney Carmouche, who was Whitney Scott while riding in the IHSA for Bucknell University 1999-2003, took over as head coach at the University of Delaware in the fall of 2013 - Editor).
The final stop of the 2022-23 Tournament Series will be March 25 at the University of Findlay in northwestern Ohio. The Series Champion team will be named following that show, which will be judged by Katie Schaaf. A former Tufts University rider and coach, Schaaf coached the aforementioned Chase Boggio.
January 28th Team Totals:
Savannah College of Art & Design - Team Yellow - 50 Points (Champion)
Savannah College of Art & Design - Team Black - 43 Points (official Reserve Champion)
Sacred Heart University - 32 (official third place)
Boston University - 28 (official fourth place)
Stanford University - 27 Points (official fifth place)
University of South Carolina (Columbia) - 26 (won tiebreaker for official sixth place)
Skidmore College - 26 Points (official seventh place)
Purdue University - 25 (official eighth place)
Mount Holyoke College - 23
Penn State University (State College) - 21
Goucher College - 19
Louisiana State University - 16
University of Massachusetts at Amherst - 16
University of Delaware - 16
Tournament of Champions High Medal Division:
Celia Cram, Savannah College of Art and Design (Champion)
Cole Jackson, Goucher College (Reserve Champion)
Alex Alston, Savannah College of Art and Design (third)
Kenya Sanders, Skidmore College (fourth)
Elizabeth Nevins, Boston University (fifth)
Lilly Bove, Sacred Heart University (sixth)
Emmalyn Mirarchi, Mount Holyoke College (seventh)
Tournament of Champions Low Medal Division:
Audrey Washington, Stanford University (Champion)
Sarah Schultheis, Goucher College (Reserve Champion)
Hannah Williams, Savannah College of Art and Design (third)
Isabella Catto, Penn State University (State College) (fourth)
Morgan Fullam, Savannah College of Art and Design (fifth)
Charlotte Subak, Mount Holyoke College (sixth)
Abby Talcott, Purdue University (seventh)
Isabella Schupler, Sacred Heart University (eighth)
(Arrigon's account of the March 2023 Spring TOC begins here. As was the case one year ago SCAD did not participate in the Spring event, which allowed another school to take top honors. SCAD has won 15 of the 16 most recent Tournament of Champions series events in which they participated, with their lone runner-up spot coming at the Pre-Season TOC in September 2021 when Emory and Henry College outscored one of two SCAD teams 38-34. - Editor)
The University of Findlay hosted the 2023 Spring Classic, the finale of the four-event Tournament of Champions collegiate horse show series, at their James Childs Equestrian Center in northwest Ohio. Findlay looked to be the favorite to win; Riding their own horses is certainly an advantage but regardless they are a really good team who won their region by more than 60 points and will probably be in the top ribbons at Nationals if they can get through Zones. Zone 6 Championships will send two teams on to Nationals but Zone 6 legitimately has four teams who could be Top-10 teams at Nationals, and I'll go out on a limb and say they have three teams - Findlay, Miami, and Otterbein - who could potentially land in the Top-5 at Nationals. Only two get to continue on to Nationals and Findlay and Otterbein were both at Tournament tuning up their Zones riders.
Besides those two teams Sacred Heart of Zone 1 and Virginia Tech from Zone 4 both had a legitimate shot of winning the Spring Classic. Okay so we'll address the elephant sitting in the corner of the arena...SCAD had such a big lead in the Tournament Series that they didn't even make the trip to Ohio and knew they were win-ning the Series Championship for 2023. Several teams had Regionals (the same weekend) and couldn't come.
The show was the conclusion of the four show series in the 32nd season of Tournament of Champions. The judge was Katie Schaaf from Raleigh, North Carolina. Katie had ridden in the Tournament as a student at Tufts University. She later coached Tufts in the Tournament for several years and won the High Medal three times with her student, Chase Boggio. This was Schaaf's second time judging an TOC event.
The show began just as we could have ex-pected, with Sacred Heart and Otterbein winning the two sections of Open Fences, then Findlay winning both sections of Intermediate Fences. Sacred Heart and Findlay took the two sections of Open Flat, then Sacred Heart and Virginia Tech won in Intermediate Flat. By the time the lights went out Sacred Heart had already won three of four team classes and had 24 points compared to Findlay's 21, Virginia Tech's 20, and Otterbein with 17. And by the way I used that phrase literally, as the wind storm outside caused a power outage that delayed the continuance of the show for about an hour. Thankfully the lights went out with no horses in the ring, just as the coaches were finishing a mid-day coaches meeting.
Also prior to the lights going out we finished the Tour-nament High Medal. It was unusual that we had no prior Medal winners in the class so nobody knew what to ex-pect. The big winner was Emma Schnolis, a senior and Team Captain from Purdue University. Emma is from Vir-ginia, and she had placed in the ribbons in both Open Flat and Open Fences at 2022 IHSA Nationals. This is the first time Purdue has ever won a Tournament Medal class, and we have to give Purdue's new coach Kathryn Kraft appropriate credit for a great year in the Tourna-ment. Otterbein's Elizabeth Orosz was Reserve Champi-on in High Medal - the highest Orosz has reached so far, although she is always one of the finalists to work over fences. Charleez Simcik and Sam Green of Virginia Tech took 3rd and 4th place, respectively.
Findlay won both sections of Limit Fences, with Virginia Tech taking a red ribbon in one section while West Texas A & M University used their red ribbon to mount a comeback that would eventually land them in the team ribbons for the first time in many years.
West Texas ended up the 8th Place Team. West Virginia, Regional Champs from Zone 2, Region 5 never won a class but was consistently third place and gathered enough yellow points to end up in 7th place. Virginia Tech got both of their teams in the final team ribbons, as did Findlay.
Otterbein used two blue ribbons to to-tal 35 points and a 3rd Place team finish. Findlay was impressive with both teams scoring in the 30's, and winning all four sections of Intermediate Fences and Lim-it Fences. The Reserve Champion Findlay Orange Team won four blue ribbons on way to a score of 39.
Sacred Heart won five blues to post an outstanding winning score of 47 and the Team Champion trophy and tri-colored ribbon. That's actually the sec-ond-highest score of the season, as SCAD scored 50 at the Winter Classic in January. It should be noted that Sa-cred Heart had placed right behind SCAD at that January Tournament just outside of Savannah in Hardeeville, South Carolina.
I mentioned Purdue's first-ever Tournament Medal Champion, Emma Schnolis. It didn't take long to get Purdue's second-ever, as Abby Talcott edged out Miley Holtzman of Virginia Tech for the Tri-colors in the Tourna-ment Low Medal.
Twelve riders from seven different states competed in the ETS Medal, which is run on the same format as the collegiate High and Low Medals; The judge watches two or three heats of medal riders working on the flat before calling the top eight riders back for a round over fences. She then combines the flat and fences scores to get the overall winner. For the ETS Medal the high school riders are assigned college coaches to help them get mounted, walk the course, etc. In this show the Tournament of Champions ETS Medal Champion was Abigail O'Rourke, a high school senior from Rutland, Massachusetts (O'Rourke worked with the Findlay coaches). Besides the regular prizes O'Rourke won a $5000 scholarship to IHSA National Champion Emory & Henry College, who provides such a prize for the top rider at all the ETS clinics and medals throughout the year. O'Rourke won't use the scholarship as she is already committed to the University of Findlay for next year. The Reserve Champion was Aine Carey, a freshman from Carmel, New York (wor-king with Seton Hill University today). I first met Aine at a ETS clinic held at Mount Holyoke College earlier this year, where she was named 'Most Improved' rider.
The 2023 Tournament of Champions Series Champion was Savannah College of Art & Design, coached by Ashley Henry with a two-show total of 97 points. Sa-cred Heart's score of 47 in Ohio catapulted them past Goucher and Mount Holyoke in the Series standings to finish as Reserve Champion with a two-show total of 69. Sa-cred Heart actually was tied in the Series standings as Virginia Tech's 34 in the Spring Classic was good enough for them to also total 69. The tie-breaker in this situation was the highest single day score, which was Sacred Heart's score of 47 in Ohio (the top two scores are the ones which are used to calculate the series standings, so SCAD's score in the pre-season TOC in Plymouth, Michigan was discarded and the scores from shows in Blacksburg, Virginia in December and Hardeeville, South Carolina in January were combined for their total of 97. A school must compete in at least two TOC events to be eligible for the Tournament of Champions series trophy - Editor). Virginia Tech thus finished as the 3rd Place team with an asterisk. Goucher College, who had skipped the Spring Classic sitting in 2nd place, dropped to 4th place in the Series. Otterbein and Purdue scored enough at the Spring Classic to knock Mount Holyoke from 4th to 7th place (the placings for each Medal Class and the ETS Class were not given in the press release - Editor).
Next year's TOC schedule has already been released: Preseason Classic on September 23 at Saint Mary-of-the-Woods College in Terre Haute, Indiana; Holiday Tournament on December 2 at Centenary University in Hackettstown, New Jersey; Winter Classic, January 27 at SCAD; and Spring Classic, March 23 at University of Findlay, Findlay, Ohio.
March 25th Team Totals:
Sacred Heart University - 47 Points (Champion)
University of Findlay Team Orange - 39 Points (Reserve Champion)
Otterbein University - 35 (third place)
Virginia Tech Team Orange - 34 Points (Fourth place)
University of Findlay Team Black - 32 (fifth place)
Virginia Tech Team Maroon - 31 Points (sixth place)
West Virginia University - 27 (seventh place)
West Texas A & M University - 26 (eighth place)
Michigan State University - 25
Purdue University - 24
Albion College - 15
Seton Hill University - 15
Final 2022-23 Overall Tournament of Champions Results:
Savannah College of Art & Design - 77 Points (Series Champion)
Sacred Heart University - 69 (Reserve Champion - Won Tiebreaker)
Virginia Tech - 69 (third place)
Goucher College - 66 (fourth place)
Otterbein University - 56 (fifth place)
Purdue University - 49 (sixth place)
Mount Holyoke College - 47 (seventh place)
University of Massachusetts at Amherst - 46 (eighth place)
Penn State University (State College) - 42 (ninth place)
Hollins University - 32 (tenth place)
(For more info about the Tournament of Champions series or the Equestrian Talent Search, please e-mail Jim Arrigon at beckettrunriding@gmail.com)