Schools competing in Zone 2, Region 4 during the 2019-2020 school year: Adelphi University, Columbia University, Hofstra University, Long Island University, Molloy College, New York University, Pratt Institute, Princeton University, St. Joseph's College (NY), Stony Brook University and Suffolk County Community College.
---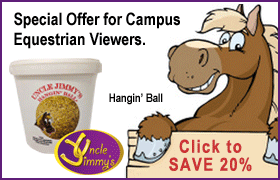 ---

Winter/Spring 2020 Show Schedule for Zone 2, Region 4 (Zone 2, Region 4 is currently Hunter Seat or English Only):

Sunday, February 23 Pratt Institute (Host) at Jamaica Bay Riding Academy, Brooklyn, NY Time TBA

Sunday, March 8 Adelphi University (Host) at the Thomas School of Horsemanship, Melville, NY 8:30AM

Sunday, March 29 Zone 2, Region 4 Regionals at Country Farms, Medford, NY Time TBA

Saturday, April 4 ZONE 2 ZONES Hosted by St. Lawrence University at the Elsa Gunnison Appleton Riding Hall, Canton, NY 9:00AM ENGLISH ONLY


Thursday through Sunday, April 30 - May 3 IHSA NATIONALS at the Exposition Center at the New York State Fairgrounds, Syracuse, NY Time each day TBA ENGLISH AND WESTERN

As of 2/6/20 it is unclear if an additional show will be added. Show Schedule subject to change.
---
Recent Region 4 Team Champions (Most of this region known as Zone 3, Region 1 1992-2005)
1997 - Fairfield University
1998 - S.U.N.Y. - Stony Brook
1999 - Fairfield University
2000 - Fairfield University
2001 - St. Josephs' College
2002 - Fairfield University
2003 - Fairfield University
2004 - Stony Brook University
2005 - Yale University
2006 - Columbia University
2007 - Fairfield University
2008 - New York University
2009 - New York University
2010 - St. Josephs' College
2011 - New York University
2012 - Stony Brook University
2013 - Stony Brook University
2014 - Long Island University - C.W. Post College
2015 - St. Josephs' College
2016 - St. Josephs' College
2017 - Long Island University - C.W. Post College
2018 - Long Island University - C.W. Post College
2019 - Long Island University - C.W. Post College