Schools which competed in Zone 4, Region 4 during the 2021-2022 school year: Christopher Newport University, College of William & Mary, Liberty University, Randolph - Macon College, Sweet Briar College, University of Mary Washington, University of Richmond and Virginia Commonwealth University.
---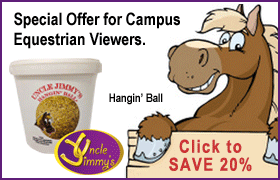 ---

Fall 2022 Show Schedule for Zone 4, Region 4:

Sunday, September 25 College of William and Mary (Host) at Willow Pond Farm, Toano, VA 10:00AM

Sunday, October 16 Randolph-Macon College (Host) at the Randolph-Macon College Equestrian Center, Ashland, VA 10:00AM

Saturday, November 5 Liberty University (Host) at the Liberty University Equestrian Center, Lynchburg, VA 10:00AM

Sunday, November 6 Sweet Briar College (Host) on campus at the Harriet Rogers Riding Center, Sweet Briar, VA 10:00AM
The University of Richmond show scheduled for October 2nd has either been cancelled or postponed. More information when we learn of a new date. Liberty University competes in Zone 4, Region 3 Western Shows. Please visit the Zone 4, Region 3 page for western information on Region 4 schools. Show Schedule subject to change.
---
Recent Zone 4, Region 4 Team Champions (Most of this region was part of Zone 4, Region 1 prior to Region 4's creation in mid-2013):
Hunter Seat:
1997 - University of Virginia
1998 - University of Virginia
1999 - Randolph-Macon Womans' College
2000 - Mary Washington College
2001 - Mary Washington College
2002 - Mary Washington College
2003 - Goucher College
2004 - Mary Washington College
2005 - Goucher College
2006 - Sweet Briar College
2007 - Goucher College
2008 - University of Mary Washington
2009 - University of Mary Washington
2010 - Goucher College
2011 - University of Mary Washington
2012 - Goucher College
2013 - Goucher College
2014 - University of Mary Washington
2015 - University of Mary Washington
2016 - University of Mary Washington
2017 - Liberty University
2018 - Sweet Briar College
2019 - Sweet Briar College
2020 - Sweet Briar College
2022 - Sweet Briar College