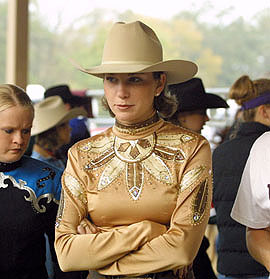 The horses are schooled while the Texas A & M legend watches!
THE QUINCY CAHILL INTERVIEW
On the eve of her final IHSA shows, Campus Equestrian has been granted the opportunity to interview Texas A & M open level rider Quincy Cahill. The animal Science major from Madisonville, Texas will graduate following the Fall semester, bringing to an end one of the greatest run of championships any IHSA rider, stock seat or hunter seat, has ever accomplished. A complete list of Cahill's appearances at IHSA Nationals follows the interview.
CE: Are there any instructors in particular that had a profound effect on your riding before you came to Texas A & M?
QC: I would definitely have to say that my parents, Bubba and Nancy Cahill, both professional horse trainers, are fully responsible for my riding ability, self-confidence and success in not only the show arena but in life in general. I have also had help from other trainers along the way including Todd Crawford, Tim McQuay, Dick Pieper and Dell Hendricks, to name several.
CE: Are there any instructors in particular that had a profound effect on your riding since you came to Texas A & M?
QC: Tana Rawson has been the coach of the A&M Equestrian Team since my first year. She has helped me to learn the patience that it takes to ride school horses and to be able to make them look as good as possible for the 5-10 minutes that we are on them at a competition. She has built on the things that I have learned over the years, making me the rider that I am today.
CE: Prior to joining the A & M team, had you ever ridden against any of your competitiors (or even teammates) at AQHA shows?
QC: I have competed against several of my former competitors from the AQHA. Some of the riders have been on my team but a lot of them are from opposing schools. I think that this is one of the perks that make IHSA so much fun. Showing IHSA is completely different from showing your own horse in that you don't get to practice on the horse and many times you have never seen the horse that you are going to ride. This makes the competition rise even more between us, but once the classes are over we are all friends again!
CE: Aside from the competitions themselves, have there been any moments with your teammates that stand out, either for being inspirational or for simply being humorous?
QC: There is NO way to tell you all the memories that I have had over the last four years of showing IHSA, good and bad!! Hours and hours on the many bus rides have produced everlasting humorous memories. 30-plus girls for 7-plus hours can get pretty crazy! I think that the thing that I will never forget about the bus rides was "Can you turn the TV up?" and then 5 minutes later "Can you turn the TV down?" Never-ending I promise!!
As for being inspirational I think that Tana's everlasting support of us, no matter how good or bad we did at a show, will stay in my memories forever. She is great at helping us to keep our chins up and to just do our best.
CE: In your opinion, are IHSA regionals and zones more "Stressful" than IHSA Nationals?
QC: In my opinion, I think that regionals and zones are much more stressful than Nationals in that you have to hope that all of the "luck" part of it is in your court that day. What I mean is that you hope you get good draws and good judges! You must be in the top three at regionals and top two at zones to advance on to Nationals. Once you get to Nationals, you can, in a way, relax and just be glad that you have made it to the top!
CE: Though your time in the IHSA only spans 3 & 1/2 years, have there been any noticable changes in stock seat riding in your region during this time?
QC: I think that the most noticeable change in our region since the start of my IHSA career has to be that the competition has become much tougher. There are many great riders that have started showing IHSA and I think that that is great for the association.
CE: Two newcomers to the A & M team, Katie Forest and Ashley Shiffler, have faired reasonably well in the open divisions (Forest and yourself both have 26 points). Do either of these riders, or any other riders in your region, bring to mind a young Quincy Cahill?
QC: I have known Katie for about 10 years from showing in the AQHA. She is a great rider and I think that she will fair very well in the IHSA. She is used to riding many different horses, which is what it takes to be prepared for these types of shows. She has her own unique riding style that I wouldn't necessarily compare to mine, but I feel that she will be a very tough competitor at future Regional, Zone and National shows. As for Ashley, I just met her this year when she first came to Texas A&M. She is a very smart, effective rider and I feel that she too has the capabilities to go far in the IHSA.
CE: Can you share any of your plans for the future with our readers?
QC: At this point I don't have any definite plans. I am going to move back home with my parents, ride my horses and see what comes along that may interest me! I will definitely stay somewhere in the "horse world"!!
CE: If you could offer any advice to young stock seat riders out there, perhaps several years away from being of college age, what would it be?
QC: I feel that the single most important thing to remember when showing at IHSA shows is PATIENCE! I know that my parents will laugh that I have repeated their words here but it is very true. If you think that you may have a disadvantage because of your draw, just do your best with what you have to work with and I promise you will get paid off for it the majority of the time! Above all, have fun with it! This may be the only chance that you get to ride so many different horses and you learn something new every time you swing your leg over another horse's back.
The following are Cahills' accomplishments at the 2000, 2001 and 2002 IHSA Nationals:
2000 - Individual Open Reining (1st Place), AQHA High Point Open Rider (1st Place)
2001 - Individual Open Western Horsemanship (1st Place), Individual Open Reining (2nd Place), AQHA High Point Open Rider (1st Place)
2002 - Team Open Reining (4th Place), Individual Open Western Horsemanship (1st Place), Individual Open Reining (2nd Place), AQHA High Point Open Rider (1st Place), Team Open Western Horsemanship (3rd Place)
More info: The Texas A & M Stock Seat Team reached IHSA Nationals twice during Cahills' time, during the 1999-2000 and 2001-02 seasons. Cahill was asked by the United States Olympic Committee to perform at the astrodome the day of the team classes in May 2000, thus limiting her to individual classes on the final two days of IHSA Nationals. Texas A & M tied for High Point Team with Ohio State at the 2001-02 IHSA Nationals...Only once in three seasons did Quincy Cahill fail to reach IHSA Nationals in a particular class. Cahill was fifth at Zone 7, Region 2 Regionals in individual open western horsemanship in Spring 2000...Cahill is the only Stock Seat rider in IHSA history to have won the AQHA High Point Open Rider trophy three times. Only one Hunter Seat rider, CeCe Williamson (later Stamp) also accomplished the feat, winning the Cacchione Cup at Nationals while riding for the University of Virginia 1980-83 (Special Thanks to Chris Harrell in media relations at Texas A & M for some of the information at the end of this article).
Photo on this page was taken by Glen Johnson of Johnson Studio of Professional Photography, Bryan, TX and was supplied by the Texas A & M athletic department.