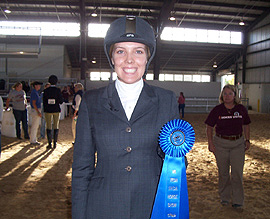 With her first in walk-trot, Jaime King assured Virginia Intermont College of starting the season undefeated in Zone 4, Region 3 competition.
DEFENDING NATIONAL CHAMPION VIRGINIA INTERMONT WINS 39-36 OVER TAR HEELS IN REGION 3 SEASON OPENER
Blacksburg, VA — Thirteen schools took part in the Zone 4, Region 3 season-opener at Virginia Tech on Sunday, with defending National Champion Virginia Intermont College overcoming a slow start to win with 39 points. Leading the way for VI were freshman open rider Ashley Miller and senior intermediate rider Jessica May, both of whom won a class while placing second in another. May's first in intermediate flat apparently qualified her for Regionals in the division. Brittany Denton, the Region 3 USEF Cacchione qualifier last season, was also an open flat winner. Jessica Szechi was a blue ribbon winner in walk-trot-canter while Jaime King won the final class of the day, the second of two walk-trot sections, to clinch first for VI. Another highlight came when Julianne Wilson, Andrea MacQueen and Shannon Otto won consecutive sections of novice flat. In spite of their narrow victory, Virginia Intermont looked like the best team, with the most blue ribbons and only one placing below third all day (and a fourth at that!).
For a while it looked as though host Virginia Tech might pull off the upset. It was an emotional day for the Hokies, who honored the late Emily Jane Hilscher during an afternoon presentation which involved her parents and one of the Deans. A special scholarship in Hilscher's name, limited only to riders who compete in Zone 4, was also announced. Virginia Tech was also presented with a 4-H award at this time. Open rider Meredith Clark actually gave the Hokies a very early lead with a first in open flat to start the day. Incredibly the Hokies would stay in the race for high point team even though Clark earned their only blue ribbon of the day right off the bat. Six Virginia Tech riders would earn red, second place ribbons, including Clark in open fences.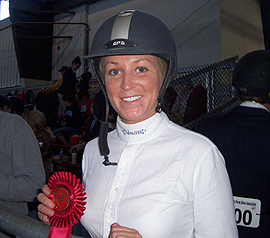 Though she is seen here with a red ribbon, Virginia Tech senior Meredith Clark also won a blue. From Street, Maryland, Clark would be one of seven riders to earn a combined 12 points on this day.
Virginia Tech finished with a very respectable 34 points and third place overall. Finishing between VI and VT was reserve high point team North Carolina at Chapel Hill. The Tar Heels were led by sophomore Brooke Weidenbenner, a winner in the section of open flat following Clark's and a red-ribbon winner in open fences. North Carolina at Chapel Hill had the second-most blue ribbons to VI, with Maria Morin (in open fences), Jan Stone (in novice fences), Jill Keeler (in advanced walk-trot-canter) Nikki Rowell (same) and Kathy Desrochers (in walk-trot) joining Weidenbenner in the winner's circle. The Tar Heels finished with 36 points, with Weidenbenner, Keeler, Stone and Desrochers all pointed to account for 28 of them.
Fourth place was a tie between St. Andrews and Wake Forest, both with 31 points. The Knights did not turn in a blue ribbon performance until the thirteenth class of the day, when senior Hayley White won the first section of novice flat. Two sections later junior Jacki Ayers won the third section (right before VI won three straight) while Megan Stiles won the first of five sections of advanced walk-trot-canter. The Demon Deacons earned their 31 points with only one blue ribbon, awarded to Paige Harryman in the lone section of beginner walk-trot-canter. Though St. Andrews had a full card, Wake Forest was one of seven schools competing without a walk-trotter.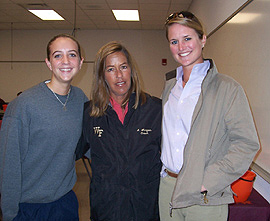 From left to right are UNC-Greensboro's Meaghan Kearns, Head Coach Anne Morgan and Katie Wood. The two-woman, all-freshman team scored a healthy 16 points and Wood even qualified for the ride-off in her IHSA debut.
Region 3 is one of many where horse draw is still done by pulling names out of a hat shortly before each rider is to mount up. When riders were drawing for the first class of the day, one participant was not present. North Carolina State freshman Loren Kirk was still on his way to the Alphin-Stuart Arena when section 7A was drawn. However Kirk was allowed to compete in section 7C, making the draw for that section with time to spare. Kirk made the most of the late switch, winning the open flat and later placing second in open fences. Kylie Bell, who placed seventh at 2007 IHSA Nationals in the advanced walk-trot-canter, was the only other member of the NC State team to win a class at today's show. The senior won the first of two novice fences sections, helping to lead the Wolfpack to 27 points overall.
A point behind North Carolina State were both Duke University and the University of North Carolina at Charlotte. The Blue Devils were led by junior Allison Keane, who won the first of four sections of intermediate flat. The second section went to Courtney Guerin, providing Charlotte with their only blue ribbon. While Duke should be happy to have scored 26 points with only six riders present (seven spaces filled on their point sheet), Charlotte had one of the unluckiest horse draw days this writer can recall. Though the 49'ers finished with 26 it would not surprise many if it turned out to be their low score of the season. This is a much better team than the scoreboard indicated.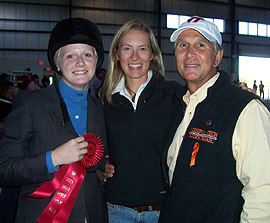 Former Virginia Intermont rider McClure Jackson-Cathcart (center) is one of three new Head Coaches in Region 3 for the 2007-08 season. Jackson-Cathcart guided Appalachian State to 25 points. Junior and Captain Rachel Jones (left) was second in intermediate flat to start the day. IHSA Founder and Executive Director Bob Cacchione (right) was on hand for a moving halftime ceremony remembering fallen Virginia Tech rider Emily Jane Hilscher.
Appalachian State had only five riders and five divisions filled on their point sheet. Still the Mountaineers scored a very respectible 25 points and even managed more blue ribbons than host Virginia Tech. First into the winner's circle was junior and Captain Rachel Jones, a blue ribbon winner in the first of two sections of intermediate fences. Jones also placed second in intermediate flat, qualifying for the ride-off. Much later on teammate Nina Marcaccio won the final section of advanced walk-trot-canter. It was a good coaching debut for McClure Jackson-Cathcart, a 1984 Virginia Intermont graduate who is one of three new head coaches in the region this season. We at Campus Equestrian are checking the record books, but it is possible Jackson-Cathcart is the first former VI rider under Eddie Federwisch to become a head coach in his region and compete directly against him (several other former VI riders under Federwisch, including Cazenovia head coach Amy Sherrick-Von Shiller, have coached or are currently coaching in other IHSA regions - Editor).
Another of the new Region 3 coaches is Laura Brady at Elon University. One rider shy of a full card, Elon cracked the 20-point plateau thanks in part to sophomore Katie Bosteel, who won the fourth and final section of intermediate flat. Three other Elon riders were red ribbon winners, and the Phoenix finished with 21 points.
Eleven of the thirteen teams reached the twenties, as East Carolina was next with exactly 20 points. Though technically Ellen Willson is still the Elon coach, she will not be coming to the shows this season. In her place is show coach Bill Creighton, who saw senior Sara Bacon win the Pirate's lone blue ribbon of the day and point out of novice flat in the process.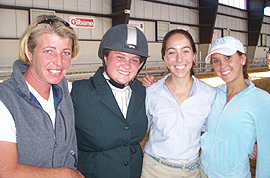 Laura Brady (who at one time crossed paths with Cacchione while fox hunting in New Jersey) is yet another of the new coaches. At the helm of the Elon program, Brady is seen here with sophomore Lauren Mottle (second left), who was second in advanced walk-trot-canter; Shelby Bentley (second right), who was fifth in a different section of advanced walk-trot-canter, and Ashley Price (far right), who was third in her section of intermediate flat.
Incredibly ten of the eleven teams to score 20 points or higher had at least seven of eight places filled on their point sheet. However the team with 16 points had only half the divisions covered, and with only two freshman riders no less! Though she is not a new coach, Anne Morgan is now doing double duty, coaching both Wake Forest and the University of North Carolina at Greensboro. Her Greensboro team consisted of novice freshman Meaghan Kearns and intermediate freshman Katie Wood. Wood enjoyed her first IHSA ride, stating simply "It's fun!" after receiving a red ribbon in intermediate flat. Three classes later Wood had the Spartans' first blue ribbon of the season, tops in the second of two sections of intermediate fences. Kearns was third in her novice flat debut but went off course over fences. Still, Morgan can be pleased with her Spartan coaching debut, as many schools around the country this weekend had far more riders enterred in their shows and came up a far cry from 16 points.
Rounding out the scoring was Western Carolina University with eight points. The top ribbon-winner for the Catamounts was Ashley Bordner, third in the second section of novice flat. Three other Western Carolina riders won fourth-place ribbons.
The Ride-off: No one at today's show managed two firsts, so in theory a seven-way ride-off among those with a first and a second would be necessary. However today's show was in fact rather long, with the final placing announced at 5:37PM. Following the final novice fences division, which confirmed that no one would earn two firsts, the show management decided to let judge Sandra Vine ask each of the seven riders a question, with the rider with the best answer receiving the blue ribbon and the runner-up reserve. This decision caught many off-guard, as some the riders were dressed and ready for an actual class. Each of the seven riders had to line up, and one by one they walked all the way from the in-gate to the judge's stand some 90 feet away. When the first person into the ring (Clark) reached Vine, the next person in line (Weidenbenner) walked halfway to the judge's stand. This continued until all seven riders were asked the question.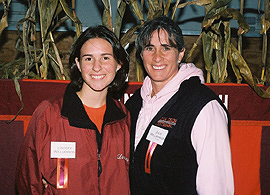 A trip down memory lane: Virginia Tech graduate Julie Williamson (right) was the announcer at both the October 2004 Hokie-hosted show which opened the Alphin-Stuart Arena and at today's show. Her daughter, Lindsey Williamson (left), was only a high school senior when this photo was taken in October of 2004. Today Lindsey earned a yellow ribbon in intermediate flat in what is her third year as a member of the Virginia Tech team.
It turned out the question was really two questions. The first question was essentially "How do you ask for a lead change?" The questions continued. "There are three beats to ask for the canter. On which beat do you canter?" Though the idea behind the questions was to save the horses from the additional class, the process of having each rider walk over one by one may have taken longer than an actual ride-off. Riders making their IHSA debuts had the last laugh. Wood added reserve high point rider to her opening day heroics, while Kirk, whose mother Melea is the North Carolina State Assistant Coach (but was at a non-IHSA show on this day) earned the first Region 3 high point rider ribbon of 2007-08.
Largest cheering section: Elon junior Whyte Carter did not have any of her own family members in attendance at today's show, but the novice flat rider did have several members of her boyfriend's family on hand. Isaac Flint, Carter's boyfriend, is currently stationed at 29 Palms in California and will be headed to Iraq in January. Since Flint also could not be in attendance, his father and grandparents, who live not far away in Natural Bridge, Virginia, made the journey down interstate 81 in his place. Carter, from Myrtle Beach, South Carolina, finished fifth in her novice flat class.
Still the biggest: Zone 4, Region 3 was made up of over 390 riders last season, making it the largest in membership nationwide for at least two years in a row. The concensus is that 2007-08 will be no different. Though not all of the members are registered at this moment within the IHSA, the Virginia Tech riding club, which covers IDA, IHSA and perhaps other riding disciplines, already has 116 members one day before October arrives.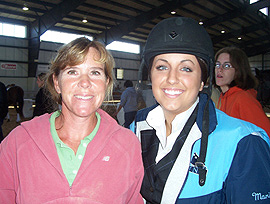 They nearly upset VI. University of North Carolina at Chapel Hill Head Coach Ginny Rollins (left) and Tar Heels Co-Captain Maria Morin are all smiles after Morin won her section of open fences. The Tar Heels led early, and had a chance to catch Virginia Intermont up until the final division.
Moving Ceremony: Today's show marked the first time Virginia Tech hosted since the horrific shootings on campus last April 16th. Hokies Head Coach Teresa 'T' McDonald, IHSA Treasurer George Lukemire and IHSA Founder and Executive Director Bob Cacchione addressed the audience during a special ceremony in the afternoon. Lukemire discussed the new scholarship created in Hilscher's honor while Cacchione discussed the growth of the organization. McDonald and announcer Julie Williamson talked about several paintings that will honor Hilscher as well as photographs of the Virginia Intermont team taken at 2007 Nationals honoring Virginia Tech by wearing VT caps when receiving their National Champion ribbons. It also turned out Virginia Intermont Head Coach Federwisch had given McDonald a 2007 Championship ring, making her perhaps the only coach of a non-qualifying team to ever receive a ring normally reserved for the winning teams' coach and riders. The Hilschers came to the ring for the painting/photo presentation, and rather touchingly walked over to the Virginia Intermont team following the ceremony to thank them for their support both this past May and at today's show.
Among the Virginia Tech riders in the ring for the ceremony were seniors Shelby Clark and Jessica Gould. Clark and Gould have known each other since the sixth grade, and both went on to attend Virginia Tech. When they joined the team three years ago, both Clark and Gould felt that it was difficult to understand how an IHSA show works. After a year on the team, Clark and Gould decided to create a mentoring program to help incoming freshmen understand how an IHSA show works and how the team operates. The Big/Little program matched "Bigs" such as Clark or Gould to "Littles" who were new to college. Riders were matched based on discipline, and with Gould involved in more than one she had both a dressage rider and an IHSA rider in 2006-07. Gould's IHSA rider was Hilscher, who was very dedicated to helping the team out in any way. With so many riders on the Hokie team, not everyone gets to show their first season. However though the program Hilscher demonstrated that she deserved the chance to compete. As Gould put it, Hilscher "put in all the hard work." Contrary to a previous report on Campus Equestrian, Gould confirmed that Hilscher did not show in the spring Virginia Intermont shows but rather at the spring St. Andrews show a few weeks earlier. It would turn out to be her only IHSA competition.
When asked if she had any stories to share about Hilscher's time on the team, Gould did not recall a specific event. Instead Gould explained she wished she "had more time with her. As many stories as I have, other people have more."
Cacchione pointed out during his remarks that an appearance he made on a radio station in the Springfield, Massachusetts area the day before 2007 Nationals inspired that station to raise money for what is now the Zone 4 Hilscher scholarship. Though a separate article on IHSA scholarships is planned for the near future, it should be noted that the Springfield radio station raised over $10,000.00 the weekend of Nationals.
Though the mood for the ceremony was somber, the mood afterward was much more upbeat. The spirit of the Hokie nation is alive and well, and one cannot help but feel things will turn for the better in Blacksburg.
--Steve Maxwell
Show Incidentals: Sunny skies, with High Temperatures in the upper '70's. Entire show held indoors. Start Time: 10:33AM. Finish: 5:37PM - Includes 28 minute break for various halftime activities. Coaches and Captains Meeting held prior to start of show. Point Cards posted in this Region?: Yes. Alumni Classes held in this region? No. Judge: Sandra Vine, Middleburg, VA. Stewards: McElveen/St. Andrews Presbyterian College, Morgan/University of North Carolina at Greensboro and Rollins/University of North Carolina at Chapel Hill.
Team Totals: Virginia Intermont College (High Point Team) 39; University of North Carolina at Chapel Hill (Reserve) 36; Virginia Tech 34; St. Andrews Presbyterian College 31; Wake Forest University 31; North Carolina State University 27; Duke University 26; University of North Carolina at Charlotte 26; Appalachian State University 25; Elon University 21; East Carolina University 20; University of North Carolina at Greensboro 16 and Western Carolina University 8.
High Point Rider - Loren Kirk, North Carolina State University
Reserve High Point Rider - Katie Wood, University of North Carolina at Greensboro