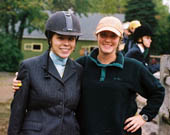 University of Delaware wins narrowly
Readington, NJ - Defending region champion University of Delaware prevailed today at Briarwood Farm by a narrow 38-36 margin over Delaware Valley College. Both schools won ten blue ribbons (if you don't count alumni, in which case Del Val would have twelve) and most of the accolades would actually go to todays' runner-up. Intermediate rider Erin Adams of Delaware Valley was high point rider, winning a ride-off versus novice rider and teammate Genna Weissner (pictured on left, with aggies head coach Corey Herald). Today marked the first time in three shows this season that Del Val had the high point and reserve high point riders. The aggies have had the reserve high point rider at each of the three shows, with Delaware blue hens having been high point rider at the previous two shows.
For the University of Delaware, blue ribbons were awarded to Karin Wood (open fences), Sara Holland (intermediate flat), Kristen Sentoff (novice fences), Brittany Hitz (same), Kristin Ricciardone (novice flat), Jen Carr (same), Page Hodgson (same), Amy Maurice (advanced walk-trot-canter), Lauren Stille (walk-trot) and Kelly Ross, whose victory in open flat gave her four blue ribbons in six open classes so far this season. Ross is fifteen points ahead of Gettysburg freshman Kathleen Osgood in the race to be high point open rider and secure a trip to IHSA Nationals in the Cacchione Cup competition. For Delaware Valley College, first place ribbons were awarded to Adams (intermediate flat and fences), Weissner (novice flat and fences), Jackie Vander Ploeg (intermediate fences), Mariah Weir (novice fences), Ali Levine (novice flat), Colleen Rowland (same), Lauren Mulligan (advanced walk-trot-canter) and Sara Breishaft (walk-trot). Though point cards are not posted in this region, one gets the impression that this might have been one of the classic see-saw battles of the year.
While the University of Delaware had approximately 70 rides, and Delaware Valley had approximately 50, Gettysburg College quietly scored 31 points, easily having the best day of any team other than Delaware and Del Val so far this season. Jackie Nash (novice fences), Christine Alberto (intermediate flat) and Osgood (open flat) all placed first for the bullets. Had Osgood not missed the season opener at Timberedge, she may be much closer to Ross in the open rider standings. Still, if Osgood keeps averaging ten points per show she will likely qualify for regionals in both disciplines after her seventh show (contingent on four Spring shows coming to fruition). Head coach Rachel Heffner-Mains may not have had the arsenal of entrees that Delaware and Delaware Valley had at their disposal, but Gettysburg certainly made the most of their 19 rides.
We won, we won!: Other undergraduate riders with blue ribbons at todays' show were Lauren Hehn of Rider (intermediate fences), Rebekah Hardy of Washington College (novice fences), Kelsey Beers (beginner walk-trot-canter) and Matt Mauceri (walk-trot) of Bucks County Community College and Laurie Gilman of Bryn Mawr College, one of only three Bryn Mawr riders present and the only one to ride after the early morning, eventually winning her section of advanced walk-trot-canter.
Blessington still owns the alumni fences: Bucks County graduate Ron Blessington won the alumni fences for the third time in as many tries this season. With one more blue ribbon over the jumps, Blessington will qualify for regionals in the alumni fences for a fourth consecutive season. Blessington has topped the region 2 alumni fences standings each of the past two seasons, and was second to Lori Heybach three seasons ago. Though Blessington is perfect over fences, his ten points on the flat do not even place him in the top six under that category. In fact none of the top three alumni fences riders are in the top five on the flat, and vice-versa. The alumni flat is currently led by former Temple rider Kim Cousins (known as Kim Brookreson back in the day), with 19 points. Recent Delaware Valley College graduate Kristen Milano is second with 16, while Cousins' younger sister Sayre Brookreson is third with 14 through three shows. Those closest to Blessington over fences are Joanne Coniglio, Delaware Valley '94, with 16 and Kerrin Wetzel, Bucknell '00, with 15. Coniglio and Milano won classes today (Coniglio over fences, Milano on the flat), technically giving Del Val two more blue ribbons than the blue hens. Former Bucks County rider Allison Ball has been the most consistant in both, currently with 13 points on the alumni flat and 14 over alumni fences. Former Beaver College rider Lisa Marsh has been almost as consistant, with 11 on the flat and 13 over fences. With almost everyone back from week-to-week, the largest group of alumni coast-to-coast this season will likely produce quite a class at regionals, assuming there are roughly eight shows.
Don't assume anything!: Last season, zone 3, region 2 held nine hunter seat shows, with six of them held in the Spring. This season four shows were held in the Fall, and so far only two more are officially scheduled for the Spring (February 23rd and March 22nd, with Bryn Mawr and Gettysburg co-hosting the former and Delaware Valley the latter). Washington College is exploring the possiblity of hosting on the eastern shore, while Franklin & Marshall, who were not present today for reasons that were not immediately clear, did host a Spring show last season and could possibly do so again this Spring. If only six regular season hunter seat shows take place within region 2 it would mark the smallest number of hunter seat shows for a full season anywhere in the northeast in at least six years. If no more shows are added by December 1st (the self-impossed region 2 deadline for scheduling Spring shows) then region 2 regionals (scheduled for Friday afternoon on April 4th at Timberedge Farm) will be a rather short affair indeed.
Show Incidentals: Cloudy, with rain most of the day. Temperatures in the mid 40's. Classes at the novice level and below held indoors. Start time: 8:56AM. Finish: 4:32PM - includes 38 minute lunch break/coaches and captains meeting and separate 15 minute schooling break. Point cards posted in this region? No. Alumni classes held in this Region? Yes. Judge: Mr. Scott Burkhart, Manheim, PA. Stewards: Morrone/Rider University, Heffner-Mains/Gettysburg College and Beth Jewell/Parent of member of Arcadia team.
Team Totals: University of Delaware (High Point Team) 38; Delaware Valley College (Reserve) 36; Gettysburg College 31; Bucks County Community College 21; Rider University 21; Arcadia University 15; Washington College 14; Bryn Mawr College 12 and University of Pennsylvania 11.
High Point Rider - Erin Adams, Delaware Valley College
Reserve High Point Rider - Genna Weissner, Delaware Valley College