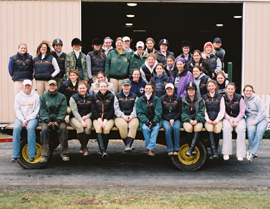 Though it was not apparent who was winning until the point cards were revealed at the end of the show, Delaware Valley College did in fact add to their lead. The new Region 2 hunter seat champs then climbed aboard the wooden thingy attached to a tractor and said cheese.
DEL VAL AGGIES TAKING HUNTER SEAT TEAM TO ZONES FOR FIRST TIME IN A DECADE
Doylestown, PA - Led today by intermediate rider Ali Levine (first over fences, second on the flat), Delaware Valley College won outright with 34 points, five better than reserve high point team Penn. Already leading the region by 16 points, the aggies widenned the final total to 26 in clinching their first Region 2 Hunter Seat title since 1993-94.
Sarah Kichler (open fences), Genna Weissner (intermediate fences), Erin Adams (open flat) and Elizabeth Regland (walk-trot) also won classes for the aggies, who won the region by a 299-273 count over defending Region 2 Champions the University of Delaware. Blue hen head coach Bryan Bradley was not happy with the choices as to who were picked to be point riders today, and for much of the season for that matter. On this day the University of Delaware had at least one winner in five of the eight divisions, though their point total was only 24 points. Sam Pyser, a freshman from Huntington, NY was the only rider with two firsts. Pyser won both of her novice classes for the hens while Ashley Leighton (open flat), Liz Marshall (intermediate flat), Sharon Bryant (novice fences), Janine Rapone (novice flat), Jess Munyan (advanced walk-trot-canter) and Dana Mastronardy (same) also came out on top in their respective classes. With a second in intermediate flat, Bryant, a sophomore from Downingtown, PA was able to reach the five-way ride-off for reserve.
Quakers end season on high note: Not counting the Ivy League Invitational on April 24th (which they will co-host), the Penn Quakers season came to an end on a high note, scoring 29 points and finishing fifth for the season overall. Both Katie Carssow and Janine Stichter were part of the five-way ride-off. Carssow, a freshman from Atlanta, won her open fences while placing second in open flat. Sticther, a sophomore from Wayne, New Jersey was first in novice fences and second in open flat. Beginner walk-trot-canter rider Emily Lanza also won a blue ribbon for the quakers.
Oh you tricky directions!: The race for high point open rider, or the right to compete in the Cacchione Cup Competition at IHSA Nationals, may have been settled by the instructions for open fences. Paige Hortman of Utah Valley State College (auxiliary Philadelphia campus) and formerly of Delaware Valley entered the day three points ahead of Franklin & Marshall's Keren Mitchell, and five ahead of former Del Val teammate Erin Adams. Open riders were instructed to jump all the fences at the canter save for the last one, to which they should trot. Some in the stands (including this writer) who did not know this thought Hortman had gone mad, slowing down a good 15 strides ahead of the last jump in order to navigate it at the trot. When subsequent riders in the first section did the same thing it was obvious they had been instructed to do so. Yet one rider in the first section made the turn and kept cantering right up to and over the final fence. The rider who went their own way? Keren Mitchell.
When the placings were announced and Mitchell was sixth it was obvious that the last fence made the difference. Surely anyone who saw the first section would know to trot that last fence, but one rider in the second section did the same thing, and that rider was Erin Adams. Adams had a fine ride otherwise, and had she trotted that last fence may have been part of the ride-off. With Hortman getting a second in the first section and a fifth in open flat, the freshman from Newtown, Pennsylvania was on her way to Nationals. Adams received nothing over fences and a first on the flat while Mitchell was third in open flat (same section in which Hortman was fifth). As a result both Adams and Mitchell ended the season tied with 55 points. There will be a ride-off at Regionals to give one of these two riders reserve ribbon for the year. Hortman, champion of the region with only 60 points, qualified for Regionals over open fences only. Carssow's big day moved her into fourth place overall, closer than many may have noticed, with 51 points.
Down to the wire with the ride-off: It was not until the final novice class of the day that Pyser won for a second time. Had she placed second there would have been a six-way ride-off for high point. Instead it was a five-way for reserve. Joining Carssow, Stichter, Levine and Bryant was Washington College junior Caitlin Patton. Hailing from Chestertown, Maryland, Patton had been second over intermediate fences. "I am holding my breath that I can get three points (in intermediate flat) to go to Regionals," said Patton, who won her flat class outright. Some may have thought former Mount Ida College rider Levine would have the edge, as she might be more familiar with the horses. However when the class was lined up it turned out to be Stichter who won the ride-off. For reasons that are not clear, the ride-off placings were announced from first through fifth, though only Stichter should have been announced as winning the reserve ribbon.
How could we forget: Other undergraduates with a blue ribbon on this day were Morgan Baker (intermediate flat) of Washington College, coached on this day by Jen Shaw, and fourth overall with 22 points; Jen Jones (beginner walk-trot-canter) of Franklin & Marshall, which finished fourth overall for the year, four points ahead of Penn; Whitney Gallo (walk-trot) of Gettysburg, which may host the first show of next season, and Erin Nolan (novice flat) of West Chester, which ended the day with only six points. 2003-04 was a vast improvement overall for the golden rams, as West Chester showed only once last season and ended up with two points. This season the golden rams added 90 more, and nearly caught Arcadia for tenth place.
Keeping up with "The Jones": It was a good year for all three teams coached by Dee Jones. Two of her three teams trended upward, as Bucks County Community College finished third overall while Temple scored 109 more points than in 2002-03. Bucks posted 192 points in ten shows last season; This time they scored 221 in nine. Bucks moved from fourth overall last season to third in the region this year, the first time that claim could be made since Bucks was second overall in 1993-94 (only seven behind the last Del Val team to reach Zones and one point better than University of Delaware that season). Temple, which had simply been Jeanine Pierson in 2002-03 was now as many as four riders in the fall. The owl posted 47 points last season; The owls 156 this time around.
The only Jones-coached team that saw a drop in points was Arcadia, and even they made strides with many newcommers. If today was the shape of things to come, then Arcadia will be giving the other Jones-coached teams a run for their money. Arcadia picked up 15 points today, Temple 10 and Bucks eight.
Show us your diploma at the door, and your in!: Five alumni have been loyal to the Region throughout the year, and each of these participants will ride at least once at Regionals on April 3rd. Jamie Mast, who as an undergrad at Delaware Valley was known more for her prowess over fences has become as good on the flat. Mast tied for first overall with Joanne Coniglio on the flat (45 points) and Amber Jewell over fences (42 points). Coniglio, who in her Joanne Stagliano days was co-captain of the 1993-94 Del Val team, finished with 39 points over fences (Coniglio is assistant hunter seat coach to Cory Herald at her alma mater, while serving as head stock seat coach). Jewell, whose graduation from Arcadia last season may be part of the reason their points were off slightly, picked up 36 points for the season in alumni flat. Bucks alumni rider Alison Ball picked up 31 points for the season in alumni fences, but just missed out on reaching Regionals in alumni flat with 26. Conversely Delaware Valley graduate Dawn Kaufman needed a third today to qualify in alumni flat, which she did in fact receive.
What's next? For Del Val, Herald and Coniglio will make the difficult decisions as to who will ride in the team competition at Zone 3 Zones on April 10th in Farmington, Pennsylvania, southeast of Pittsburgh. Everyone else who qualified for Regionals will practice, practice, practice until the April 3rd show at Hickory Run. Several who have qualified for Zone 3 Western Regionals will practice for that show on March 26th. And for at least one rider, a trip to Murfreesboro, Tennessee and the 2004 Cacchione Cup Competition awaits.
--Steve Maxwell
Show Incidentals: Sunny skies, but cold and windy. Temperatures in the low 40's. All classes held outdoors. Start time: 8:46AM. Finish: 2:45PM - includes 52 minute schooling break. Coaches & Captains meeting held prior to the show. Point cards posted in this region? No. Alumni classes held in this Region? Yes. Judge: Cheryl Francis. Stewards: Morrone/Rider University, Vogt/University of Delaware and Susan White/Delaware Valley College faculty member.
Team Totals: Delaware Valley College (High Point Team) 34; University of Pennsylvania (Reserve) 29; University of Delaware 24; Washington College 22; Gettysburg College 17; Franklin & Marshall College 16; Arcadia University 15; Temple University 10; Bucks County Community College 8; Utah Valley State College 7 and West Chester University 6.
High Point Rider - Sam Pyser, University of Delaware
Reserve High Point Rider - Janine Stichter, University of Pennsylvania