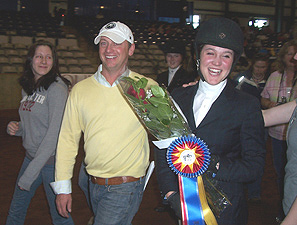 Centenary Coach Michael Dowling (on left) and team intermediate fences rider Marissa Cohen (on right, with most of the Cyclone team behind her) head for the winner's circle after the sophomore won the division at IHSA Nationals on April 24th.
DEFENDING CHAMPION WILDCATS SETTLE FOR SECOND; CYCLONES RULE SUPREME FOR FIRST TIME SINCE '79
MURFREESBORO, TN - Once again fans received more than their money's worth at 2009 IHSA Nationals (which as usual were free to the general public) as the race for both the high point hunter seat and western teams went down to the final class.
For the purposes of this story we focus on the results of the hunter seat team competition, which included 12 returning teams from the 2008 IHSA National show in Burbank, California. The returnees were the University of Wisconsin at Madison, shut out at the Los Angeles Equestrian Center but not to be kept off the board this time; Stanford University, making their fourth consecutve appearance with a full hunter seat team; Zone 5 entries Berry College and the College of Charleston, each of which tied for sixth in 2008 with eleven points; Zone 2 entrees Centenary College, Skidmore College and St. Lawrence University, the latter two part of a three-way tie for Reserve High Point Team at '08 Nationals; the University of Findlay, who like Skidmore and St. Lawrence scored 18 points to share Reserve status; Virginia Intermont College, the National Champion three times between 2004 and 2007, looking to win a fourth title in six attempts; Penn State University, making their seventh appearance in a row (second only to Virginia Intermont's current streak of ten visits); Brown University, which appeared to finish third at Zone 1 Zones but later earned the nod after a rider on the second-place team was found to be ineligible; and the University of Kentucky, the suprise 2008 National Champions, winning the crown with only 21 points via three blue ribbons won by two riders. One of those riders, two time Zone 6, Region 2 Cacchione qualifier Callie Schott, graduated around the time of 2008 Nationals, a significant loss considering Schott won both team open classes. Teammate Ali Cibon, who won team intermediate over fences in Burbank, was back, now entered in team open equitation on the flat. Save for Cibon and Rebecca Wichard, entered at the '08 show in team novice flat and now entered in team intermediate flat, the rest of the Wildcats competing in the team classes were making their IHSA Nationals debuts.
Three of the remaining six schools had advanced a full team to Nationals 23 months earlier, when the show took place at the Big E in West Springfield, Massachusetts. Purdue University was back, having upended Zone 9, Region 1 rival St. Mary of the Woods during the regular season; West Texas A & M University switched regions, moving back into Zone 7, Region 2 and thus defeating Louisiana State University during the regular season rather than facing them at Zones and losing a tiebreaker as was the case in '08; and Mount Holyoke College, one of only four teams to break double-digits at the Big E two seasons earlier. The usually-formidable Lyons won back Zone 1, Region 3 in 2008-09 after rival University of Massachusetts at Amherst had been the story of the year in 2007-08 for ending Mount Holyoke's eleven-year run of region titles. Rounding out the field were Sweet Briar College, which finished third behind Stanford, Penn State and '06 Champion Mount Holyoke in their last IHSA Nationals appearance at Harrisburg in 2006; the University of Southern California, qualifying a team for only the second time ever (and actually getting that full team to the National show. Only a few members of the '92 Trojans made it to Nationals as the Los Angeles area airports were closed at the time due to the Rodney King incident); and Lafayette College, winning Zone 3, Region 4 and advancing a full team to the post-season for the first time in program history. The Leopards also ended a losing streak for Region 4, as the previous seven Zone 3 team entrees from this region had failed to advance to Nationals. Coached by Lafayette graduate Erin Githens, the Leopards came within a point of tieing Penn State for high point team at Zone 3 Zones a few weeks prior to Nationals.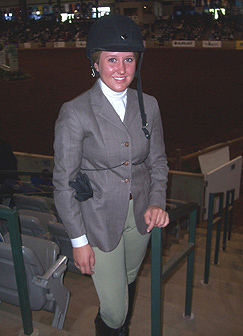 From Cincinnati, Ohio, University of Kentucky freshman Lauren Patterson (pictured) received the highest combined judge's score in the first team class, an '83' in novice fences. Though the top five were tested, Patterson gave the defending National Champions the early lead with a first.
2008 Nationals had been the closest contest in Nationals history, with eight teams still alive for a share of the National Championship going into the final team class. There had been a feeling that '08 Nationals was going to be fairly balanced going in, and many felt 2009 Nationals had a chance to be equally balanced. However to expect all but one school to score below 20 points again seemed like a stretch. After all could everyone really be that evenly matched? Hmmmmmm...
Held slightly earlier than most seasons, 2009 IHSA Nationals commenced on April 23rd. For the third time since May of 2003 the National show was held at the Tennessee Miller Coliseum in Murfreesboro, Tennessee, the complex being the home base of Middle Tennessee State University. The first class of the day was actually individual intermediate over fences, and that division was won by Cibon. The first team class followed, with Novice riders having their turn over the jumps. After each ride judges Pamela Hunt and Mindy Minetto (the latter a late replacement for Geoff Teall) sent their scores to the announcer's booth via walkie-talkie. In the booth the scores were combined so that announcer Justin Ochs (who was announcing at an IHSA Nationals show for the first time) could read them shortly after each rider had completed her/his course. By the time all 18 riders had completed the course only ten had scored '70' or higher, and only two had an average in the 80's. Julie Connors, a Centenary College sophomore from Hebron, Connecticut (a town which also is home to Windcrest Farm, the site of some Zone 1, Region 1 shows) received an '81' while Lauren Patterson, a University of Kentucky freshman from Cincinnati, Ohio received an '83.' However Hunt and Minetto called back five riders to test.
After the testing was completed all eighteen riders returned to the ring for the awarding of ribbons. Sixth place went to Amanda Shamer of Virginia Intermont College, who had received a score of '75' and was the lone rider in the division to receive a ribbon without having to test. Fifth went to Connors while fourth went to West Texas A & M sophomore Anna Getz, who had received a score of '78' prior to testing (which was the fifth best score in the division). Chelsea Jones of Skidmore College, having scored a '78.5' prior to testing, earned third place while the red ribbon went to Kara Wintz of the University of Findlay. A sophomore from Inverness, Illinois, Wintz became the third Findlay rider in three seasons to place no worse than second in the division (Raffi Kechejian, who now coaches Vanderbilt University, was second in Burbank while Becky Baumel, who now coaches Mississippi College, won the division in West Springfield). This meant for the third season in a row the Oilers were among the leaders through one team class (Wintz received a '79' before the testing). Kentucky remained undefeated for the day as Patterson won the blue ribbon. Depending on how you look at it, this gave the Wildcats two straight wins in team classes (as Schott won team open flat to conclude the '08 contest) or three straight wins in IHSA Nationals hunter seat classes (figuring in Cibon's blue ribbon to start the day). In any event some were surprised to see the Schott-less Wildcats still looking like world-beaters. Things would get even better for the University of Kentucky, for a while at least.
Following a pair of individual over fences classes (the first of which had no University of Kentucky entree, breaking the streak) and an hour and half break to remove jumps and drag the ring it was time for team intermediate on the flat. The standings would become even more balanced as four schools received team ribbons for the first time today. Upon entering the ring each of the eighteen riders walked, trotted and cantered in each direction. Eventually all 18 riders were lined up and then brought back out for a second look. Even later the riders were called in one at a time until only two were left cantering. Then those two, Karen Kearney of the University of Wisconsin at Madison and Caitlin Smith of the College of Charleston, were both asked to join the others already lined up. The ribbon presentations for flat riders on the first day of IHSA Nationals took place with riders still mounted on their draws. Heather McPheeters earned Sweet Briar College their first point with a sixth while Lindsay Baker received fifth place to give Findlay the points they needed to move into a tie for first. Ali Krecker of Centenary College was fourth, raising the Cyclone's total to five points. Kathryn King, a University of Southern California freshman was third, earning what are believed to be the first Trojan team points at Nationals in program history. Kearney, a senior from Cleveland, Ohio was the Reserve Champion while Smith made it a three-way tie for the moment with a first. A junior from Glenmore, Pennsylvania, Smith could claim to have won consecutive IHSA Nationals team classes, having won team novice flat last May 11th to suddenly give Charleston a chance to win going into the final team class (Smith was riding for the second time this April 23rd, having placed seventh in individual intermediate over fences). Through two team classes it was Kentucky 7, Charleston 7, Findlay 7, Wisconsin at Madison 5, Centenary 5, Skidmore 4, Southern Cal 4, West Texas A & M 3, Sweet Briar 1 and Virginia Intermont 1.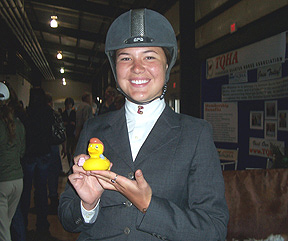 As was the case in 2004 and 2005, horse draw involved selecting a rubber duck out of a stream with a number written on the bottom of the duck. That number coresponded to a number assigned to a horse, and in the case of team intermediate on the flat Caitlin Smith's duck had the number of the winning horse! Smith (seen here with her duck) did have a lot to do with the horse winning, as the College of Charleston junior rode him the best in the eyes of judges Mindy Minetto and Pamela Hunt (not pictured). The Cougars were tied with Kentucky and Findlay for the lead through Smith's blue ribbon performance.
Only once during 2009 IHSA Nationals were hunter seat team classes held back-to-back. This happened when team novice flat took place immediately after team intermediate flat. Two schools would get on the board for the first time while two schools would break double digits. Team novice flat took place almost exactly the same way as team intermediate, with riders walking, trotting, cantering, reversing, repeating, etc. The riding portion of this division itself took place in under 20 minutes, as Hunt and Minetto apparently knew what they were looking for. Sixth place went to Elizabeth Leduc of Berry College. It would be the first of two rides for Leduc on this day, as the Viking sophomore would later place eighth in individual walk-trot-canter. Rebecca Hart of West Texas A & M received fifth place, raising the Buffaloes' total to five points. The University of Findlay made it three ribbon colors in three classes, as Sarah Guidice was fourth. The Oilers now had red, pink and white ribbons and a share of first place. Third place went to Chelsea Dressler of Virginia Intermont College. VI thus now had five points and was within a second of catching the leaders. We admit we at Campus Equestrian forgot to ask Brittany Cunnane where she was from and what year she is (we thought we had written it down in a previous Zone 2, Region 1 show program, but if we did we have not been able to locate the information), but regardless her second place ribbon moved Centenary into a tie for first with Findlay at 10 points each. While the Cyclones and Oilers were the latest leaders, the race for second remained a three-way battle. Kelsey Work, a Lafayette College freshman from Los Angeles, California earned the Leopards' first-ever IHSA Nationals team points with a first. Suddenly Lafayette was only three points off the lead, tied with Charleston and the defending champion Wildcats at seven each. Virginia Intermont, Wisconsin-Madison and West Texas A & M had five, Skidmore and Southern Cal four and both Berry and Sweet Briar one each.
After a pair of individual classes, team open flat was the ninth of eleven classes held on the first day of Nationals (the only all-hunter seat day of the four-day event). Since one should have expected the unexpected by now, few would be surprised that four of the six schools to earn points in team open flat were averting a shutout and scoring for the first time today. Though the walk-trot-canter-reverse procedure did not change, the group was split into two groups of nine for further testing. When it was over Brown University was on the scoreboard, as Elizabeth Gilberti was sixth in her first IHSA Nationals appearance since the Big E. St. Lawrence earned their first points via Suzanne Snyder, who was second in the division at the LAEC but fifth this time. Sarah Scharf of Stanford had finished out of the ribbons in the division a year ago but put the Cardinal on the board with a fourth this time. Mount Holyoke scored team points for the first time since Nathalie Cooper won team open fences to conclude the 2007 Nationals hunter seat team competion as Amanda Pettengill was third. Cibon nearly made it two blue ribbons in one day, as the sophomore from Bannockburn, Illinois was the Reserve Champion. Jennifer Wilkins, a Skidmore College senior from Lincoln, Massachusetts was the last rider in the division to hear her name called. Wilkins, who placed second in individual intermediate flat two seasons earlier, gave the well-named Thoroughbreds seven points to raise their total to eleven. At the halfway point of the competition (this even though the sun had not yet set on the first day of the four-day show) it was Kentucky 12, Skidmore 11, Centenary 10, Findlay 10, College of Charleston 7, Lafayette 7, Virginia Intermont 5, Texas A & M 5, Wisconsin at Madison 5, Mount Holyoke 4, Southern Cal 4, Stanford 3, St. Lawrence 2, Berry 1, Brown 1 and Sweet Briar 1. Though Penn State and Purdue were not yet on the board both could claim that two firsts would give them the lead under the right circumstances!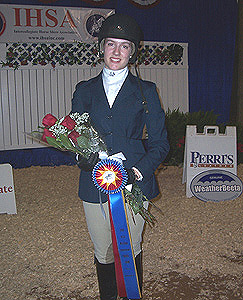 Known to her teammates by the nickname of "Jeffie," Skidmore College senior Jennifer Wilkins was one of six Cacchione Cup entries who were coincidentally competing in the team open flat division. Wilkins (pictured) won team open flat to move Skidmore within a point of Kentucky for the top spot through half of the hunter seat team classes.
The final class on day one of '09 Nationals was team walk-trot-canter. Again the class was split into two groups of nine after the initial gaits. For the third time Virginia Intermont College was in the ribbons as Krista Hayes was sixth. Mount Holyoke added two points via Kim Nichols in fifth while Alexandra McGuire put Skidmore ahead for nearly a minute with a fourth. The top three in the division were all freshman making their IHSA Nationals debuts. Elizabeth Kunz of Kentucky put the Wildcats back ahead with a third-place showing. Stanford suddenly was halfway to the top, as Chase Hickok was second. From Durham, North Carolina, Hickok would not be the only male member of the Cardinal team to earn a top two team placing.
Zone 2, Region 1 includes a school by the name of Sarah Lawrence College. Named after the wife of founder William Van Duzer Lawrence when it opened in 1926, Sarah Lawrence has produced several IHSA Nationals qualifiers, but not this season. However the winner of team walk-trot-canter is a walking billboard for the school, in that her name is in fact Sarah Lawrence! From Canton, Georgia, this Sarah Lawrence earned seven points for Berry College, moving the Vikings into a tie with Stanford for fourth place. Through five team classes it was Kentucky 16, Skidmore 14, Centenary 10, Findlay 10, Berry 8, Stanford 8, Lafayette 7, College of Charleston 7, Virginia Intermont 6, Mount Holyoke 6, Texas A & M 5, Wisconsin at Madison 5, Southern Cal 4, St. Lawrence 2, Sweet Briar 1 and Brown 1.
Considering how balanced the scoring had been at 2008 Nationals, the totals through five team classes in '09 showed even more parity. Through five team classes at the LAEC Findlay was ahead with 16, Kentucky had 14, Berry and the University of Massachusetts 11, Centenary 10 and both Brown and Virginia Intermont 7. Two of the eventual reserve high point champions, Skidmore and St. Lawrence, were not in the top seven. By contrast in 2009 eight teams had seven or more points through five divisions. Would the new hunter seat National Champion set a record for fewest points in winning the title? Would there be a wild four or five-way tie for the title? IHSA rules currently do not break ties at Nationals shows (be they hunter seat or western), so the thought of more than one champion emerging was a real possibility, at least for the moment.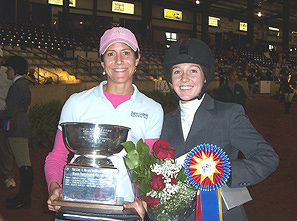 Berry College Head Coach Margaret Knight (on left) holds the Gail A. Hulick Memorial Trophy while Viking freshman Sarah Lawrence holds her blue ribbon won in team walk-trot-canter. There was still daylight outside when Lawrence won the fifth hunter seat team classes on day one of '09 Nationals. Lawrence's first, which put Berry eight points out of first for the time being, concluded the 2009 day one proceedings at 6:59PM local time.
Though Ali Cibon had a second and a third while Caitlin Smith had a first and seventh these were the only riders with multiple ribbons which included a top two placing on day one of Nationals. When day two started with alumni over fences, no one could guess that the second class of the day would start a hot streak for one rider who would become the story of 2009 Nationals. That second class was the jumping phase of the Cacchione Cup Competition, and after all 31 rounds were completed one rider had the first combined judge's score in the ninties so far. Lindsay Clark, a Centenary College junior from New Paltz, New York who had transferred from Bridgewater College prior to the 2008-09 season received a '90' score to lead the Cacchione through one phase. Though she had been out of the ribbons in team open flat the day before, Clark would become nearly invincible from here on in.
Following the Cacchione over fences was one of only two hunter seat team classes held on day two of Nationals, the team intermediate over fences. Starting shortly before 12:00PM local time and completed in under 45 minutes, the results put five teams into double figures and each of the five only one class from potentially taking the lead. The top four were tested, each of which had received a score in the eighties. When the placings were announced sixth went to Joyce Williams of the University of Wisconsin at Madison, who had received a '78.5' to give the Badgers their sixth point. Fifth went to University of Kentucky sophomore Katie Kearney, whose '79' added two crucial points to the Wildcat's total. Fourth went to Mary Margaret Fly of Findlay, who had received an '84' prior to testing. Third went to Paige Kaylor of Sweet Briar, who had an '82' and moved up in the testing phase. The Reserve Champion was Crystal Threlfall of the College of Charleston. A junior from Ridgefield, Connecticut, Threlfall had the highest jumping score of anyone in the division with an '85' and her five points gave the Cougars 12 overall. Moving up from fourth going into the test with an '81' to first was Marissa Cohen of Centenary College. A sophomore from West Chester, Pennsylvania, Cohen had the most impressive test and snapped the Cyclones' scoreless team class streak at two straight with the win. More importantly Centenary moved to within a point of Kentucky, trailing only 18-17. Skidmore remained at 14, Findlay moved up three to 13, Charleston moved up from 7 to 12 while Stanford and Berry remained at 8 each. It really seemed like 2009 could end up exactly like 2008 at this point.
Seven classes would take place before team walk-trot much later in the day, including two sections of the Cacchione Cup flat phase. Though scores were not announced at the time, the flat scores would be posted within two hours of the completion of both phases. Clark had the high score in the first phase with an '85' (only Jen Windish of the University of Delaware scored higher, receiving an '86' in the second phase). At this point the combination of Clark and Cohen had given Centenary some momentum, and two classes before team walk-trot Cyclone senior Mary Bogatko nearly won her team another blue ribbon. Bogatko finished second to Margaret Wiggin of the University of Massachusetts at Amherst in individual walk-trot.
Team walk-trot was the final hunter seat class of any kind on April 24th (and a division Bogatko had won a year ago). Three of the riders in the division were holdovers from the 2008 team walk-trot class, and though none of these three earned points at the LAEC one of them would come up big in Murfreesboro.
The division started out innocently enough, with everyone walking and trotting. Eventually riders were asked to move into the middle one at a time until only three were left on the rail. The crowd was then stunned to hear Ochs' request that the remaining three riders drop their irons! This was a walk-trot division, and it would be illegal to ask riders to pick up the canter. After each rider had ridden their draw about 30 feet Ochs announced for riders to pick up their stirrups. It is not clear if the judges simply wanted to see if walk-trotters were capable of droping and retrieving their stirrups, or if there was discussion of having them trot without stirrups (it is unclear if this is legal at an IHSA show or not). In any event the final three riders were not asked to trot once they had their stirrups back in place. Instead they were asked to join the others in the middle of the ring, and shortly thereafter riders were allowed to dismount.
Sixth place went to Sarah Brady of Mount Holyoke College, bringing the Lyons' total to seven. Fifth went to Erica Carson of the College of Charleston, elevating the Cougars over Findlay to tie Skidmore for third place if only temporarily. Fourth went to Rebecca De Sa of Brown University. The Bears total increased to four points which put them in a tie with Southern Cal and Penn State for the moment, the latter averting a shutout as Andrew Kennedy became the first Nittany Lion rider on the scoreboard with a third. Though she had not placed in the division at the LAEC a year ago, Virginia Intermont College senior Michelle Wynn kept hopes for a National Championship in Bristol alive. From Melbourne, Florida, Wynn was the reserve champion, raising VI's total to eleven. For the second time since Ochs had started announcing the walk-trot results there was a change for third place team. Alex Jacobs, a senior from Philadelphia, Pennsylvania added seven points to the Stanford total. The Cardinal now had 15, putting them only three points out of first. Jacobs was candid about the 'drop your irons' request, saying something to the effect of 'I don't know if I will stay on but I'll do it.' With the results in from the only class to feature male hunter seat riders earning two of the top three ribbons the score was Kentucky 18, Centenary 17, Stanford 15, Charleston 14, Skidmore 14, Findlay 13, Virginia Intermont 11, Berry 8, Lafayette 7, Mount Holyoke 7, Wisconsin - Madison 6, West Texas A & M 5, Sweet Briar 5, Southern Cal 4, Penn State 4, Brown 4, St. Lawrence 2 and Purdue still hoping to get on the board. Seven schools were still alive for at least a share of the National Championship. And with the right combination it was still mathematically possible for a six-way tie at 18!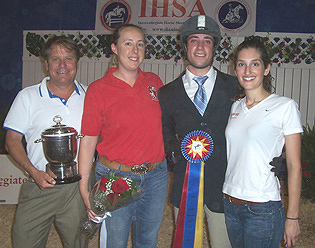 From left to right are Stanford coach Jim Hagman, Head Coach Vanessa Bartsch, walk-trot rider Alex Jacobs and Jacob's girlfriend Pam Geist (who won team novice flat for the Cardinal at 2006 IHSA Nationals). Prior to the season 2008 graduate Geist convinced Jacobs to join the Stanford team to fill a potential void at the walk-trot level. Jacobs went on to win one of the most memorable team walk-trot classes in Nationals history, if only for the judge's request that the last three riders in the ring drop their irons(!).
The final hunter seat team class opened the Saturday, April 25th session. Team open over fences featured nine of the 18 riders who competed in team open flat, three riders who had ridden in the Cacchione classes (but not in a team class) and Smith of Charleston who had ridden in two intermediate classes. Previous time in the seat at 2009 Nationals made a difference here, as none of the five riders who were saddled up for the first time this week finished inside the top six. The class started at 9:08AM with Laura Lemanski of Purdue doing her best to try to put the Boilermakers on the scoreboard. Hunt and Minetto liked Lemanski's ride, as she received an '82.' Soon after Cassie Herman of Mount Holyoke received an '86' while Elizabeth Lubrano of Penn State earned an '85.' Then halfway through the division it was Clark's turn. By good fortune the Centenary junior drew a horse named 'Tres Corona,' who she had also drawn for the jumping phase of the Cacchione a day earlier. Though she earned a '90' on Tres Corona in the Cacchione Clark did even better this time, receiving a '93' and sending the Centenary faithful into a frenzy. The only thing that could conceivably prevent the Cyclones from seven points and their first National Championship in 30 years was a difficult ride-off. But would the judges decide to test?
Alison Sims of Sweet Briar received an '80,' Sarah Scharf of Stanford an '81' and Brittany Denton of Virginia Intermont an '84.' When all 18 riders were done everyone awaited Ochs' next announcement. Ochs stated "There will be further testing." Then a short time later he announced that "Numbers 192, 260, 327, 336 and 438 need to perform the following test." Before he could announce the test several Centenary riders looked at each other confused. Then they and the rest of the crowd with a program figured it out within seconds. The Cyclones were going to be National Champions, as Clark's number 166 was not part of the call-back. The difference between her '93' and Herman's '86' was so great the judges tested from second through sixth only. Considering the circumstances, members of the Centenary team did a good job of appearing reserved at that moment, waiting until the placings were announced for an emotional outburst.
Following the test the open riders returned to the ring for the placings. Sixth went to Scharf, giving Stanford a total of 16 and what would be a tie for third overall. Fifth went to Lemanski, giving Purdue their only points of the contest. With this deuce all 18 schools had scored at least two points. Fourth went to Herman, giving the Lyons ten points to become the eighth team into double figures. Third went to Lubrano, which allowed Penn State to tie Berry for seventh place at eight points each. The Reserve Championship went to Denton, a senior from Atlanta, Georgia, which allowed Virginia Intermont to tie Stanford for third only two points behind defending champion Kentucky.
Then came the inevitable. Before Ochs could even get past her number, the Centenary team, their fans and others were already applauding. When Clark's name was announced the cheers came out. After many close calls Centenary had finally done it. The title was heading east to Hackettstown, New Jersey. With 24 points Centenary had captured their third National Championship in program history while setting the current record for longest gap between IHSA hunter seat National Championships (30 years). However the the last time Centenary won a national championship it was a second consecutive national championship, and with Clark back for another season hopes should stay high that a repeat is a real posibility.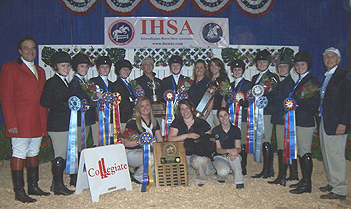 Lindsay Clark (who is essentially in the center of the photo, between Coaches Michael Dowling on the left and Heather Clark - who is of no relation - on the right) won team open over fences to vault Centenary College into first place with 24 points. The Cyclones had captured their 20th consecutive region title in 2008-09 but the current Centenary team is the only one in that span to also emerge as the IHSA Hunter Seat National Champion.
Before the presentation of the National Championship trophy took place there was more work to be done. Clark and nine others competed in the work-off phase of the Cacchione Cup division, with Clark becoming the second Centenary rider in program history to capture the cup. Two more individual hunter seat classes took place before it was time for the ribbon ceremony. Because ties are recognized at IHSA Nationals, tenth place went to both West Texas A & M and Sweet Briar College with five points each. Ninth place went to the University of Wisconsin at Madison with six while eighth went to Lafayette College with seven. Berry College and Penn State tied for seventh with eight points apiece while Mount Holyoke had the green ribbons all to themselves with ten points (it should be noted that only one set of ribbons was on-hand for each placing, resulting in each team which tied for a specific placing taking turns being photographed with the ribbons. A second set was to be mailed out). Findlay was fifth with 13 points while the College of Charleston improved by three points and two placings over their '08 showing with 14 and fourth, respectively. Virginia Intermont College and Stanford finished way ahead of their '08 totals, with VI up from seven points and Stanford up from four to tie for third with 16 each. Kentucky scored only three fewer points than at the LAEC but had to settle for the Reserve Championship. Still with Cibon back for two more seasons and no worse than second place at each of the two most recent championships the future looks bright in Lexington for some time to come.
Then it was Centenary's turn. The Cyclones received their ribbons and many other gifts awarded to the IHSA National Champion. Coaches Michael Dowling and Heather Clark (the latter who coached Lafayette the past five seasons) deserve kudos for finally bringing the Cyclones to the promised land. Campus Equestrian feels that former Coach Andrea Wells should also receive kudos. Now the Assistant Director of the riding program at Savannah College of Art & Design, Wells was at Centenary from the fall of 1994 through mid-2008 and coached the majority of the Cyclone riders in attendance. However if any one individual was the spark for their championship it was Lindsay Clark, who changed the momentum of the entire show with her Cacchione riding on day two. Save for Bogatko the rest of the Centenary team class riders are eligible to return in 2009-10, and sometimes momentum can carry over from the last class at one Nationals to the first class at the next one. However if home field advantage means anything then let it be duly noted that 2010 Nationals will be held at the Kentucky Horse Park in Lexington. The IHSA should charge admission for that one.
---Steve Maxwell
The 2009 IHSA Nationals Hunter Seat Team Class-by-Class Results. The first five classes listed were held Thursday, April 23rd, the next two were held Friday, April 24th and the final class on Saturday, April 25th. The Judges for all 2009 IHSA Nationals hunter seat classes were Pamela Hunt and Mindy Minetto.
Team Novice Equitation Over Fences: 1. Lauren Patterson, University of Kentucky. 2. Kara Wintz, University of Findlay. 3. Chelsea Jones, Skidmore College. 4. Anna Getz, West Texas A & M University. 5. Julie Connors, Centenary College. 6. Amanda Shamer, Virginia Intermont College.
Team Intermediate Equitation On the Flat: 1. Caitlin Smith, College of Charleston. 2. Karen Kearney, University of Wisconsin at Madison. 3. Kathryn King, University of Southern California. 4. Ali Krecker, Centenary College. 5. Lindsay Baker, University of Findlay. 6. Heather McPheeters, Sweet Briar College.
Team Novice Equitation On the Flat: 1. Kelsey Work, Lafayette College. 2. Brittany Cunnane, Centenary College. 3. Chelsea Dressler, Virginia Intermont College. 4. Sarah Guidice, University of Findlay. 5. Rebecca Hart, West Texas A & M University. 6. Elizabeth Leduc, Berry College.
Team Open Equitation On the Flat: 1. Jennifer Wilkins, Skidmore College. 2. Ali Cibon, University of Kentucky. 3. Amanda Pettengill, Mount Holyoke College. 4. Sarah Scharf, Stanford University. 5. Suzanne Snyder, St. Lawrence University. 6. Elizabeth Gilberti, Brown University.
Team Walk-Trot-Canter Equitation: 1. Sarah Lawrence, Berry College. 2. Chase Hickok, Stanford University. 3. Elizabeth Kunz, University of Kentucky. 4. Alexandra McGuire, Skidmore College. 5. Kim Nichols, Mount Holyoke College. 6. Krista Hayes, Virginia Intermont College.
Team Intermediate Equitation Over Fences: 1. Marissa Cohen, Centenary College. 2. Crystal Threlfall, College of Charleston. 3. Paige Kaylor, Sweet Briar College. 4. Mary Margaret Fly, University of Findlay. 5. Katie Kearney, University of Kentucky. 6. Joyce Williams, University of Wisconsin at Madison.
Team Walk-Trot Equitation: 1. Alex Jacobs, Stanford University. 2. Michelle Wynn, Virginia Intermont College. 3. Andrew Kennedy, Penn State University (State College). 4. Rebecca De Sa, Brown University. 5. Erica Carson, College of Charleston. 6. Sarah Brady, Mount Holyoke College.
Team Open Equitation Over Fences: 1. Lindsay Clark, Centenary College. 2. Brittany Denton, Virginia Intermont College. 3. Elizabeth Lubrano, Penn State University (State College). 4. Cassie Herman, Mount Holyoke College. 5. Laura Lemanski, Purdue University. 6. Sarah Scharf, Stanford University.
2009 IHSA Nationals Hunter Seat Team Totals:
Centenary College - 24 (2009 IHSA National Champion)
University of Kentucky - 18 (2009 Reserve National Champion)
Stanford University - 16
Virginia Intermont College - 16
Skidmore College - 14
College of Charleston - 14
University of Findlay - 13
Mount Holyoke College - 10
Berry College - 8
Penn State University (State College) - 8
Lafayette College - 7
University of Wisconsin at Madison - 6
Sweet Briar College - 5
West Texas A & M University - 5
University of Southern California - 4
Brown University - 4
Purdue University - 2
St. Lawrence University - 2