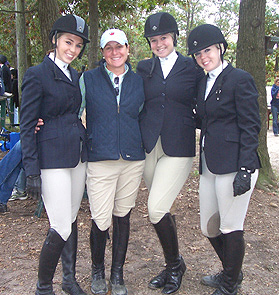 C.W. Post Coach Jennifer Hennessey (second on left) models her new space-age riding boots with Kristen Zimmerman (on far left), Victoria Johnson and Laura Powell (on far right) of the Pioneers. Powell was a winner in intermediate fences while Johnson was second in a previous section. Hennessey may have left the grounds of Olde Towne Equestrian Center to ride at some point but their other coach Dan Wolski (not pictured) was there all day as the Pioneers were Reserve High Point Team on October 23rd with 30 points.
BOBCATS PREVAIL OVER PIONEERS BY THREE WHILE EAGLES MAINTAIN REGION 4 LEAD
Seldon, NY - Were there Lions and Tigers and Bears at the October 23rd Zone 2, Region 4 show hosted by Stony Brook University? There were no Tigers. There were no Bears. However there were Lions, Lions, Golden Lions, "Pride" (which derives from 'two Lions'), a team with no nickname for which a Google search stated the 'Best guess for the mascot is 'Lion,' a team with no nickname that may not have a mascot of any kind (did someone say Lion?), some Eagles, some Seawolves, a surprisingly strong group of Pioneers and an unsurpassed collection of Bobcats that would have been "The Violets" if you turned the clock back a decade.
In spite of all the Lions on horseback at Olde Towne Equestrian Center on the 23rd the top three teams were schools led by a different animal. New York University, the defending Zone 2, Region 4 region champion, finally looked like the team they were a year ago. Led by sophomore intermediate rider Bianca Bianchi, the Bobcats scored 33 points to win by three over a C.W. Post team that also had their best score of 2011-12 thus far. Alexis Fleischer of the Pioneers was one of four riders in the ride-off for reserve high point (along with Bianchi). Host Stony Brook University was third with 28 points as sophomore open rider Olivia Cary earned 12 points to represent the Seawolves in that same ride-off. St. Joseph's College, the 2010 Region 4 region champion, tied for fourth with 27 points but continued to lead the region narrowly over surging Stony Brook and NYU. Cassandra Scofield of the Eagles joined Bianchi, Cary and Fleischer in what was a four-way ride-off for reserve high point rider.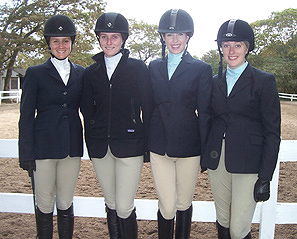 Two in each section ought to do it! New York University had two open riders in each section of open flat. Shelby Wakeman (on far left) and Regan Mays (second on right) were in Section A while Mahala Rummell (second on left) and Cecilia Buisick (on far right) handled Section B. Rummell won her section while Buisick was second. While Wakeman and Mays were third and reserve, respectively in Section A the former had already won the only section of open fences held on October 23rd to start the day. Wakeman continued to lead the Region 4 open rider standings though it was common knowledge that the recent Cacchione Cup Reserve Champion would be graduating in December.
Though the Bobcats fell to St. Joseph's by 38-18 when the Eagles hosted on opening day NYU is now only half as far behind. Bianchi, a sophomore from San Diego, California won her intermediate flat while placing second in intermediate fences. Shelby Wakeman, a second semester senior from Westlake Village, California who was second at 2011 IHSA Nationals in the Cacchione Cup Competition, won the open fences class which started the day while later placing third in open flat. Mahala Rummell, a freshman from Jacksonville, Florida won her open flat. Rummell had ties to the NYU team prior to enrolling as Wakeman is her cousin! Olivia Manno, a freshman from Greenwich, Connecticut (Yes NYU lets people from the NY Metro area go to school there too) was a blue ribbon winner in novice fences while Karin Schultz won the Bobcats' final blue ribbon of the afternoon with a first in walk-trot. The sophomore from Baton Rouge, Louisiana pointed out to this writer that her name is actually pronounced "Corrine" though it is spelled 'Karin.' Besides Bianchi other NYU riders to finish second were Cecilia Buisick (in open flat), Bonnie Auger (in intermediate flat), Caroline Kemp (in novice flat) and Melissa Mende (also in novice flat). Through three of six fall shows NYU trails St. Josephs 86-76 though to their credit the Bobcats have improved their score from one show to the next.
With the results varying wildly within Region 4 from one show to the next C.W. Post has ridden their way into the team race. The Pioneers scored a year-to-date high of 30 for reserve high point team honors and trail St. Josephs by only 13 points overall. Fleischer, a freshman from West Islip, New York won her novice flat while placing second to teammate Holly Leffhalm in novice fences. Leffhalm, from King's Park, New York and like Fleischer a freshman, was overjoyed with her effort. "I didn't even place last week!" said Leffhalm, who was out of the ribbons over fences when Columbia hosted. "But she rode beautifully this week," added Kathleen Zimmerman, whose daughter Kristen rides in the open divisions for the Pioneers. Laura Powell, a senior from Merrick, New York won her intermediate flat to bring the blue ribbon total to three for the day. Cathleen Joseph and Barbara Fiore were second in their respective walk-trot classes as was Maira Arato in novice fences. A freshman from Setauket, New York, Arato was a member of the Three Village IEA team last season. The Pioneers earned five red ribbons, with Victoria Johnson earning the first top-two placing of the day with a second in intermediate fences.
Stony Brook University has unquestionably been the most consistant team through three shows. The Seawolves scored 28 points at St. Josephs, 27 at Columbia and 28 today. This ability to not swing wildly up or down has nearly pulled the Seawolves even with St. Josephs, still narrowly ahead by 86-83. Cary, a sophomore from Melville, New York was second to Wakeman in open fences before winning her open flat. Linn Nordquist, a sophomore exchange student for Sweden who will be with the Seawolves for only one semester, won the fourth and final section of novice flat. Kristin Behr, a junior from Farmingdale, New York won her advanced walk-trot-canter. Brooke Ann Dolega, a freshman from Seaford, New York won her second blue ribbon in three tries with a first in beginner walk-trot-canter. Tiffany Kenyon (in intermediate flat), Nicole Zarach (in advanced walk-trot-canter) and Margo Ganon (in walk-trot) and Cary were red ribbon winners for Stony Brook.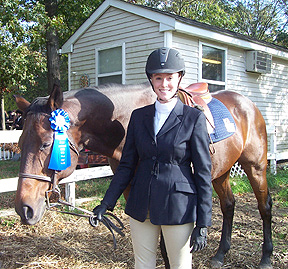 Stony Brook University junior Kristin Behr holds "Whimsical" not long before she won her advanced walk-trot-canter class on October 23rd. The host Seawolves finished the day three points behind St. Joseph's for the season after gaining one point on the Eagles, 28-27.
St. Joseph's had a bounce-back week. After having scored only 21 points at the Columbia show the Eagles earned 27 to maintain their lead for another week. Scofield, a junior from Stony Brook, New York won her novice fences while placing second to Bianchi in intermediate flat. Taylor Anderson, a sophomore from Middle Island, New York who was already qualified for Regionals in novice flat, won the section of intermediate flat following Scofield's flat ride. Nicole Mancuso, a sophomore from Lake Ronkonkema, New York won her advanced walk-trot-canter while Kevin Shaw remained undefeated in walk-trot. A junior from Holbrook, New York, Shaw's ride was crucial at the end of the day, for St. Joseph's has miraculously led their region through three shows without a rider in EITHER open division. However according to Director of Riding Sheila Rodgers the Eagles will have at least one open class filled the next time out as Taylor Little pointed out of intermediate flat with a third in the division.
It is unclear why Nassau Community College did not compete at the St. Joseph's show but in retrospect it has affected the team standings significantly. The school that might be "the Lions" scored 27 a week after winning at Columbia with 31. Through two shows NCC's average of 29 points per show is the best within the region. Surprisingly Nassau did not earn their first blue ribbon of the day until Nicole Scialsone took top honors in her advanced walk-trot-canter. A sophomore from Merrick, New York Scialsone was the first of two Lions to win a class. Emma Weinstein, a sophomore from Syosset, New York won the walk-trot class directly before the ride-off to raise Nassau's total to 27. Former St. Joseph's rider Dana Prinzo earned Nassau's first top-two ribbon of the day with a second in novice flat. Michelle Manfrede also earned a red ribbon, finishing second to Behr in advanced walk-trot-canter).
There was a significant drop-off between the tie for fourth and fifth place Hofstra University. The Pride (who were known as the Flying Dutchmen in the 1900's) scored 19 points, which is their high score through three shows. Talia Sperandio, a junior from Irvington, New York fell off during her novice fences class but rebounded to win her intermediate flat. Later on Laura Mastrosimone gave the Pride a second blue in beginner walk-trot-canter. It was the first IHSA blue ribbon for the freshman from Centereach, New York. Stephanie Gayer (in open flat) and Brenna Chandler (in novice fences; another former IEA rider having competed for Century Mill Stables) added red ribbons for Hofstra, which was one rider shy of a full card (no open fences rider).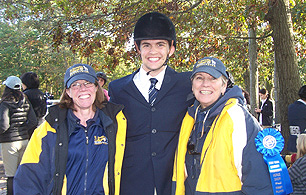 Is he the go-to guy or what? St. Joseph's College junior Kevin Shaw (center, between Coach Allison Mooney on left and Director of Riding Sheila Rodgers on right) won his third consecutive walk-trot class, keeping him undefeated in his IHSA career to this point. The Eagles scored 38 points on opening day, then only 21 but were back up to 27 at today's event.
Two teams scored eighteen points. The Columbia University Lions earned their 18 points with few riders entered than Dowling College and fewer positions filled on their point card. Lacking riders in both open divisions and intermediate fences, Columbia managed one blue ribbon through the efforts of Julie Ahn. A freshman from Seoul, South Korea Ahn won the first of four sections of novice flat for the Lions' only top two placing of the day.
If Dowling College had a rider in open fences their card would have been complete. Hayley Knopf, a senior from Northport, New York who had pointed out of walk-trot one week earlier, won her beginner walk-trot-canter class for the Golden Lions' only blue ribbon of the day. Michelle Berry earned Dowling's only red ribbon with a second in novice flat.
Molloy College College scored 17 points, one point more than their previous high of 16 on opening day. Armed with a full card the Lions struck blue paydirt early. Danielle Jarvis, a freshman from Brick Township, New Jersey won the first of two sections of intermediate fences. Alexandra Sabatino (in novice fences) and Theresa Hempstead (in beginner walk-trot-canter) won red ribbons for Molloy.
Rounding out the scoring was Suffolk Community College with ten points. The team without a nickname/mascot (please contact us if you know their nickname or mascot - Editor) had an IHSA program in the '70's, '80's and '90's but did not field an IHSA team between 1999 and 2010. After showing during the spring of 2011 Suffolk has been a regular so far 2011-12. Though Suffolk had riders in only half the divisions (they were covered from novice down to walk-trot) one rider in particular did better than the team itself! Amanda Rooney, a freshman from North Babylon, New York won both of her novice classes to become Suffolk's first High Point Rider of the 21st century. Rooney's win in novice flat provided her with her first-ever IHSA blue ribbon and after the novice divisions were completed Rooney didn't even have to ride off for the honor. Kirsten Lambui later earned Suffolk's only red ribbon with a second in beginner walk-trot-canter.
The Suffolk Community College IHSA team re-appeared after an eleven-year absence late this past season. For the first time since at least the late 1990's Suffolk had the high point rider at an IHSA show. SCC freshman Amanda Rooney (on right, with Coach Lisa Cunningham, herself a former rider for Johnson & Wales University), who had yet to win an IHSA Blue Ribbon when the day started, won both of her novice classes to claim high point as the only undergraduate rider at Olde Towne with two firsts that day.
Cresswell continues to win: While the flat was split into two groups today the Region 4 Alumni over fences was one single class for the third weekend in a row. And at each of the first three shows Rachel Cresswell has prevailed over the jumps. A December 2008 Stony Brook University graduate, Cresswell is also undefeated in her alumni flat classes through three shows. Cara Faggione, who graduated from C.W. Post last spring won the other alumni flat section. Natalie Depinto, who graduated from C.W. Post a few months ahead of Faggione, was second to her former teammate on the flat while placing fifth over fences. Because Region 4 has so many active alumni eleven different riders earned points. Christine Manz-Wolski was not originally in the program for the over fences class yet the Molloy graduate was second to Cresswell while later placing fifth on the flat. 2009 Centenary College graduate Melanie Verdesco was third over fences and fourth on the flat. Prior to today Verdesco had the only alumni blue ribbon not awarded to Cresswell, as she won the section of alumni flat on October 2nd which Cresswell was not entered in. 2007 Columbia graduate Jess Nichols was second to Cresswell on the flat and fourth over fences. 2007 Hofstra graduate Diane Bollen was third on the flat and sixth over fences. Like Depinto Jen Cotrone graduated from C.W. Post in the middle of the 2010-11 season. Cotrone was third on the flat. Dowling College graduate Laura Zerafa only flatted and was fourth. 2009 Skidmore College graduate Morgan Eisler was fifth on the flat while 2011 Hofstra graduate Courtney Molloy was sixth behind Eisler in the section that Cresswell won.
The Ride-Off: Neither Bianchi, Cary, Fleischer or Scofield had ever been in an IHSA ride-off of any kind until they took part in the four-way contest to settle reserve high point. Judge Mary O'Connor eventually selected Scofield as the overall red ribbon winner.
Things change in a hurry: Though Stony Brook was only three points out following their home show (without having won a show at the time) the Seawolves were high point team at the Thomas School one week later to take the overall lead in the Region 4 team standings. One week after that Stony Brook not only won again the Seawolves became the first Region 4 team this season to reach the '40's, scoring exactly 40. At the same time St. Josephs scored in the 20's at both shows to fall behind by double digits. The sixth and final fall show on November 13th was won by host C.W. Post. The Pioneers scored 39 points to move a point ahead of St. Josephs for third place. Through the fall the Pioneers lead the Eagles 165-164 while the Bobcats ran off four consecutive shows in the 30's to finish the fall in second place with 175 points. However the Seawolves' last three scores of 37, 40 and 33 have them up on the Bobcats by 18 points. Stony Brook leads NYU 193-175 in search of their first Region Title since the 2003-04 season. Though only two spring shows are officially scheduled there is discussion that a third might be added. This could help NYU make a late run to repeat as region champ though they will do so without Wakeman, who graduated mid-season. Still the Bobcats have plenty of depth in the open division. The real question is can any Region 4 team ride consistantly enough to overtake a Stony Brook team that has their share of depth in all levels in their own right?
--Steve Maxwell
Show Incidentals: Sunny skies, with temperatures in the middle '50's. Start time: 8:42AM. Finish: 4:28PM - includes 38 minute lunch break/Coaches & Captains meeting. Point cards posted in this region? Yes. Alumni classes held in this Region? Yes. Judge: Mary O'Connor. Stewards: Cunningham/Suffolk Community College, Stryker/Nassau Community College and Rodgers/St. Joseph's College.
Team Totals: New York University (High Point Team) 33; C.W. Post College (Reserve) 30; Stony Brook University 28; St. Joseph's College 27; Nassau Community College 27; Hofstra University 19; Columbia University 18; Dowling College 18; Molloy College 17 and Suffolk Community College 10.
High Point Rider - Amanda Rooney, Suffolk Community College
Reserve High Point Rider - Cassandra Scofield, St. Joseph's College