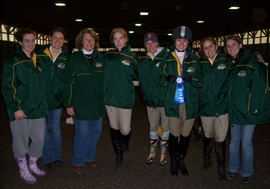 Head Coach Cindy Ford (third on left) and several members of the Skidmore team pose with senior walk-trot rider Elizabeth Stanish (holding the blue ribbon) after her seven points assured the Thoroughbreds of an opening day victory.
SKIDMORE EDGES CORNELL 45-41 IN REGION 3 HUNTER SEAT SEASON OPENER (OCTOBER 28, 2006)
Otego, NY - In spite of having three riders with two firsts and a healthy 45 out of a possible 49 points, the Skidmore Thoroughbreds spent most of the day in a close battle with several teams.
One of the reasons that so many teams stayed close had to do with the number of class sections within each division. The open fences for example went all the way to a section 8F, giving six riders a shot at the blue ribbon. Skidmore managed to win three of the six open fences sections, with Ashley Woodhouse, Megan Martin and Jessica Schroff each a blue ribbon winner. However one of two other Skidmore riders had been pointed, both of which placed second. Morrisville State senior Pam McCarthy won her section to give the Mustangs a 7-5 lead on the Thoroughbreds. From Pawling, New York, it was the first open fences ride for McCarthy, who had pointed out of intermediate fences at the end of the 2005-06 season. Also earning the blue in open fences were Jackie Darling of Ithaca College and Alison Levy of Binghamton University. Darling and Levy were pointed, making it a three-way tie for first through one division. Levy would place second in open flat as the Bearcats would finish the day third overall.
Cornell faired the best over five sections of intermediate fences. Kim Brody, a freshman from Andover, New Jersey won the first section while Big Red sophomore Caroline Shulman was on top two sections later. Rebecca Danz earned the first blue ribbon of the season for Albany while Christine Eromenok did likewise for RPI. Kate Kokanovich of Colgate won the final section of intermediate fences, giving eight of the thirteen schools present at least one blue ribbon through eleven classes and only two divisions. Rachel Pech of Binghamton, whose older sister Gillian used to ride for Cornell, placed second in Shulmans' section, temporarily giving the Bearcats the lead with 12 points overall.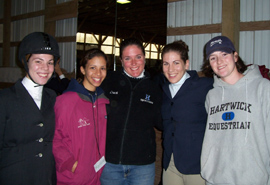 Host Hartwick College was one of six teams to score 30 points or more on opening day. From left to right are Hannah Wiest (who won the Hawks' first blue ribbon of the season, taking the first section of novice fences), Cate Moore, Head Coach Betsey Smith-Price, Lauren Kamerer and Cailin Sanford (a winner in open flat later that afternoon).
Host Hartwick College was surprisingly without a blue ribbon when novice fences got underway. However the Hawks would win the first two sections, as Hannah Wiest and Raimie Utterback took sections A and B, respectively. Colgate would earn their second blue ribbon of the day as freshman Michelle Simon won the third section. Ten classes had come and gone without a Skidmore blue ribbon. Jessica Feil (pronounced 'Feel' we are told) ended the drought while Thoroughbred teammate Ashley Halsey won the fifth and final section of novice fences to make it two straight. Through the undergraduate jumping divisions both Skidmore and Binghamton were tied with the lead at 17 points each.
The alumni were the last to jump, with 2005 Ithaca graduate Audra Ravo earning the blue ribbon. Kristen Sackett, a 2006 Ithaca graduate and a former teammate of Ravo's earned the red, second place ribbon while twin sisters Lynn and Marie Boomhower were third and fifth, respectively. A typo in the program indicated that the former was now Lynn Silva-Boomhower when in fact she had become Mrs. Boomhower-Silva during the off-season. Sandwiched in between the former Cobleskill teammates was 1982 Binghamton graduate Mary Jane Wisniewski, or make that Mary Jane Kresic to those who met her more recently. Wisniewski/Kresic earned a fourth in her first IHSA ride since the 1981-82 season.
While the Boomhowers were a sister act at today's show ("I am one minute older," said Marie), Kresic was part of a rare Mother/Daughter combination. Siena freshman Briana Kresic rode in the section of intermediate fences that Eromenok won, but did not earn a ribbon because she was being evaluated and was competing unjudged. Since this writer started following the IHSA on a National basis in 1997 this is the first instance where he has heard of a Mother and a Daughter competing in the same show.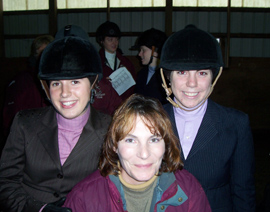 It was the IHSA coaching debut for Hamilton Head Coach Valerie McCloskey (center), and considering the Blue had no novices or walk-trot riders on this day their 27 point total was not too shabby! Amy Klegarth (left) earned a second in intermediate fences while Emily Chamberlain (right) won Hamilton's lone blue ribbon of the day in the second section of intermediate flat.
Following a short lunch break the open flat put the Thoroughbreds ahead for good. Though the first section did not feature a Skidmore rider sections B, C and D all did. Nichole Malone, a junior from Needham, Massachusetts won a blue ribbon to go with her second in open fences while Schroff and Woodhouse won their second blue ribbons of the day. Cailin Sanford of Hartwick and freshman Mackenzie Bower of Colgate were the other open flat winners, in each case providing the third blue ribbon of the day for their respective teams.
Though Skidmore had not won a blue ribbon over intermediate fences Jennifer Wilkins made sure the Thoroughbreds did not suffer the same fate in intermediate flat. The sophomore from Lincoln, Massachusetts won the first section while Emily Chamberlain made Hamilton College the tenth team of the day to earn a blue ribbon with a win in the second section. Shulman saw to it that the ride-off would not be an all-Skidmore class by picking up her second blue ribbon of the day while Ashley Oost-Lievense of Colgate won the fourth and final section of intermediate flat, giving the Raiders more blue ribbons than any school save for Skidmore up to this moment. The first also took Oost-Lievense over the 35 point barrier in the division, perhaps making her the first Colgate rider of the new season to qualify for Regionals.
Since the fences had been removed Skidmore riders had gone four-for-four. Sophomore Giselle Cohen made it five-for-five with a win in the first of six sections of novice flat while Feil won section 3C. Kelly Palmer of Binghamton stopped the perfect flat streak, winning the third section while denying Halsey and Colgates' Simon the chance to join Schroff, Woodhouse, Feil and Shulman in the ride-off. Christine Garvey and Kendall Banks of Cornell also won sections of novice flat as did Hartwick sophomore Lauren Moak.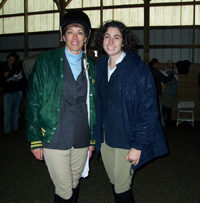 Will they one day ride alumni against each other? Mary Jane Kresic (left) finished fourth in alumni fences and fifth in alumni flat at the October 28th Hartwick show. Briana Kresic (right) competed unjudged in the intermediate fences in order to be evaluated. The 1982 Binghamton graduate and the Siena freshman are the first Mother and Daughter to compete in the same IHSA show that this writer has ever encountered.
While the horse draw for the ride-off was taking place in the show office, the alumni flat was taking place in the arena. Ravo and Sackett again placed first and second while Marie Boomhower moved up two places. Lynn Boomhower moved down one spot as did Kresic, who indicated that the S.U.N.Y. - Binghamton team was made up of ten riders during the 1980-81 and 1981-82 seasons. Kresic was surprised to hear that it had been only six years since such schools as Cazenovia and Saint Lawrence had broken away from Skidmore and Binghamton when the current Zone 2, Region 3 was created.
Though four riders qualified for the ride-off, Woodhouse was unable to participate, having already headed back to Skidmore for a non-riding event. Schroff, Shulman and Feil thus rode off, with judge Ken Whelihan asking for a half-turn on the forehand among other requests. When it was over Schroff was high point. The junior from Buffalo, New York edged out Shulman, who like Malone is from the Boston suburb of Needham.
Five sections of advanced walk-trot-canter followed. Amalia Camargo won the final blue ribbon of the day for Ithaca in the first section while Caitlin Kofol won the first blue ribbon of the day for Elmira College in the second section. Though Elmira would finish the day with only nine points they would excel in the advanced as freshman Marissa Piccirilli would win the section immediately following Kofol. Cobleskill became the twelfth school of the day with a blue ribbon as Anna Supp won the fourth section of advanced walk-trot-canter. Cornells' Caitlin Kontak won the final advanced section, giving the Big Red a shot at high point team honors.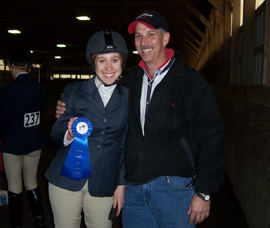 From Delray Beach, Florida, Cornell senior Elizabeth Barrett (left, with Head Coach Chris Mitchell) won the seventh and final blue ribbon of the day for the Big Red. Cornell finished second to Skidmore on October 28th and at two other fall Region 3 shows. However Cornell would finish ahead of Skidmore at the Holiday Tournament of Champions invitational on December 3rd.
Before walk-trot could settle the question of high point team, two sections of beginner walk-trot-canter took place. Only four teams had riders in these two classes, with Samantha Zimmer of Binghamton winning section A in a field of four and Jennifer Allers of Hartwick a winner in a field of three for the second section.
With the large number of classes it was surprising to see only two sections of walk-trot to end the day, but because only seven of the thirteen teams in attendance had a walk-trotter only two sections were necessary. Elizabeth Bennett of Cornell won the first section in a field of five while Elizabeth Stanish of Skidmore won the second section in a field of four. A senior from Munster, Indiana who skipped a grade in college (!), Stanish was Skidmores' only walk-trotter at today's show, and it was her seven points that raised the Thoroughbreds' total to 45. Cornell finished with 41 while Binghamton edged out Hartwick 35-34 for third.
Don't forget the Saints: Though the Siena Saints did not earn a blue ribbon at today's show, several of their riders did well in their IHSA debuts. Freshman Kara Rothermel was second in both novice flat and fences while senior Jenny Kennedy also earned a red ribbon in novice flat. Siena finished with 15 points despite no walk-trot or open fences rider.
Don't forget the Announcer: Non-riding Hartwick student David Bon-Keen did the announcing at today's show. We only mention this since he is the first announcer this writer has met who can claim his sister competes at the open level in another IHSA region! Older sister Amanda rides for Wesleyan University in Zone 1, Region 1 and was eighth in her regions' Cacchione/Open Rider Standings through five fall shows.
Don't forget Renee Brandts' unexpected red ribbon: Albany freshman Renee Brandt was a late substitution as one of her teammates broke her arm only days before the show. "(Teammate) Lynne Faust called me early this morning and said 'Renee, do you want to ride today?'" said Brandt, whose IHSA debut in advanced walk-trot-canter resulted in a second behind Kontak. The Albany Great Danes only joined the IHSA midway through last season, finishing ninth today with a healthy 23 points.
Don't forget Skidmore versus Cornell at the Holiday Tournament of Champions: Though Skidmore would go on to win all four Region 3 fall horse shows, Cornell finished with the higher team placing at the Holiday Tournament of Champions show at Cazenovia, New York on December 3rd. Though the Thoroughbreds led 19-8 through three jumping classes (with firsts for Woodhouse in open fences and Katherine Fegan in novice fences) the Big Red caught fire on the flat, with Shulman a winner in intermediate and senior Erika Oziemina tops in walk-trot. Cornell had a chance to win the show outright but earned the red ribbon while Virginia Intermont earned the blue in the walk-trot-canter class which concluded the show. Virginia Intermont won with 37 while Cornell was reserve with 36, the finest showing for a Big Red team at a Tournament show since the series was created in 1992. Skidmore was third overall in a field of 21 teams with 31 points. There was a third Tournament of Champions show held in Athens, Georgia on January 27th. Though made up mostly of schools from the Southeast Skidmore was entered and finished sixth overall though we at Campus Equestrian do not yet have the points. The next hunter seat competition for Skidmore, Cornell and the rest of Region 3 will be Sunday, February 18th when Cornell hosts the first of four spring shows.
---Steve Maxwell
Show Incidentals: Occasional heavy rain. Cloudy and windy, with temperatures mostly in the '40's. Entire show held indoors. Start time: 8:57AM. Finish: 4:43PM - includes 37 minute lunch break/Coaches & Captains meeting and a schooling break totaling an additional 23 minutes. Point cards posted in this region? Yes. Alumni Classes held in this region? Yes. Judge: Ken Whelihan, Stamford, CT. Stewards: Hanlon/Siena College. Pernat/State University of New York at Cobleskill and Eklund/Morrisville State College.
Team Totals: Skidmore College (High Point Team) 45; Cornell University (Reserve) 41; Binghamton University 35; Hartwick College 34; Morrisville State College 32; Colgate University 31; Ithaca College 28; Hamilton College 27; State University of New York at Albany 23; Rensselaer Polytechnic Institute 21; State University of New York at Cobleskill 21; Siena College 15 and Elmira College 9.
High Point Rider - Jessica Schroff, Skidmore College
Reserve High Point Rider - Caroline Shulman, Cornell University