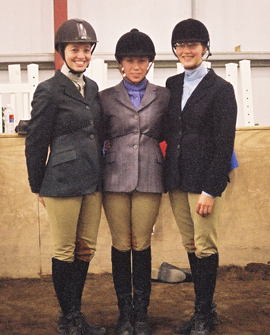 Amanda Grumman, Elizabeth Redding and Cheryl Adams of Cazenovia College won consecutive intermediate fences classes at the December 5th Region 2 Hunter Seat Show.
CAZENOVIA WINS 13 CLASSES IN A ROW, SWEEPS FENCES, SCORES 46!
Cazenovia, NY - It would be an understatment to say that Cazenovia won for the fourth time in as many attempts this season. Terms such as "Rout" and "Annihilate" apply more to football but are almost worthy here.
Though Rachel Ragazzino and Tarah Watson of Saint Lawrence won two of the first three open flat classes to start the day, Megan Cowan's first in section D of open flat would start a very impressive run for Cazenovia. Three open fences classes went to the wildcats, with Missy Starr (who won section B of open flat), Cowan and Frank Bassett the winners. Bassett, who was very impressive at 2002 IHSA Nationals, was riding in open fences for the first time. Three sections of intermediate fences also went to Caz, with Amanda Grumman, Elizabeth Redding and Cheryl Adams the victors.
Five sections of novice fences came and went, with Sarah Behrens, Lindsay Urbanski, Jennifer Nyhan, Lesley Olander and Sarah Tripoli of Cazenovia winning in that order. Following a 65 minute lunch break, Adams won her intermediate flat class before Hannah Stonefield of Saint Lawrence ended the Cazenovia win streak with a blue ribbon in section B of intermediate flat. The wildcat streak totalled 13, with all eleven fences sections included. Cazenovia riders also placed second three times and third four times in those jumping sections. Besides a sweep of the fences, Cazenovia also swept the entire novice division, as Urbanski, Nyhan, Sarah Raynsford, Kate Bennett and Kate Brown won sections A through E of novice flat.
At the end of the day (which turned out to be 6:30PM), Cazenovia had won with 46 points, their best showing of the season to date. There was no ride-off, though Starr, Cowan, Adams, Urbanski and Nyhan all had two firsts. Runner-up Saint Lawrence moved from third overall in the Region 2 standings to second, scoring a season-high 36 points but now trialing the wildcats by 37. So great was the strength of Cazenovia and Saint Lawrence that only three of the 32 classes went to riders not on the wildcats' or saints' rosters. When Lindsay Huff of Syracuse won the first section of advanced walk-trot-canter, she became the first rider from a team other than Cazenovia or Saint Lawrence to receive a blue ribbon (the 24th class of the day for the record).
No visitors from the Great White North just yet: The University of Ottawa is expected to show on December 13th at Saint Lawrence, which will mark the first time the Gee-Gees have shown in the region since the Spring 2003 Cazenovia show. Another Canadian school, the University of Guelph, is planning to show at some point this season. Guelph was actually in this region on two previous occasions, most recently in 1993.
Alumni standings do not change: Though it may come as a surprise to some, there are several regions in the IHSA where Friday shows are not uncommon. Today's Cazenovia show marks the first time in many years that a Zone 2, Region 2 school scheduled a (regular-season) weekday show. Attendance was still strong, though the only casualty was that several Alumni could not get time off from work to compete. Though Allyson Thibodeau (a Cazenovia graduate who works for the riding program) and Alicia Fereday (a S.U.N.Y. - Oswego graduate who coaches her alma mater) were in attendance, the rest of the current alumni riders were not present, and thus no alumni classes were held.
--Steve Maxwell
12/5 Show Incidentals: High Temperature in the upper 20's. Mostly sunny skies. Entire show held indoors. Start time: 9:00AM. Finish: 6:30PM - includes 65 minute lunch break/coaches & captains meeting and several separate schooling breaks totaling an additional 30 minutes. Point cards posted in this region? Yes. Alumni Classes held in this region? Yes but not on this day. Judge: Tony Sgarlata. Stewards: Backer/Alfred University, Drueding/St. Lawrence University and Van Patten/Syracuse University.
Team Totals: Cazenovia College (High Point Team) 46; Saint Lawrence University (Reserve) 36; Syracuse University 23; State University of New York at Geneseo 22; Nazareth College 21; Alfred University 20; Rochester Institute of Technology 19; State University of New York at Oswego 14; State University of New York at Potsdam 12 and University of Rochester 7.
High Point Rider - FIVE WAY TIE between Missy Starr, Cazenovia College, Megan Cowan, Cazenovia College, Cheryl Adams, Cazenovia College, Lindsey Urbanski, Cazenovia College and Jennifer Nyhan, Cazenovia College.