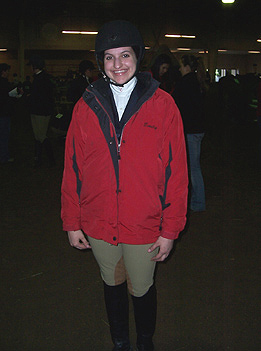 Cornell junior Emily Kowalchik (pictured) won her novice flat class on October 29th while earning two red ribbons a day later. The Big Red squeaked out a 40-39 win over Alfred University before beating the Saxons 43-35 in the second half of a two-day event at Lehman Farm.
CORNELL WINS (FALL 2011) REGION 1 SEASON OPENER AND THE FOLLOW-UP
(Cornell University Head Coach Chris Mitchell not only forwarded Campus Equestrian the current team and open rider standings for Zone 2, Region 1 after their October 29th and 30th hunter seat shows Mitchell also forwarded his account of the two days as it related to his team and the extended Cornell family. Mitchell gave us permission to post his account which we have done. If another Region 1 team would like to submit their account of an upcoming show Campus Equestrian would be happy to post a wide variety of views from a wide variety of teams - Editor.)
Pittsford, NY - Well we traveled to Rochester this morning to start our season and we did it with a win.
It was not the prettiest win but we got the first one under our belts by one point. Alfred had 39, Hamilton 29, Ithaca 28, Nazareth 24, Rochester 21, RIT 20, Binghamton 20, Brockport 15, Elmira 13, Hobart 13, Buffalo 11.
The day started with open and we did ok here with fences going first. Alyx Cheng, rookie sophomore rode well to the 5th, senior Bronwyn (Scrivens) rode to the win. Senior Captain Katie Fink rode to the 4th while Junior Emily Webster rode to another win. Started the team with seven points, Good Job!
Intermediate Fences was next with two freshman riding and they did great. Georgiana de Rham rode to the win while Sofia Steinberger rode well to the fifth place in their first IHSA show. Junior Captain Emily Kowalchik rode to a fifth adding another two points to the tally.
Well our Novice fence riders were next and they stepped it up very well with Sophomore Amanda Sevcik in her first IHSA show with a big win and senior Melissa Kenny also riding to the win, sweeping the division and adding another seven points to the day with a total of 16 points. Great Job!
Alright now we go to Open Flat and we have the same quartet riding and they did great. Shockingly Bronwyn rode really well but did not place while Alyx rode to the 4th and Emily rode to 6th and Katie rode to the win. It was a different division for us but we will regroup and come back stronger tomorrow.
Our Intermediate rookies were back and rode great with Georgi winning and Sofia riding to the second place. This was a great outing for these two in their first IHSA experience. This win puts Georgi in the High Point ride off. We just added another seven points (23).
Novice Flat was next. We swept again with Melissa, Emily Kowalchik and Rookie sophomore Nazanin Behzad. Great Job! The win for Melissa throws her in with Georgi for the High Point Ride Off.
The Walk/Trot/Canter division is next and we start with the advanced division with sophomore Grace Bradshaw riding to the win while Freshman Mary Beth Hannon rode to third place and good job for both! Cornell's total to this point is 35, putting us on top by two.
The Beginner W/T/C was next with junior Zofia Hilton riding to a second along with sophomore Thea Dickson placing 2nd. Good job girls!
So at this point we come to our Walk Trotters and we put the pressure on them to win to for us and they did their part. Senior Amanda Fan rode to the second and Junior Katie Rong rode to the 4th place.
So we finished winning because of a little help from Hamilton taking the (walk-trot) win from Alfred. We will thank them in the morning.
I would like to thank all the girls for the great team work throughout the day as well as a number of parents. The Cheng's for supplying breakfast and lunch for all of us, the Garvey's '08 for a very wonderful dinner in such a relaxed atmosphere where the girls can just let down and relax. THANK YOU ALL.
Amy & Jerry de Rham, Genie Hannon, Fran & Vince Kovalchik, David Steinberger, Delnaz and Michael Behzad and Erin Hagen for being there for us and helping celebrate our first of many victories this year.
As always a huge Thanks to our assistant coach Lauren Wu 08.'
We are back tomorrow and look forward to writing you with good news again...
...Well the second day in a row and 1st and 2nd of six in four weeks is underway.
I told the team yesterday that that was an ugly win but we will always take the "W". I was looking for a better win today and boy did (we) get it.
We won by eight and are up by nine on the season. We had 43, Alfred 35, Nazareth 33, Rochester 27, Ithaca 27, Binghamton 20, RIT 17, Hobart 16, Buffalo 13, Brockport 9, and Elmira 6.
Our day started with Open Fences again and Bronwyn Scrivens (class of) 12' started us off with a big win. Katie Fink 12' Captain and Alyx Cheng 14' were next to ride and placed 2nd and 4th respectively. Emily Webster was our last to ride and unfortunately went off course, but I will guarantee that will not happen again. But the great start (gave) us seven points.
Intermediate Fences was next to go and Freshman Sofia Steinberger was first to ride and rode great (red ribbon) while classmate Georgi de Rham rode to the 1st pace (blue ribbon). Junior Captain Emily Kowalchik was last to ride and brought home the red ribbon. These great results gave us another seven points and we are up to 14.
Our Novice fences riders that were with us yesterday were back today and rode well with Senior Melissa Kenny riding to the win while sophomore Amanda Sevcik rode great to a fourth place finish. And with this finish we have 21 out 21 points at the break of the day.
All four Open riders are back for the flat after a great lunch supplied by David Steinberger (THANK YOU). Bronwyn and Alyx were first to ride and both had tough horses and rode well. Bronwyn finished in second and Alyx finished 5th. Katie is on a streak and won her class while Emily came back strong from the morning and rode to another win. Now the BIG RED total is 26.
Georgi and Sofia were also back for the Intermediate Flat. Georgi rode first and had one mistake and did not place while Sofia rode very well to win. We still have 26 points but no worries because we drop the lowest score.
Novice Flat was next with Sophomore Nazanin Behzad to ride first and she did with style winning her second class of the weekend while Emily Kowalchik rode well to the second place and Amanda rode to the 4th. Our total is moving up again and we have 31.
Next to go was our Walk/Trot/Canter contingent, with Sophomore Grace Bradshaw, Freshman Mary Beth Hannon, Junior Victoria Lust and classmate Zofia Hilton. Grace was first to go and made an error right in front of the judge while Mary Beth rode very well and is proving to be consistent with another third, so that consistency will be winning blues. Zofia was riding in the Beginner W/T/C and rode well with a tough horse and few mistakes to a sixth place while first timer Victoria rode liked she owned the place to win. And this division added seven more points to the total, 38.
Our last rides of the day are the Walk trotters with Senior Amanda Fan, Junior Katie Rong and Freshman Katti Horng. Amanda and Katti were riding in the same class and Amanda was second and Katti finished 4th in her very first horse show ever. Katie Rong rode in the second class and rode very well to the 3rd spot.
We finished the day with a season high 43 points and the win. What a great comeback from the day before for this squad.
Again we would all like to thank the great support that we had from our friends and family. John and Kate Garvey for their wonderful Hospitality and delicious food on Saturday night after a long day. It is always nice when you are on the road to have a home cooked meal and can just relax; Allen and Shirley Chang for a wonderful lunch on Saturday for the team - it was great and the Cheng's were with us both days; David Steinberger for the wonderful lunch that he and his family supplied to the team on Sunday; Delnaz and Michael Behzad, Amy & Jerry de Rham, Genie Hannon and her parents Fran and Vince Kovalcik.
What a support group that this team had this past weekend and I know how much it means to them to have you there to share the victory with. THANK YOU.
See you at the ring at Alfred this Saturday the 5th. Chris