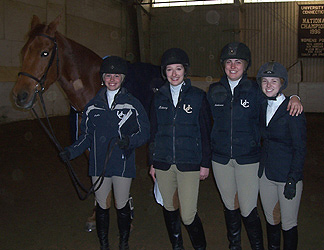 "Angel" poses with (from left to right) Angela Bernier, Brittany Johnson, Catherine Maher and Jess Snell of the University of Connecticut. Over the first six classes on March 10th each of these UConn riders won a class. At the time the Huskies were gaining ground in a must-win situation to try and catch Sacred Heart in the standings.
UCONN, SACRED HEART SETTLE 2011-12 HIGH POINT TEAM FOR THE YEAR TOWARDS THE END OF THE FINAL REGULAR SEASON SHOW
Storrs, CT - If you are going to try to make up 16 points in the team standings over the course of one single IHSA show it is best if you are in your own facility. It helps even more if your point riders in the first two divisions of the day win outright while the team you are chasing places no higher than third.
This is how the day started out for the University of Connecticut. Angela Bernier (senior, Putnam, Connecticut) and Brittany Johnson (senior, Farmington, Connecticut) of the Huskies were both winners in open flat. Catherine Maher (sophomore, Avon, Connecticut) and Jess Snell (senior, Marlborough, Connecticut) won consecutive sections of intermediate flat. Johnson, Maher and Snell went back-to-back-to-back with blue ribbons, giving the Huskies four of the first six blue ribbons of the day.
In total contrast to the 2010-11 season when UConn moved into first place overall during the second show and never relinquished the top spot, the Huskies were in first place overall only once in 2011-12 headed into the tenth and final regular season show on March 10th. UConn tied Connecticut College for first on opening day with 34 points each, and following the third show the entire region had been trying to catch front-runner Sacred Heart University. The Pioneers won the October 16th event they co-hosted with Yale University to move into first. A week later Sacred Heart moved way ahead thanks to a perfect 49 score at Windcrest Farm at Region 5 show number 4. The Pioneers had never been in first place so late in a season throughout the program's 21 year history. With each passing week Sacred Heart stayed ahead, though UConn gained ground on occasion to make many wonder if the Pioneers would hang on for their first Region Title and Zones appearance.
Up by only ten points following the Wesleyan show on February 11th the Pioneers gained two points on the Huskies a week later and four more on February 25th to set up today's situation. Win or only lose to UConn by 15 points or less and a trip to Zone 2 Zones (hosted by Skidmore College) on April 7th would be in the cards.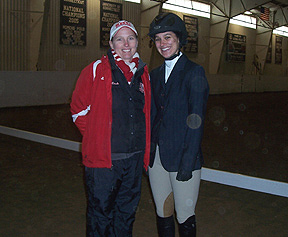 UConn riders won five of the first eight classes of the day while Sacred Heart had not one blue ribbon. However Taylor DiBella (on right, with Head Coach Tiffany Hajdasz) broke the drought with a first in novice flat. Alison Brosky (not pictured) won the novice flat section which followed. These wins marked the turning point of today's show.
Yet when Brittney Parker (freshman, Hilton Head Island, South Carolina) won the first of three sections of novice flat for the Huskies the Pioneer faithful had to be concerned that the home team could earn a 49 score just like Sacred Heart had done during the fall. With Zone 2, Region 5 using an unorthodox method of posting the team points (riders names are not listed. Following the completion of each division someone is suppossed to write in exactly how many points each team received in that particular division) the audience knew that UConn had firsts in both open and intermediate flat for 14 points while Sacred Heart had only six combined. It was not yet known if Parker was UConn's point rider in novice flat. Sacred Heart finally earned a blue ribbon when Taylor DiBella (freshman, Holmdel, New Jersey) won section 3B of novice flat. The question on the minds of many was if DiBella or teammate Alison Brosky was the point rider. Fortunately for the Pioneers Brosky (freshman, Manhassett, New York) proceeded to win the following section of novice flat. Sacred Heart had held serve (if not better) in a division for the first time on this day.
As is the norm at shows held inside Horsebarn Hill Arena the flat classes are completed in their entirety before the fences classes. Therefore two sections of advanced walk-trot-canter came next. UConn then appeared to go on the offensive again, as Ashlee Reinert (sophomore, Tolland, Connecticut) and Lindsay Parshall (junior, Monroe, Connecticut) won both of these classes. However for scoreboard watchers the mystery remained. No one updated the points for either novice flat or advanced walk-trot-canter at this time. One section of beginner walk-trot-canter followed. Neither the Huskies nor the Pioneers won this one, though with Maggie Vogel second anyone with a program knew that Sacred Heart had earned precisely five points. The Pioneers' only other rider in the walk-trot-canter divisions, Taylor Robbins, had placed second to Reinert in section 2B-A.
Walk-Trot closed out the official classes before the lunch break. Members of the Sacred Heart team seemed much more relaxed after Amelia Skerys (junior, Sag Harbor, New York) won the lone section made up of eight riders. With the UConn rider third in the class this was at least a pick-up of three points for the Pioneers, provided that Skerys was the point rider. As the lunch break began the audience was still in the dark. The point sheets continued to list the results of the first two divisions only.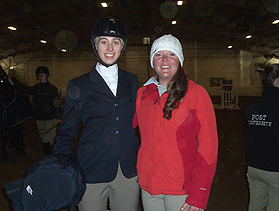 Riders from UConn and Sacred Heart were so dominant during the flat classes that only four riders from other schools earned blue ribbons in that time. One such winner was Madalena Henning of Wesleyan University. Henning (on left) poses with Coach Ally Butler after winning the third of three sections of intermediate flat.
It was not until the jumps were already out and much of the schooling was completed that the point sheets were updated. At least one of the two divisions in which UConn had a first had not yielded seven points but rather five. Sacred Heart had earned a first (via Brosky it was later learned) in novice flat. All in all it appeared that through five flat divisions the Huskies had gained eight points accounting for the drop scores already on the board (which could and did change). Sacred Heart had a fifth that stood to be their drop score for the entire day. In any event UConn would need to make up eight more points over three divisions to force a tie for the season. Should UConn force a tie - and earn high point team honors for the day - the Huskies would have the tiebreaker which would be "Most times as high point team" with five (this would include their tie with Conn College on opening day - Editor). For the moment UConn's point sheet indicated three firsts, a second and a third while Sacred Heart's sheet displayed a first, a second, two fourths and a fifth in plain english.
Following the over fences portion of the 'Coaches Class' (more on this later) the first of three sections of open fences took place. Mallory Taylor (freshman, Lexington, Connecticut) won the class to give Trinity College their second blue ribbon of the day. Johnson of the Huskies was second, and though it was unclear if she was the point rider it was certain that she would was bound for Raleigh. For the second season in a row Johnson will represent Region 5 at Nationals in the Cacchione Cup Competition. Johnson's red ribbon raised her year-to-date point total to 97, eight ahead of teammate Bernier who was closest entering the contest.
The next section of open fences was pretty much the clincher for Sacred Heart. Abbie Britton, a senior from Hoover, Alabama needed to win the class outright to qualify for Regionals in the division. Though she faced stiff competition from Bernier and Fairfield University's Catherine McIntyre, Britton won an over fences class for the first time all season to secure a second ride at Regionals (two weeks earlier Britton was second in open fences for the first time this season. Through eight shows Britton had but 16 points in open fences). Britton was in fact the point rider and with Bernier second it seemed likely that unless the remaining Pioneer riders were out of the ribbons a trip to Skidmore seemed likely.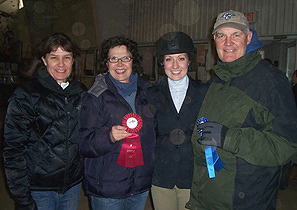 Julia Barnett of Central Connecticut State University (second on right) poses with her parents and an aunt (at far left) after winning her intermediate fences class. For a while the junior from Windsor, Connecticut was in the running for high point rider. CCSU finished fifth for the day with 21 points.
However the audience didn't know that Britton was the point rider so many were still under the impression that UConn had a fair chance. The third section was won by Katie Lynch of Connecticut College (junior, South Dartmouth, Massachusetts) while Jocelyn Alfieri of Sacred Heart was second. Devan Beaulieu was fourth for the Pioneers in the same section. After having won seven of the first 12 official classes of the day UConn had now gone five classes in a row without a first.
Only two sections of intermediate fences were held (it should be noted many schools were on spring break, while Sacred Heart and UConn had the vast majority of their rosters in attendance). For only the second time today back-to-back winners came from schools other than the leaders, as Julia Barnett of Central Connecticut State was first in section A. A junior from Windsor, Connecticut, Barnett finished one place ahead of Catherine Read of Trinity College while riders from UConn and Sacred Heart were no higher than fifth. Trinity made it two straight as Annie Gardner won section B. The freshman from Garden City, New York made it a sweep for the school from Hartford, Connecticut known for its' Squash program. Juliana Lavoie of Fairfield University was second, which marked the third time today that a member of the Stags had earned a red ribbon. Allie Buccos of Sacred Heart was third for the Pioneers' top ribbon in intermediate fences on this day.
There was a schooling break prior to the day's final division, novice fences. During this schooling break the points were updated. It turned out that UConn had not earned any points in intermediate flat, giving the Huskies a natural 'zero' drop score. The Huskies' points in the other six divisions added to 35. Sacred Heart had a drop score of one point, which when removed gave them 27. At this point it was safe to say that Sacred Heart had made history, earning their first Region Title since the program was formed in 1991 (if someone can show us that Sacred Heart participated in IHSA shows prior to the spring of 1991 please step forward - Editor). It appeared UConn could win by as much as 42-28 but this would not be enough to offset the Pioneers' 16 point lead.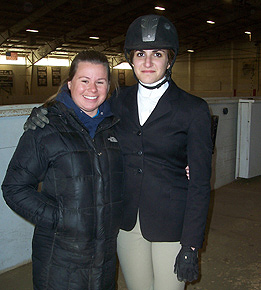 Jen Dorfman of Trinity College (on right, with Coach Amy Kriwitsky) was a winner in open flat. Riders from schools other than Sacred Heart or UConn accounted for only eight of the 22 undergraduate blue ribbons awarded. Trinity riders won three classes which helped the team to third place and 27 points.
At this moment there were several ride-off scenarios on the table. Three riders (Johnson, Bernier and Barnett) each had a first and a second. Brenna Daly of UConn was second to DiBella in novice flat and had another ride coming up. Brosky, Parker and Madalena Henning of Wesleyan University (freshman, Palo Alto, California) each had won earlier and would be riding again. With Henning and Brosky both in section A of novice fences there was a chance that up to six riders could finish the day with a first and a second while other combinations existed to create a ride-off for reserve if necessary.
Just as there had been delays in updating the team points there was a flaw in the system regarding the announcing of results. Each of the three novice fences classes was completed without any results being announced. As soon as the final rider in section A was finished the first rider in section B was sent in. The same thing happened at the end of section B. When section C ended the results of each of three classes was announced. Brosky won section A, insuring no worse than being part of a ride-off for high point. Daly (freshman, Shrewsbury, Massachusetts) won section B and Parker won section C. With Parker having also won earlier both Brosky and Parker were summoned to the announcer's booth to draw horses for the ride-off. Johnson, Bernier, Daly and Barnett were off the hook at the last minute.
The ride-off was not business as usual. Parker's horse decided to buck her off about three minutes in. Some in the crowd were noticably worried as there was quite a noise when Parker hit the ground. However Parker got up without any help a short time later. There was no request for a re-ride so Parker was reserve and Brosky high point rider for the day.
The novice fences results did add seven points to the UConn total, giving the Huskies 42 for the day which was also their highest total at any of the ten 2011-12 shows. Brosky's win in section A had also given Sacred Heart seven more points. The Pioneers finished the day with 34 points, enough for Reserve High Point Team honors but more importantly more than enough to claim first place overall for the year. Many will remember that Sacred Heart scored 49 points at one fall show which in the end was the difference. However it should be noted that the Pioneers were ultimately the most consistant team, scoring between 30 and 37 points at all but two shows (when they scored 41 and 49). Sacred Heart was the only team in the region to score 30 or more points at all ten shows.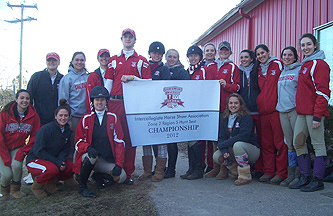 Alison Brosky (bending down to the left of the team banner) was high point rider for the day while Sacred Heart University was high point team for the year. Coached by Tiffany Hajdasz (who is wearing a helmet behind the banner on the right hand side as she was entered in the coaches classes), the Pioneers will send a full hunter seat team to Zone 2 Zones for the first time. Sacred Heart will face off against St. Lawrence University, Cornell University, host Skidmore College and the to be determined winner from Zone 2, Region 4 in a five-way team competition on April 7th. The top two teams in this competition will advance to IHSA Nationals May 3rd through 6th in Raleigh, North Carolina.
Don't forget us: There were a few other riders not mentioned so far in this article who also earned top-two ribbons. Rachel Anderson was second to Bernier in open flat and had Central Connecticut State's best ribbon until Barnett's second in intermediate flat and first in open fences. Jennifer Clayton of CCSU was also a red ribbon winner, finishing second to Parker in the last regular season class of 2011-12. McIntyre of Fairfield was second in her open flat class and finished tied for third in the Region 5 Cacchione race. Stags freshman Claire Kelley was second to Snell in intermediate flat. Jen Dorfman (sophomore, Brooklyn, New York) provided Trinity with their first blue ribbon of the day when she won the third section of open flat. Alexa Parsons of Trinity was second to Johnson in the fourth section. Trinity finished third for the day with 27 points in spite of not having a walk-trot rider entered. Eden Engle-Rebitzer of Wesleyan University was second to Daly in novice fences while Margaret Seldin was second to Skerys in walk-trot. Wesleyan's 23 points was fourth out of eight teams entered. Several other UConn riders were red ribbon winners. Former Mount Holyoke College rider Bobbie Bigelow was second to Dorfman in open flat. Allie Doolan was second to Parker in novice flat while Courtney Pelletier was second to Parshall in advanced walk-trot-canter (these were the only times today when a team earned first and second in the same section of a division - Editor). Bethany Sullivan was second to Brosky in novice flat and Stephanie Heinbockel was second to Brosky in novice fences. Nicole D'Agostino came off her horse in section 5A but was given a re-ride in 5C. The Sacred Heart senior was then second to Henning. Melissa Groher of Connecticut College (senior, South Glastonbury, Connecticut) won the second section of open flat. Groher finished tied for third in the Cacchione race with McIntyre at 86 points each. Caroline Ruby (sophomore, Bronxville, New York) won the lone section of beginner walk-trot-canter. Likely due to spring break depleating their roster, Connecticut College finished the day with only 12 points despite three blue ribbons. This allowed Trinity to clearly finish ahead of the Camels for third place overall in the Region 5 2011-12 team standings.
More Trinity trivia: Both Gardner and Dorfman train at Rice Farms in Old Brookville, New York. Both wound up at Trinity College totally by coincidence.
What Else?: Post University also took part at today's show. While none of their riders placed first or second, Carly Puzacke was third in the open flat class which Dorfman won. Post finished the day with 18 points. Both Yale University and the United States Coast Guard Academy were not in attendance. Yale was on spring break while the Coast Guard may or many not have been cleared to leave the base for today's show.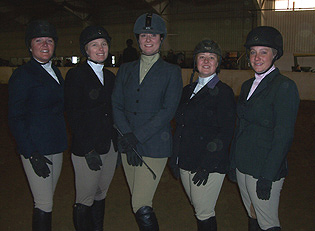 A rare IHSA Coaches' class (or classes) took place on March 10th. From left to right are Ally Butler, Tiffany Hajdasz, Alena Meachem, Naomi Gauruder and Heather Johnson, who won both the flat and fences classes which were on either side of the lunch break. The entry fees for the division benefited the memory of Randy Knight, who was the Livestock Manager at the University of Connecticut for some time.
Let's play dress-up today!: Five of the eight Region 5 coaches present at today's show took part in two Coaches Classes (one on the flat and one over fences). Entered were Elena Meachem, the Head Coach of the University of Connecticut; Ally Butler, who is officially the new Head Coach at Wesleyan though the team still trains at Windcrest Farm which former Head Coach Armand Chenelle owns; Naomi Gauruder, the Fairfield Head Coach; Heather Johnson, the Post University Head Coach, and Tiffany Hajdasz, Head Coach of the new region champion Sacred Heart. Hajdasz is the only coach in this group to have not competed in the IHSA as an undergraduate. The coaches' classes were to benefit the late Randy Knight. Knight was the Livestock Manager at UConn for some time who passed away suddenly (There will be a bench in his honor). Judge Shaina Humphrey knew that these were coaches classes and decided to have some fun with everyone during the flat class. Towards the end Humphrey made all the coaches work without their stirups and even made everyone halt and turn on the forehand. Johnson, who rode for her alma matter only six seasons ago, won both classes while Meachem was second over fences and Butler (who was Ally Titcomb class of '04 at Colby-Sawyer College) was second on the flat (this is the first time this writer saw an entire coaches class dress properly for such an event since 1997 IHSA Nationals, and that class had both English and western Coaches entered - Editor). It is worth noting that Trinity Coach Amy Kriwitsky did not take part since she is already an active alumni rider (there were no alumni classes today because all four alumni riders are already qualified for Regionals in both divisions) while Connecticut College Head Coach Richard Luckhardt declined based on time out of the seat of late. CCSU Head Coach Kayla Blanchette was not in attendance, nor was USCGA Coach Tina Bove or Yale Coach Erin Klemyk. Though Bove would have likely excused herself for the same reason Kriwitsky did both Blanchette and Klemyk would have given Johnson a run for her money. Perhaps all the coaches will try this again next season when everyone is present.
A novel idea: Both Zone 1, Region 1 (which used to contain six of the ten current Connecticut schools) and Zone 2, Region 5 will utilize Mystic Valley Hunt Club for Regionals later this month. Region 1 will hold Regionals there on March 24th while Region 5 will do so a week later on the 31st. According to Luckhardt it was arranged that Leslie Woodworth would judge Region 1 last season while Barbara Fillipelli would judge Region 5 a week later. In 2012 the two New York Metro area Judges will swap regions for Regionals, with Woodworth judging Region 5 and Fillipelli judging Region 1, again with both at Mystic Valley. Apparently Johnson & Wales Head Coach Dirk Fogg told Luckhardt that things went well last season with this arrangement so it would be tried again this year.
--Steve Maxwell
Show Incidentals: Sunny skies, with temperatures reaching the middle '40's. Entire show held indoors. Start time: 9:14AM. Finish: 4:22PM - Includes a one hour lunch break and two separate schooling breaks totaling 49 minutes. Coaches and Captains meeting held prior to start of show. Point cards posted in this region? Yes but without rider's names. Alumni classes held in this region? Yes but not on this day. Judge: Shaina Humphrey. Stewards: Gauruder/Fairfield University, Hajdasz/Sacred Heart University and Johnson/Post University.
Team Totals: University of Connecticut (High Point Team) 42; Sacred Heart University (Reserve) 34; Trinity College 27; Wesleyan University 23; Central Connecticut State University 21; Fairfield University 19; Post University 18 and Connecticut College 12.
High Point Rider - Alison Brosky, Sacred Heart University
Reserve High Point Rider - Brittney Parker, University of Connecticut