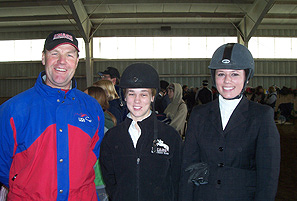 University of Massachusetts at Amherst sophomores Kari Searls (center) and Dana Paulding (on right) pose with Head Coach Jerry Schurink prior to competing in a ride-off for high point on October 16th. Searls won the ride-off to conclude the show at 1:09PM in less than four and a half hours time.
MOUNT HOLYOKE WINS LOW-SCORING AFFAIR AT UMASS
Amherst, MA - It was one of those days where everybody beat everybody up on the point card, though it was not until the end of the day when the point cards were revealed that this was obvious. Mount Holyoke College, two weekends removed from a perfect 49 score at Smith, were not immune to a low score. To the Lyons' credit, their total of 35 was still enough to win, three higher than host University of Massachusetts at Amherst with 32.
Mount Holyoke managed five blue ribbons on a day when the Lyons received 18 rides across 20 undergraduate classes. Defending Cacchione Cup winner Lindsay Sceats earned her first points of the 2010-11 season. The senior from Colorado Springs, Colorado won her open fences while later placing second in open flat. Seeing as Sceats was out of the ribbons in open fences at Mount Holyoke (and that she did not show on the flat that day), teammate JoJo Gutfarb continued to lead the Region 3 open rider standings. A senior from Medfield, Massachusetts, Gutfarb reversed Sceat's placings, winning her open flat while placing second in open fences. Clara Tate, a sophomore from Piedmont, California was a winner in novice fences for the Lyons' first blue ribbon of the day. Kristen Engholm, from Westborough, Massachusetts was the lone freshman to win outright for Mount Holyoke. Engholm won the second of two sections of beginner walk-trot-canter. Hadley King, from Windsor, Connecticut was the lone junior to win, best in a field of five walk-trot riders. Sally Gibb (in intermediate flat), Katharine Henderson (in novice flat) and Haley Streibich (in advanced walk-trot-canter, or simply walk-trot-canter as it is now officially known) brought the Lyons' red ribbon count to five.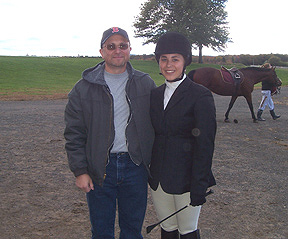 Seen here with her Father, Amy Foley was the final Westfield State College rider to compete at Hadley Farm on October 16th. The junior from Holland, Massachusetts won her walk-trot-canter class to likely help Westfield State earned third place honors for the day with 28 points.
The host school may have come in second yet the Minutemen clearly had the best individual performances. Kari Searls, a sophomore from Coralville, Iowa won the first class of the day (novice fences) and followed it up with a win in novice flat ten classes later. Dana Paulding, a sophomore from Schwenksville, Pennsylvania won both of her intermediate classes to join Searls in the ride-off. Six other UMass riders won classes to give the hosts wins in exactly half the undergraduate classes. Lily Strassberg (freshman, Newton, Massachusetts, in walk-trot), Laura Summers (sophomore, Allendale, New Jersey, in beginner walk-trot-canter), Margaux Sarin (junior, Fairfield, Connecticut, riding in her first IHSA show and at the walk-trot-canter level), Erica Seidenberg (senior, Ridgewood, New Jersey, in novice flat), Bree Layer (junior, Harrisburg, Pennsylvania, in novice fences) and Courtney Bryggman (sophomore, Huntington, New York, who held Sceats to a red ribbon in open flat) each joined Searls and Paulding in the winner's circle. Leyer's win in novice fences qualified her for Regionals in the division. Surprisingly UMass did not earn any of the 20 red ribbons awarded to undergraduates on this day.
Westfield State College earned 28 points to place third overall for the day. MacKenzie Hennessey, a sophomore from Rutland, Massachusetts won her intermediate flat and was second to Leyer in novice fences. Hennessey had the honor of winning the Owls' first blue and firs red ribbons of the day. Amy Foley, a junior from Holland, Massachusetts won the final section of walk-trot-canter. Stephanie Pelletier was second in novice fences while Kassandra White was second in walk-trot. The Owls earned their 28 points without a rider in either open division. Going back to last season Westfield State has scored 28 or more points at two of the past three Region 3 shows, having scored 29 at the regular-season finale for 2009-10 on March 27th.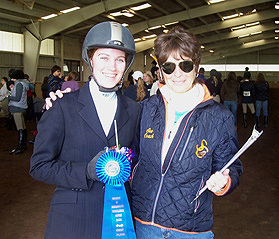 Slightly over-exposed photo number one: Smith freshman Michelle Hannon (on left, with Head Coach Sue Payne) won her novice fences while the Pioneers were fifth for the day with 24 points.
Amherst College did not have an open flat or intermediate fences rider entered. Yet the Jeffs just missed tieing Westfield State for third. Sherene Davidson, a sophomore from the Bronx, New York won Amherst's lone blue ribbon of the day by prevailing in the second of three sections of walk-trot. Elizabeth Blanco, a sophomore from Pasadena, California was second in both of her novice classes. Also receiving red ribbons for the Jeffs were Chloe Fico in intermediate flat and Aubrie Campbell in beginner walk-trot-canter.
Smith College had a full card and finished fifth with 24 points. Lucy McAuliffe, a junior from Ho-Ho-Kus, New Jersey won her open fences class while Michelle Hannon, a freshman from Newtown, Pennsylvania won the Pioneers' second blue ribbon of the day in novice flat. Smith red ribbon winners were Abigail Cooper (in open fences), Morgan Brescia (in intermediate fences) and Julia Shin (in walk-trot). In addition Caitlin Hunter qualified for Regionals by placing fourth in the same section of intermediate fences in which Brescia was second.
Williams College was one of three teams to score 19 points to tie for sixth at today's show. Though none of the Ephs earned a blue ribbon three riders placed second in their respective classes. Hannah Matheny was second in beginner walk-trot-canter, Austin Brown was second in walk-trot-canter while Kendall Follert was second to Hannon in novice flat. Like Westfield State and Amherst, Williams had a pair of blank spaces on their card, with no one entered in either intermediate division.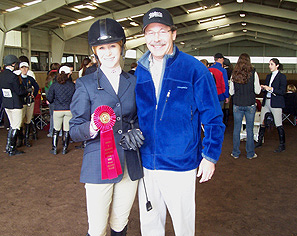 Slightly over-exposed photo number two: Kendall Follert's Father (on right) flew in all the way from Malibu, California to see his daughter (on left) place second in novice flat for Williams College. The Ephs were one of three schools to tie for sixth place on this day, with 19 points.
Springfield College, entered without an intermediate fences rider, also earned 19 points. Jackie Hill, a senior from Abbington, Massachusetts came closest to a blue ribbon, finishing second to Strassberg in walk-trot.
Rounding out the list of schools with 19 points was Landmark College. It was not until the final class before the ride-off that Landmark received a top-two placing. Jess Bucciarelli, a freshman from Bronxville, New York finished second to Gutfarb in open flat. It was significant that Landmark tied Springfield and Williams at the eleventh hour, as this meant all three schools would have their name mentioned over the loudspeakers. At all Region 3 shows the top six schools and their point totals are announced to the audience following the conclusion of the final class.
With Region 3 now made up of exactly nine schools, this meant Hampshire College was the only school not to hear their point total read aloud. Hampshire was not too far off the pace of the 19-club, having received 17 without an intermediate fences rider (Landmark was without one as well). One reason Hampshire scored only 17 was their inability to earn a top-two placing. Susannah LeCuyer (in open fences), Isabel Orden (in novice fences) and Mariah Shore (in walk-trot) all finished third to tie for the top Hampshire ribbon of the day.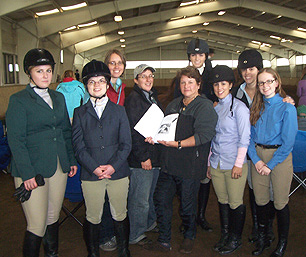 Landmark College Head Coach Bethe Jankelson holds open a copy of the book "Horse Sense" to page 26 where a picture of her receiving a pony ride on her fifth birthday can be found. Landmark scored 19 points at the UMass-Amherst show, four more than they received on opening day.
Hey! Hey! It's two blue ribbons for Claire Humphreys: Though she did not receive a blue ribbon at the Smith show on October 2nd, 2002 Smith graduate Claire Humphreys (formerly Claire Hey) won both of the alumni divisions at today's show. Separated by what was all of seven minutes to remove the jumps, Humphreys was tops in a field of four over fences and only three on the flat. Betsy Laurin, who graduated from Williams in 2010 only shows alumni over fences. Laurin was fourth in the division while 2008 Smith graduate (and Region 3 Alumni Representative) Lizzy Jacobson was second. 2010 UMass-Amherst graduate Lauren Kolodzinski swapped placings with Jacobson on the flat, earning the red ribbon while Jacobson was third.
The Ride-Off: Today's judge knew more than most about the IHSA. Richard Luckhardt also coaches the Connecticut College team in Zone 2, Region 5, and is a newly-appointed Region President. Luckhardt asked both Searls and Paulding for an "extention of the trot" and a "simple change." Despite being a novice facing an intermediate, Searls was selected as High Point Rider ahead of Paulding.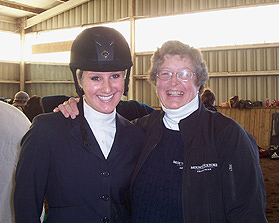 It took Mount Holyoke three classes to win their first blue ribbon of the day. Clara Tate (on left) is all smiles after winning her novice fences to get the Lyons going. Mount Holyoke College Head Coach C.J. Law (on right) saw the Lyons go to two-and-0 with the win.
Your recruiting tactics are very persuasive: While roughly a quarter of the IHSA hunter seat programs will go without a walk-trot rider at some point this season, this does not appear to be a problem in Region 3 at the moment. There were three sections of walk-trot at today's show, with each of the nine schools represented in the division. By contrast there were only six riders in intermediate fences. Filling the walk-trot division is sometimes the most difficult, as first a team must find someone on campus with virtually no riding experience and second after convincing them to join must actually train them to pick up the trot in a very short time. Kudos to Region 3 for having so many ready to compete in this division at only the second show.
Just say 8:30AM to be safe: This writer was told that today's show was to start at 9:00AM. However upon arriving inside the Robert P. Lawrence Arena (where indoor IHSA shows at UMass almost always take place) at 8:46AM there was already a novice rider in the ring. It turns out that because everyone was ready to start the show simply was begun. This is not unlike 2010 Zone 1 Zones at Mount Holyoke, which started seven minutes before the start time listed on our site. From now on to be safe we will list all Zone 1, Region 3 hunter seat shows as starting at 8:30AM, so that no one is surprised to find the show in progress upon arriving at the proposed start time.
Mount Holyoke undefeated no more: Since the October 16th UMass show there have been two more Region 3 hunter seat events. On October 23rd Mount Holyoke hosted and won by a 47-32 score over UMass. Two weeks later Amherst College hosted and UMass earned their first win of 2010-11. With Bryggman winning over open fences and Elana Serkin a winner in open flat, the Minutemen cagged the Lyons 46-37. Bryggman now trails Gutfarb 37-35 in the race to represent Region 3 at IHSA Nationals in the Cacchione Cup competition. Elizabeth Tripp of Mount Holyoke has 32 while the dangerous Sceats has 30. Humphreys is only three points away from pointing out of alumni flat while Kolodzinski can go to Regionals in alumni fences if she wins outright on November 20th. Jacobson is a model of consistancy, having earned exactly 20 points in each alumni division through four shows.
---Steve Maxwell
Show Incidentals: Sunny skies with temperatures in the low '50's. Entire show held indoors. Start time: 8:45AM? Finish: 1:09PM - includes a 7 minute break to remove jumps from the middle of the ring (Coaches and Captains meeting held prior to start of show). Point Cards posted in this region? No. Alumni Classes held in this region? Yes. Judge: Richard Luckhardt, North Stonington, CT. Stewards: Law/Mount Holyoke College, Payne/Smith College and Keith-Hunter/Hampshire College.
Team Totals: Mount Holyoke College (High Point Team) 35; University of Massachusetts at Amherst (Reserve High Point Team) 32; Westfield State College 28; Amherst College 27; Smith College 24; Williams College 19; Landmark College 19; Springfield College 19 and Hampshire College 17.
High Point Rider - Kari Searls, University of Massachusetts at Amherst
Reserve High Point Rider - Dana Paulding, University of Massachusetts at Amherst