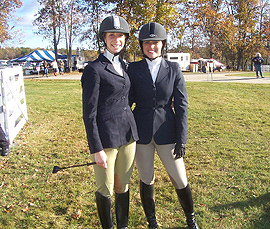 Brown seniors Allegra Aron (on left) and Elise Fishelson are seen shortly before the start of the October 23rd Becker College show. As was the case at the first two Region 1 shows of the season, the Bears returned to Providence with high point team honors. Fishelson won both of her classes to take the lead in the Region 1 open rider standings.
BROWN WINS FOR THE THIRD TIME IN AS MANY TRIES
PAXTON, MA - Zone 1, Region 1 is almost a new IHSA region in 2010-11, as schools from three different regions were pooled to create the current version of Region 1. Last season Assumption College, Clark University, the College of the Holy Cross and today's host Becker College were members of Zone 1, Region 3 while the University of Massachusetts at Dartmouth was a member of Zone 1, Region 4. Johnson & Wales University, Roger Williams University, the University of Rhode Island, Rhode Island College and Brown University retained the Zone 1, Region 1 name while observing six schools from the state of Connecticut hived off to form two-thirds of the new Zone 2, Region 5.
For schools that were in Regions 3 and 4, each has had the opportunity over the first two shows to see a facility which Region 1 has used in recent seasons. The first show of 2010-11 was strangely enough held at Mystic Valley Hunt Club in Gales Ferry, Connecticut, home to the Connecticut College team which is now part of Zone 2, Region 5. The University of Rhode Island opted to host there instead of Faith Hill Farm (where they train) in order to allow for more actual rides. Mystic Valley has so many horses that many IHSA shows held there are not completed until after 6:00PM. The second show of the season took place at Windswept Farm in Warren, Rhode Island, which is home to the Brown University team.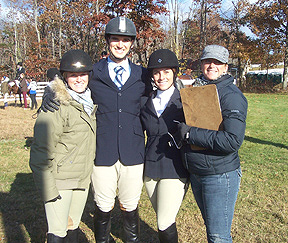 From left to right are Kayla Prefontaine, Josh Corriveau, Samantha Epright and Head Coach Pam Maloof of the University of Rhode Island. Epright was second in intermediate fences while the Rams narrowly earned reserve high point team honors for the second time this season.
Today's show marked the first time Region 1 riders traveled to a facility that previously had hosted only Region 3 shows, or should we say 'show.' Becker College hosted today's event, which was only the second time since the Becker Equestrian Center in Paxton, Massachusetts had opened that an IHSA took place there. Though it was an unfamiliar facility for Regions 1 and 4 (and for many in Region 3 as the previous Becker show there was in October of 2007) the result was similar to what had happened at each of the first two shows: Brown University was high point team by a comfortable margin.
Leading the way for the Bears was open rider Elise Fishelson. A senior from Cold Spring Harbor, New York, Fishelson won both of her classes to become part of the ride-off for high point rider. Over the course of 21 classes only one other Brown rider won a class outright. Lindsay Wong, a sophomore from Sarasota, Florida won her section of intermediate flat. However Brown saw a lot of red ribbons come their way as Allegra Aron (in open fences), Dakota Gruener (in open flat), Rebecca McGoldrick (in intermediate flat), Ellie Sharpe (in novice fences), Olivia Fialkow (in novice flat), Jena Tavormina (in advanced walk-trot-canter), Karolina Woroniecka (in beginner walk-trot-canter) and Sophia Lin (in walk-trot) each placed second. The Bears finished with 39 points, six more than when they hosted 13 days earlier.
On opening day Brown had scored 45 points, defeating runner-up host University of Rhode Island by nine. Today the margin was similar, with the Rams again reserve but only eight points removed from the leader. Blue ribbons were even harder to come by for URI, with Kariann Weber the only rider to win a class for the Rams. A senior from Cranford, New Jersey, Weber won her walk-trot class. This is Weber's first year on the URI team and it was, in fact, her first IHSA blue ribbon. The Rams were red ribbon winners four times. Samantha Epwright was second in intermediate fences while Kristy Macri equaled the feat in novice fences. Emily Stoukides was second to Wong in intermediate flat while Austin Demers was second in beginner walk-trot-canter. By virtue of finishing two points ahead of Johnson & Wales at today's show URI moved back into second place overall, only a point ahead of the Wildcats.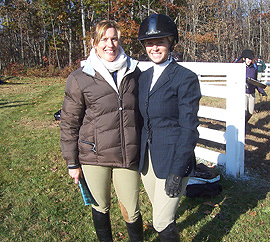 With so many blue ribbon winners to choose from, we couldn't decide which Becker College rider's photo we should post. So we settled on a rider with two seconds instead! Nicole Wilk (on right, with Hawks Head Coach Trina Baker) was second to Fishelson in both of her open classes. Baker was scheduled to ride in the alumni divisions but alas the division was canceled due to not enough alumni entries.
We are not sure if Becker College would have traded some blue ribbons for a high point team ribbon, but the host Hawks were the only team to earn as many as five of the coveted color. Kelly Foote, a freshman from Oxford, Massachusetts won her intermediate fences to start the blue ribbon trend for the home team. Brittany Martin, a sophomore from Webster, Massachusetts won her novice fences and now needs seven points to qualify for Regionals in the division. Patricia LeBuis, an senior open rider from Preston, Connecticut who was not part of the Becker team for several semesters, won the open flat class which followed the 25 minute schooling break between the fences and flat classes. Laurel Venoit, a junior from East Hampton, Connecticut won the final section of novice flat while Jessica Banta, a senior from Winthrop, Maine won the first of two sections of advanced walk-trot-canter. Nicole Wilk, a senior from Camarillo, California did not win a blue ribbon but did receive Becker's only red ribbons of the day. Wilk was second to Fishelson in both of her open classes. At one point the announced end-of-the-day results had Becker as high point team until it was pointed out that URI had a few additional points that were not calculated into their total. Still the Hawks' score of 30 is their high since joining Region 1.
Three schools just missed catching both Becker and URI, with all three earning 29 points. Johnson & Wales University, which earned reserve high point team honors at the Brown show, had the most to be happy about of the three. The Wildcats were led by freshman Rachel Schmidt, who won both of her intermediate classes to qualify for the ride-off. Lindsay Elwell, a junior from Peabody, Massachusetts was a winner in novice flat. Rebecca Hein, a freshman from Tranquility, New Jersey earned her best IHSA ribbon to date with a second in intermediate fences. Rebecca Underwood followed with a second in novice fences for the only other red ribbon awarded to the Wildcats at today's show.
The University of Massachusetts at Dartmouth easily had their best day of the young season, earning seven more points than at the URI show when they scored 22. Chelsey O'Brien, a freshman from Attleboro, Massachusetts, was first into the winners' circle for the Corsairs when she won the first section of novice fences. Hayley Paige, a freshman from Springfield, Massachusetts won the first of two sections of beginner walk-trot-canter. The Corsairs won two of the three sections of walk-trot as Michaela Frontiero (sophomore, from Gloucester, Massachusetts) and Marena Bach (sophomore, from York, Maine) won on either side of Weber's win. The Corsairs accomplished their 29 score without riders in either open division or the intermediate flat.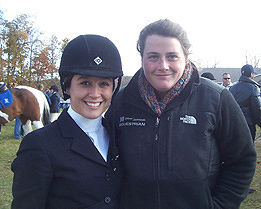 For October 23rd it was generally a windy, cold day. However the winds were kind to the University of Massachusetts at Dartmouth, including Corsairs novice fences winner Chelsey O'Brien (on left). Coach Meredith Arden (on right) saw UMD score 29 points to tie for fourth in spite of not having riders in three of the eight divisions.
Like Becker, Roger Williams University hit their season high by all of two points over their opening day score (and like Becker, Roger Williams is also known as the Hawks). Roger Williams was the third team to score 29 points and along the way they four blue ribbons. Shannon O'Keefe, a senior from Glastonbury, Connecticut won the very first class of the day, the first of two sections of open fences. Nicole McDonnell, a freshman from Lexington, Massachusetts won her section of novice fences. Because she did not flat at today's show McDonnell is undefeated through her first-ever IHSA competition. Rachel Asadorian, a freshman from East Greenwich, Rhode Island was a late addition to the first section of novice flat and, in fact, the winner. And Cara McSoley, a junior from Essex Junction, Vermont was a winner for Roger Williams in the second of two sections of advanced walk-trot-canter. Junior Erin DeMarco earned the Hawks' only red ribbon of the day with a second in novice flat. In spite of three scratches, Roger Williams still had riders in all eight divisions.
There was quite a drop-off between the three fourth place schools and fifth place. Assumption College, now in their second season of IHSA competition, was next with 18 points. The Greyhounds were led by Katy Beach, who won the second section of beginner walk-trot-canter. A sophomore from Dalton, Massachusetts, Beach was the only rider from any of the schools which scored fewer than 29 points to win a class at today's show. Kaitlin Wilson was second in her advanced walk-trot-canter while Amanda Bollacker was second to Bach in the final walk-trot class immediately before the ride-off. The Hawks were without an open rider at today's show.
The College of the Holy Cross was nearly as good as Assumption, scoring 17 points. Two riders earned red ribbons for the Crusaders. Ashley Piemonte, a freshman from Dover, Massachusetts was second to Elwell in novice flat. Lindsay Allcroft, a sophomore from Northampton, Massachusetts was second to Weber in walk-trot. Holy Cross, which was without riders in intermediate fences or either open division, has been the most consistant team in Region 1 so far this season. The Crusaders scored 15 points on opening day and then racked up 17 at each of the following Region 1 events.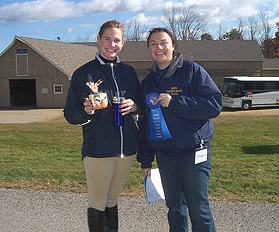 It was Nicole McDonnell's first IHSA show. A Roger Williams freshman from Lexington, Massachusetts, McDonnell (on left) won her only class on October 23rd, earning the blue ribbon in novice fences which Head Coach Eliza Pyliotis (on right) is holding.
Clark University scored 15 points. Aidan Weeks, a sophomore from Windham, Connecticut, won yellow ribbons in both of her novice classes. Ananya Sikand also received a third in walk-trot for a Clark team which had no open or intermediate riders written in on today's point card.
Rounding out the scoring was Rhode Island College with eight points. Teresa Legein, a senior from Middletown, Rhode Island was fourth in intermediate flat while Jade McPhee equaled the feat in walk-trot. The school which is refered to as "Rick" by many at the shows was without riders in either open division.
No alumni today: Though the program listed both Mount Holyoke College graduate (and Becker Coach) Trina Baker and Johnson & Wales graduate (and Becker Assistant Coach) Nicole Layne as competing in both alumni flat and fences, these divisions did not, in fact, take place. Because a third rider could not be found ahead of time, both Baker and Layne opted to pass on what would not have been 'Legal' alumni classes (if an IHSA class has three riders it becomes legal and the points count. With less than that the points do not count towards Regionals - Editor). There was hope that a third rider could be found even as late as the morning of the show itself (both riders were semi-dressed, and as a result may have schooled horses at some point) but for the second Region 1 show in a row there were classes only for riders still in school.
The Ride-Off: Though most of the ride-off resembled a typical open flat class, Judge Paula Jean O'Neil asked for both Fishelson and Schmidt to halt, back up three strides, halt and walk forward at one point. After a few additional transitions both riders were lined up and the blue ribbon went to Schmidt. A proud Culinary & Hotel Restaurant Management Major from Honeoye Falls, New York (Wildcats Coach Dirk Fogg had referred to her as a 'baking & pastry major' before the show), Schmidt was the winner in her first IHSA ride-off. Fishelson, who finished the day in the lead for the Region 1 open rider standings, admitted that though she has participated in several she has yet to win an IHSA ride-off.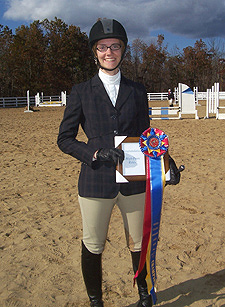 "This picture frame would be really nice if it didn't have a big blue ribbon stuck to it!" Johnson & Wales intermediate rider Rachel Schmidt (pictured) absolutely did not say this, as she was elated to win the ride-off and receive both the high point rider ribbon and the picture frame. The freshman from Honeoye Falls, New York defeated leading Region 1 open rider Fishelson for the top individual honor of the day.
Brown finished the day with a 117-87 lead over URI, with Johnson & Wales as close as possible with 86. This was a change for the Bears compared to recent seasons, when usually URI would grab the early lead only to watch Brown pull substantially ahead by the fourth show. Fishelson entered the day trailing Josh Corriveau of URI by 21-19 but came out ahead 33-26 in the open rider standings. Fishelson is trying to become the fifth rider since Michaela Scanlon became Head Coach (and since Brown obtained varsity status in 1996) to qualify for Nationals in the Cacchione Cup Competition. If Fishelson accomplishes this she joins Amanda Forte, Jamie Peddy, Whitney Keefe and Elizabeth Gilberti in that select group.
The more things change...: As the fall progressed Brown continued to pad their lead. The Bears were 36-27 winners over both URI and UMass-Dartmouth at the October 30th Roger Williams show. On November 6th Brown was a 35-27 winner over Becker, Roger Williams and URI when Johnson & Wales hosted. The Bears proved to be human when on November 13th host UMass-Dartmouth defeated them 36-27. Brown was fourth that day, as Roger Williams scored 32 and URI 31. Still the Bears went into the winter break with a 215-172 lead on the second place Rams. Even if Region 1 holds the maximum ten shows Brown would have to give back an average of 11 points per show for URI to go ahead by a point. Though Fishelson won both of her open classes on October 30th she gave back some of her lead to Kayla Prefontaine of the University of Rhode Island. A former Johnson & Wales rider, Prefontaine earned top-two placings in five of her six open classes starting October 30th to make it a two-way race (for now). Fishelson leads Prefontaine 58-55 with Jessica Duva of Johnson & Wales at 44 and Corriveau at 41. Though at least two spring shows will take place it is unclear if one or more will be added. Brown certainly has recent history on their side, having produced Region Champion Teams eight of the past eleven years and four straight while advancing an open rider to Nationals in the Cacchione Cup Competition nine of the past eleven seasons.
---Steve Maxwell
Show Incidentals: Sunny skies but chily, with temperatures in the upper '40's. Start time: 9:24AM. Finish: 2:15PM - Includes 25 minute schooling break. Coaches and Captains meeting held prior to start of show. Point cards posted in this region? Yes but without rider's names. Alumni classes held in this region? Yes but not on this day. Judge: Paula Jean O'Neil, Gray, ME. Stewards: Fogg/Johnson & Wales University, Pyliotis/Roger Williams University and Perla/College of the Holy Cross.
Team Totals: Brown University (High Point Team) 39; University of Rhode Island (Reserve) 31; Becker College 30; Johnson & Wales University 29; University of Massachusetts at Dartmouth 29; Roger Williams University 29; Assumption College 18; College of the Holy Cross 17; Clark University 15 and Rhode Island College 8.
High Point Rider - Rachel Schmidt, Johnson & Wales University
Reserve High Point Rider - Elise Fishelson, Brown University