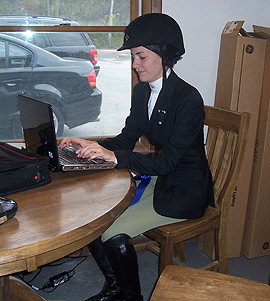 This is so much more frustrating without Campus Equestrian! 2012 Skidmore College graduate Kelly Campbell wasn't really searching for anything on our site when this photo was taken, but by the fall of 2012 some may be wondering...
WITH CAMPUS EQUESTRIAN GONE, WHERE CAN I LEARN MORE ABOUT...
With Campus Equestrian having shut its electronic doors on August 5th many may wonder where they might be able to turn for information about IHSA, IEA and IDA events. In reverse order...
The Intercollegiate Dressage Association (IDA) has their own official web site, TeamDressage.com, for which Campus Equestrian provides a direct link on the home page. Though the official IDA site usually only provides 'results' information on their most recent National show they do have two pages we recommend. If you click on "About" and then click on "Member Schools" you will find a list of each school throughout the IDA and the coach of each school. The coach's name is actually a link to that coach's e-mail. If you go to "Shows" and then "Calendar" you will find a list of shows by IDA Region. As of August 2nd the list of schools had been erased for the full membership to re-enter everything for the fall. These two recommended IDA pages will likely be useful again at some point in September.
Thanks to the fact that their official website posts points the Interscholastic Equestrian Association (IEA) has perhaps the finest of all websites of the organizations Campus Equestrian until recently covered. Until recently their official site was at RideIEA.com but is now RideIEA.org (again a link can be found on the Campus Equestrian home page). Once on their home page we recommend both the "Shows" icon (which leads to "Show Calendars") and the "Points" icon (which leads to "Team Points"). When one goes to "Team Points" the hunter seat, western and saddle seat (!) Zones list appears. If you click on a specific zone such as Zone 1 the list of Upper Schools followed by Middle Schools appears. The names of each team are in light blue and are actually hyperlinks to the "Individual Points" for these teams. Keep in mind at some point this August or September the IEA will remove the 2011-12 team points so this area may be sparse for a short time. The 2011-12 points will be moved into the "Archived Results" area which is also under the "Points" icon. The "Zones" icon on the far left-hand side of the IEA official home page leads to the names of each of the IEA's Zones. If you click on a Zone it should list the names of each team, their coach and a phone number. For reasons that are not clear to us the IEA site does not provide e-mail addresses for the team contacts. Also the 2011-12 lists of teams in each zone were not in alphabetical order, so one should scroll through the list thoroughly to find the team/school they are looking for. One other very good aspect of the IEA Zones page is the icon "What Zone Am I In?" This will re-direct you to a Zone based on which of the 50 states within the USA you select.
The Intercollegiate Horse Show Association (IHSA) has an official web site, IHSAinc.com which provides information on future IHSA post-season events as well as a calendar of current regular season horse shows (again there is a link to IHSAinc.com on the Campus Equestrian home page). On August 4th the IHSA rolled out a new version of their website which including a link on their home page to "Current Teams." However August 4th also turned out to be the day the IHSA asked all of their membership to re-enter all their information for the new year. Therefore all the teams are missing at this moment (everyone is re-directed to a page from the old site, stating "The New Look will be in shortly."). Once each coach signs up their IHSA team for the 2012-13 season this page becomes the most useful one found on any of the websites discussed in this story. Simply put this will be a list of all the schools and their coaches. The name of the coach is a hyperlink to an e-mail for either the coach or someone of importance involved with that particular team. If you are interested in learning about the riding program at a particular college or university then this is the page you need to visit. This is the page where one contacts a program directly.
Similarly the link to their "events" page shows only the locations for 2012 Zones, Semifinals and Nationals. By the fall this area will also be a valuable resource for show dates throughout the 2012-13 IHSA season.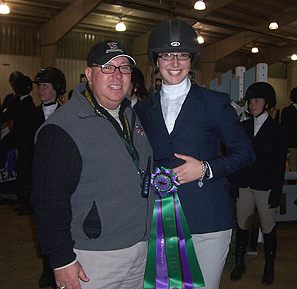 2012 Mount Holyoke College graduate Margaret Swanson (on right) was an IEA rider when she took part in one of Jim Arrigon's Equestrian Talent Searches. Arrigon (on left) would see Swanson select Mount Holyoke College after taking part in an ETS there, and eventually Swanson turned up in one of Arrigon's Tournament of Champions series events where this photo was taken.
Save for the results of the post-season shows IHSAinc.com had rarely if ever posted regular season results information on their site through July 2012. Because we do not have a crystal ball Campus Equestrian cannot say one way or another if IHSAinc.com or any other site will start posting some sort of regular season IHSA statistics (such as the current team totals).
While the official IHSA site is more or less for membership purposes (again through July 2012) the 45-year-old organization that inspired all the others has a beloved Facebook page. At one point there was more than one Facebook page known as 'IHSA' (and with regard to the Intercollegiate Horse Show Association no less!). The official IHSA facebook page is http://www.facebook.com/#!/pages/Intercollegiate-Horse-Show-Association/80977467457 but you have to be a facebook member to get in. IHSA media liason L.A. Pomeroy does most if not all of the updates for their Facebook page, though fans/friends of the page can and do post on their wall. It is on the IHSA Facebook page that some current results appear throughout the school year. Also links to IHSA stories on other sites as well as exclusive photos are posted.
In addition many IHSA teams have their own Facebook pages, with no shortage of them having friended the official IHSA site.
The IEA also has an offical Facebook page (found at http://www.facebook.com/#!/rideiea) which is similar in nature. Campus Equestrian is not sure who updates information for the IEA Facebook page. Whoever they may be their coverage of the recent western Nationals in Oklahoma City was very good.
The National Collegiate Equestrian Association (NCEA), formerly simply known as "Varisty Equestrian" (as they cannot officially use the NCAA name until there are 40 schools participating) has a website, http://www.varsityequestrian.com/ which explains that particular organization. Though their "Universities" icon indicates that 23 schools participate only 14 of them (Auburn, Baylor, Fresno State, Delaware State, Georgia, Kansas State, New Mexico State, Oklahoma State, South Carolina, South Dakota State, Southern Methodist, Texas Christian, Tennessee - Martin and Texas A & M) compete against each other in NCEA competitions throughout the school year. Those who are interested in these programs should contact the schools directly. Also because all 14 teams are under the umbrella of the Athletics Department (as opposed to club sports) the results of most NCEA shows can be found by visiting the athletics sites for the 14 schools, finding the 'equestrian' icon and hunting around for press releases on the actual shows.
Many IHSA teams that fall under the umbrella of their athletics departments also receive press through their school's athletics sites. For example if one googles "Brown Athletics" they will see the link for the Brown University athletics site. Follow the links from "Women's Sports" to "Equestrian" and you will find out info on the Bear's third place finish at Nationals among other things. Schools such as Cornell, College of Charleston, Nazareth College, Randolph College, Savannah College of Art & Design and St. Lawrence University post IHSA results involving their programs on their official athletics sites. Our advice is to google the school name with "athletics" and see if you can find "Equestrian" or "Riding" icons within. If not try a google search of the school name plus "Equestrian" or "Riding" to see if a team website comes up.
Several IHSA Regions and at least three IEA Zones have their own sites. Within the IHSA there are known pages for Zone 3, Region 2; Zone 5, Region 1 and Zone 8, Region 4. Others may also exist. IEA Zones 3, 4 and 5 have their own pages, each of which can be accessed directly from the coresponding IEA Zone page from the official IEA site.
Between the various region sites and Facebook pages there are plenty of places to follow the IHSA and IEA. Sorting through everything may take awhile but the information is out there!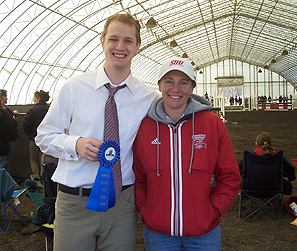 Seen here at the Spring 2010 Dowling College show, former Sacred Heart University head coach Sloane Milstein (on right, with 2012 Pioneer graduate Brian Buchanan) is a noted author and speaker on the subject of College Riding. Milstein created the College 101 web site to help high school-aged riders and their parents make decisions on schools based on the many equestrian programs which are out there.
Over the years people have occasionally contacted Campus Equestrian to ask "Where should my Son or Daughter go to College" (it is a lot less annoying than when someone e-mails "How do I get to the Equestrian Center?"!). Often the obvious comes out. "Are you refering to schools with Equestrian Teams?" (they always say yes!). To be diplomatic on this one I would now refer anyone who asks this question to two individuals.
One of those individuals is Jim Arrigon, who runs a year-round series of combines under the name "Equestrian Talent Search." These combines, which are part seminar, part riding lesson, part horse show and part question-and-answer, are a good way to get a feel of what IHSA and NCEA coaches are looking for, how the shows themselves work, and even which schools offer specific majors. Arrigon has an extensive history within the IHSA, having coached at Xavier University, Ohio State University, Morehead State University and Miami University of Ohio, the latter of which he also competed for as an undergraduate. With his wife Gwen he has operated Beckett Run Farm for many years, which is also home to their IEA team. Arrigon's Equestrian Talent Search series has a web site, http://beckettrunriding.com/equestrian_talent_search which explains the value of taking part in such an event. These talent searches are not only for the riders but for their parents, as Arrigon will present a speaker or two (someone in an admissions department, a coach, etc.) to talk about what they are specifically looking for and often what they Don't want to see!
Another individual doing something in a similar vein is former Sacred Heart University head coach Sloane Milstein. Milstein has conducted clinics aimed at achieving the same goal, which is to match the rider to the correct school. Through College Riding 101 (Milstein's website, found at http://www.collegeriding101.com/CR101/Home.html) she offers others the chance to work with her in order to better understand the recruiting process. Milstein has written a book, 'The High School Equestrian's Guide to College Riding 101,' which is an indespensable publication for college-bound riders and their parents (this writer wants to boast that he has never seen a better "Glossary of Terms" regarding the correlation of the college application process and sports as is found in the back of this book). Milstein recognized that with any print publication in this age the information inside can go out-of-date in a short time. Certain lists within the book point out that an 'up-to-date list can be found at www.collegeriding101.com' through their searchable database. This 120 page book should be on the shelf of any high school freshman or sophomore who is serious about combining college and riding.
(As of August 4, 2012 this was the most up-to-date information we had in preparing this story. Campus Equestrian is not responsible if anyone rebuilds or re-names the websites discussed in this story at a later date).
--Steve Maxwell