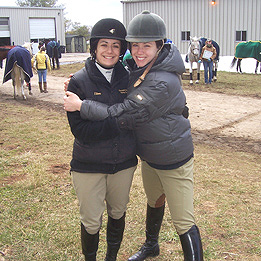 Lexi Mandarakas of Randolph College (on right) hugs Wildcat teammate Eileen Buckingham before the latter placed second in intermediate flat on February 27th. Earlier in the day Mandarakas won her intermediate fences class. Randolph tied their season-high with 30 points.
SWEET BRIAR WINS SECOND STRAIGHT
Roanoke, VA - Only six days after scoring a then-season high of 35 points to win their home show, Sweet Briar College traveled to Hollins and improved on that total. The Vixens scored a 39-31 win over Washington & Lee University while also claiming high point and reserve high point rider honors on February 27th.
Tory Mott (freshman, from Madison, New Jersey) won both of her novice classes while teammate Paige Kaylor (senior, from Baltimore, Maryland) was a winner in open flat and reserve champion in intermediate fences for the Vixens. Considering the show was held inside the Kirby Riding Ring on the Hollins campus it was suprising that Kaylor was able to win a ride-off for reserve high point against leading Region 2 open rider and Hollins senior Katie Furches. Zoe West won her intermediate flat for the Vixens while Brianna Belter (freshman, from Lakeville, Connecticut) was a winner in the novice flat section which followed Mott's win. Kendall Harris (freshman, Stony Brook, New York) and Clarkie Woods (sophomore, Virginia Beach, Virginia) won back-to-back sections of advanced walk-trot-canter. Alysha Norbury, a senior from Chesapeake, Virginia and the Vixen's only walk-trot rider to show at Hollins, raised the Sweet Briar blue ribbon total to eight. Junior Debbie Willis was second in novice flat to add another red ribbon to the Vixen's total.
In claiming Reserve High Point Team honors, Washington & Lee earned 21 of their 31 points in three divisions. Molly Rountree, the first Generals rider to win, could not tell us where she was from. A teammate told us her sorority forbids her to talk to the media (!). However another teammate indicated the intermediate over fences winner may be a freshman from Andover, Massachusetts. Tamara Morse, a sophomore from Bristow, Virginia who had been third in open fences earlier in the day won the second section of open flat. This kept Morse second in the Region 2 open rider standings behind Furches. Evelyn Norton, a freshman from Elon, North Carolina won the final walk-trot class of the day for Washington & Lee, whose 31 score was their season high.
Washington & Lee University brought four horses to today's show hosted by Hollins. Generals Head Coach Gordon Reistrup (on left) spent some of the day schooling these horses. Reistrup was ready to drive back to Lexington after Evelyn Norton (on right) won the walk-trot class which concluded the proceedings. The Generals scored a season-high 31 points to take reserve high point team honors.
Prior to the walk-trot-canter and walk-trot divisions Randolph College looked like they too had a shot to win. Lexi Mandarakas, a junior from Bluffton, South Carolina won her intermediate flat while five riders managed thirds before Eileen Buckingham was second in the final section of intermediate flat. Sophomore Jennifer Fowler was third in the first section of novice flat while Tori Rooney produced the final Randolph blue ribbon of the day with a first in the final section of novice flat. A sophomore from Wycoff, New Jersey who previously competed for Centenary College, Rooney is undefeated in two rides within Zone 4, Region 2 with her latest victory. The Wildcats just missed out on reserve, scoring 30 for the day.
Two teams tied with 27 points each. Currently leading the region thanks to a pair of wins early in the season, host Hollins was led by Furches. A senior from Oley, Pennsylvania, Furches won the open fences class which started the day while later placing second to Kaylor in open flat. Meredith McDonnell, a sophomore from Culpepper, Virginia won the third of three sections of intermediate fences. Considering they were at home it was more than surprising that no Hollins rider won on the flat the remainder of the day. Taylor Richardson (in novice flat), Caitlin Shipe (in advanced walk-trot-canter) and Andrea Moreau (in walk-trot) each won red ribbons for Hollins. Because the weather played havoc with the Region 2 spring show schedule, it was doubtful that the rest of the field could make enough progress to catch Hollins (or Furches in the open rider race) at the final show hosted by the University of Virginia after the hosts managed 27 points ironically on February 27th.
Lynchburg College also scored 27, and in total contrast the Hornets have to be pleased that they have a shot at second place overall for the first time in program history. Kelly Gerland, a sophomore from Malvern, Pennsylvania was the only Region 2 rider to earn a pair of red ribbons, doing so in open fences and intermediate flat. Rachel Jones and Emily Eckenberger were second in consecutive novice over fences classes while Caroline Thompson and Kelli Greenslade were second in non-consecutive sections of advanced walk-trot-canter. Slightly surprisingly the Hornets did not earn any blue ribbons on this day though all sixteen of their rides produced a top-six placing.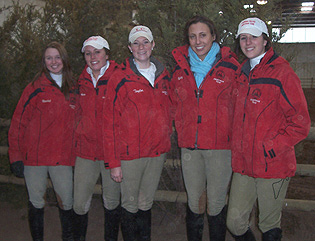 The Redcoats are coming! From left to right are Rachel Jones, Alyssa Roehr, Taylor Fellows, Kelly Gerland and Jamie Carille of Lynchburg College, whose jackets may be red though the school nickname is the Hornets. On February 27th Jones and Gerland were able to win ribbons which matched the color of their coats while on the 28th Lynchburg finished the season in second place overall behind Hollins in the 2009-10 Region 2 team standings.
Scheduled to host both the final regular season show and Regionals the next day, the University of Virginia faired well with 25 points at Hollins. Like Lynchburg, the Cavaliers were unable to earn a blue ribbon while encountering red ones early and often. Grace Stuntz, a senior from Alexandria, Virginia was second in open fences to start the day for UVA. Freshman Logan Zimmerman was second in the third section of intermediate fences. Sophomore Kathryn Babineau made it three red ribbons in three jumping divisions with a second in novice over fences. Junior Claire Burks was second in open flat while Carolyn Mernick was second in novice flat a bit later. The Cavaliers earned their 25 points without a walk-trot rider present at today's show.
James Madison University scored 24 points and even had riders with blue ribbons! Allison Smyrl, a senior from Bedford, New Hampshire won the second section of open fences. Catherine Vaughan, a freshman from Richmond, Virginia won the third section of novice flat and Jade Irby, a junior from Camden, North Carolina was a blue ribbon winner in the first of three sections of walk-trot. Vanessa Colley (in open flat) and Linnea Elsammak (in intermediate fences) were red ribbon winners for the Dukes.
Bridgewater College entered the contest in second place but saw Lynchburg and Sweet Briar make it anyone's guess for second overall after the Eagles scored only 23 points. Jamie Robinson, a junior from Ashland, Virginia won the ninth class of the day, the final section of novice fences before the jumps were removed from the Kirby Arena. Lindsay Barrett, a senior from Leonardtown, Maryland won the third section of open flat while Caitlin Hewitt (a junior from Charlottesville, Virginia who is also the team Vice President) won the section of intermediate flat which followed. Ryan Carroll, a sophomore from Chambersburg, Pennsylvania won the first section of advanced walk-trot-canter to bring the Eagles' blue ribbon count to four. Despite red ribbons for Corrie Fitz and Allyson Gallamore in consecutive sections of walk-trot the Eagles were simply victimized by the Peter Principle affecting the point card. The non-pointed riders came up big in some cases while several pointed riders had off-days.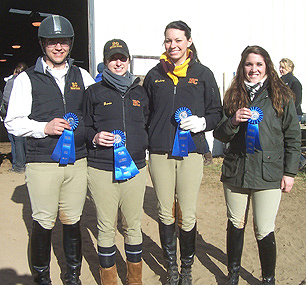 (From left to right) Ryan Carroll, Jamie Robinson, Lindsay Barrett and Caitlin Hewitt of Bridgewater College pose with their blue ribbons outside the Kirby Riding Arena. Individually it was a great day for the Eagles but on the point sheet not so good, as Bridgewater scored 23 points to finish behind seven schools that day.
Longwood University had seven riders entered in today's show but only four of the eight divisions filled. Still the Lancers were into double digits with 16 points. Caitlin Zoetis, a junior from Purcellville, Virginia won the third section of intermediate fences. There was only one section of beginner walk-trot-canter, and several riders in this class rode at the walk for a considerable time due to an accident outside the arena which required an ambulence (riders had entered the ring but were not yet officially being judged). When the delay subsided and the beginner division was held, Amanda Allin (a junior from Carson, Virginia) was the winner.
The runner-up in the beginner walk-trot-canter was senior Jessica Moyer of Roanoke College. Moyer boldly claimed it was only her 'second day in the IHSA.' Roanoke was one of two Region 2 teams new to the IHSA in 2009-10. Open rider Abby McGuire and novice rider Celeste Coulter started the Hawks' equestrian team which made their IHSA debut a few weeks earlier. With five riders and five divisions filled Roanoke scored ten points for the day.
Radford University tied Roanoke with ten each. Though nine Radford riders were listed in the program only six actually competed. Freshman Tara Throp was the only Radford rider to earn a top-two placing, finishing behind West in intermediate flat. Emma Williams, a senior from Herndon, Virginia was third in advanced walk-trot-canter, qualifying for Regionals in the process.
The other team new to the region is Liberty University. Like Bridgewater, Liberty is also nicknamed 'The Eagles.' Liberty had six riders entered, all in novice flat and down. While two riders earned fourth place ribbons Jayme Ingram was third in walk-trot for the best Liberty ribbon of the day. The Hawks scored seven points to round out the team scores.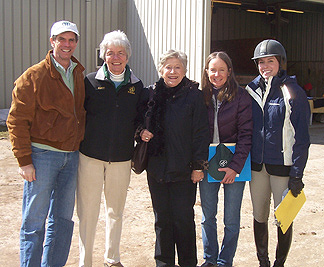 Hollins senior Katie Furches (on far right) would advance to IHSA Nationals a day later as the Region 2 Cacchione Cup entry. On February 27th Furches was joined by her parents (father Rick is on far left while mother Linda is second on right) and her grandmother at her final IHSA undergraduate show in her home team's barn. Hollins Head Coach Nancy Peterson (second on left) had both Linda and Katie as students, as Linda Farmer rode for Hollins in the early 1980's. Though Katie's grandmother (center) pre-dates the IHSA's birth in 1967 she too is a Hollins graduate.
The Ride-Off: Held after the final section of novice flat, Kaylor was selected ahead of Furches by judge Mr. Rick Eckardt (as he was listed in the program). Thus Kaylor was reserve high point.
Former IHSA riders abound: Lily DeSousa, a 2004 graduate of Savannah College of Art & Design is the first-year show coach of Roanoke College. It was DeSousa's second time coaching in the IHSA. DeSousa is one of several coaches or assistant coaches currently found in Region 2 (Matt Arrigon at Lynchburg, K.C. Hearn at Longwood and Beth Boteler at Bridgewater are among the others). However there were at least two parents at today's show who previously competed in the IHSA, and in each case the Mother and the Daughter both went to the same school. Melissa Zimmerman, who was Melissa Wineman when she rode for the University of Virginia between 1983 and 1987, is the mother of Logan Zimmerman. Linda Furches, who was Linda Farmer when she graduated from Hollins in 1983, has been at many of daughter Katie's IHSA shows. Though Linda Furches now runs Foxtale Farm in Oley, Pennsylvania with husband Rick she grew up in Central Virginia and her first show of any kind was at age nine at the Hollins Riding Center! Also on hand was Linda's Mother/Katie's Grandmother, who is also a Hollins graduate but attended the school prior to the formation of the IHSA in 1967 (we are still waiting to encounter the first 'three generation' IHSA family - Editor). According the to Foxtale web site Linda trained with J.T. Tallon among others. Tallon currently coaches Randolph College but was also Head Coach when Southern Seminary College won their final IHSA National Championship in 1988.
More IHSA connections, for those who are already in the IHSA: Julianna Day, a Hollins sophomore from High Point, North Carolina who showed in novice fences at today's event sometimes rides with Elon College/University of North Carolina at Greensboro coach Anne Morgan when at home. Sweet Briar freshman Harris rides at Smoke Run Farm in Stony Brook, New York, which was for many years the home barn for the Stony Brook University team (1980 IHSA Nationals were held there). And both Randolph's Tori Rooney and Lynchburg's Jordan Rooney (they are identical twins but don't always look the same) can claim their mother Hayley Rooney is head coach of the William Paterson University Equestrian Team.
Fact of the day: Tori Rooney is the only known IHSA rider to have a 'lucky packet of silica gel' that she competes with.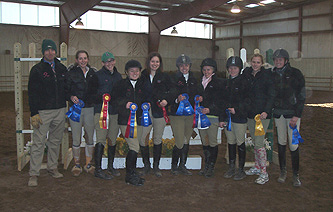 So far in calendar year 2010 Sweet Briar College is undefeated in Region 2 competitions. Head Coach Ian McCartney (on far left) saw his Vixens riders win nine of the final twenty classes (Sweet Briar didn't even have riders in seven of them) and capture high point team, high point rider and reserve high point rider honors on February 27th. Tory Mott (fifth on right) was high point rider, Paige Kaylor (third on left) was reserve while walk-trotter Alysha Norbury (fourth on left) gets to hold the high point team ribbon since she was the last Sweet Briar rider to win.
In Region 2 the Horse List is printed separately from the show program (at least as far as we can tell). At today's show most of the horses were Hollins horses but four ('Bailey,' 'Jackson,' 'Redd' and 'Vinny') were brought in by Washington & Lee. The horse list provided the following descriptions:
"Asher" - Flat: Soft ride, soft hands. Set up for right lead. Fences: Soft ride, soft hands.
"Atlas" - Flat: Good, set up right lead.
"Baci" - Flat: Soft hands. Fences: Set up left to right. Big stride.
"Bellagio" - Flat: Good Draw. Fences: Spurs, Big stride, drifts left.
"Carter" - Flat: Good Draw, spurs.
"City Lights" - Fences: Big Stride, Organize drifts right spurs.
"Full Dress" - Flat: Good Draw. Fences: Big Stride, spurs.
"Glen Heirloom" - Flat: Good Draw. Fences: Block left side, use his stride, stick.
"Haarlem" - Flat: Good Draw.
"Just One Look" - Flat: Good Draw, spurs. Set up for right lead. Fences: Big stride, set up left to right.
"Mr. McGruder" - Flat: Good.. Fences: Go up the lines.
"New York" - Flat: Leg and stick. Fences: Big stride. Soft hands, builds late.
"Oyster Pond" - Flat: Set up for right lead. Fences: Big Stride. Straight from inside leg for changes.
"Payton" - Flat: Good Draw, stick. Fences: Good Draw.
"Soliloquy" - Flat: Good, set up left lead. Fences: Go up the lines.
"Solitude" - Fences: Stay out in corners.
"Starbuck" - Flat: Good Draw.
"Tres Corona" - Flat: Good Draw. Fences: Big stride, drifts right.
"William" - Flat: Good Draw, spurs. Fences: Good, drifts left.
"Bela Lugosi" - Fences: Drifts left, great lead changes.
"Bailey" - Flat: Good, block inside leg in corners. Fences: Big stride, block inside leg. Light Calf.
"Jackson" - Flat: Good Draw.
"Redd" - Flat: Good Draw, soft hands.
"Vinny" - Flat: Good Draw, stick. Fences: Good, big stride, block right, stick.
Sadly we do not have a list of which riders rode which horses, though we can say that several of the Hollins horses, including Bela Lugosi, have carried riders to wins in classes at prior IHSA National shows.
Lynchburg finishes second on February 28th, also finishes second for the season: With the results of the University of Virginia show the next day Lynchburg College snapped a streak of four consecutive seventh place overall finishes by claiming Region 2 Reserve High Point Team honors for the 2009-10 season. This the first time in the history of the Hornet's program that they finished as high as second overall. Lynchburg held off Bridgewater 186-184 while defending region champion Sweet Briar finished with 179. Hollins had a better day at the Barracks than at their own facility and widened their lead to 221-186 over Lynchburg. Hollins thus sent a full hunter seat team to Zones for the 14th time since 1993.
--Steve Maxwell
Show Incidentals: Sunny skies, with temperatures climbing into the upper '40's. Entire show held indoors. Start time: 10:11AM. Finish: 4:22PM. Coaches and Captains Meeting held prior to start of show. Point Cards posted in this Region? Yes. Alumni Classes held in this region? No. Judge: Mr. Rick Eckhardt. Stewards: Hearn/Longwood University, Reistrup/Washington & Lee University and Leverton/Radford University.
Team Totals: Sweet Briar College (High Point Team) 39; Washington & Lee University (Reserve) 31; Randolph College 30; Hollins University 27; Lynchburg College 27; University of Virginia 25; James Madison University 24; Bridgewater College 23; Longwood University 16; Radford University 10, Roanoke College 10 and Liberty University 7.
High Point Rider - Tory Mott, Sweet Briar College
Reserve High Point Rider - Paige Kaylor, Sweet Briar College