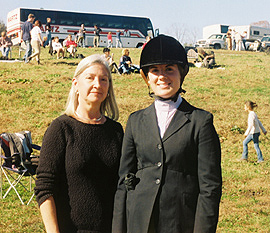 Seen here with her mother, Mary Washington freshman Erin Richardson was reserve high point rider at the November 7th University of Richmond show.
MARY WASHINGTON BY A POINT
Manakin-Sabot, VA - Led by a pair of firsts from freshman Erin Richardson and weekly ride-off participant and sophomore Erin Walker, the University of Mary Washington won the Richmond show by a narrow 40-39 score over Sweet Briar. Walker won both open flat and intermediate fences while Richardson won a pair of novice classes. Junior Kim Hardison clinched the victory with a first in walk-trot. The eagles now trail Goucher by eight points overall (Editor's note: This was before the St. Mary's show on November 14th. See last paragraph below).
Runner-up Sweet Briar led all teams in blue ribbons with six. Lisa Bethune (open flat), Jessica Leonardi (intermediate flat), Karen Dennehy (intermediate fences), Alison Carr (novice flat), Meg Shortlidge (novice fences) and Brittany Lambert (advanced walk-trot-canter) won classes for Head Coach Alissa Cline's vixens. Sweet Briar, which won the previous show at Goucher, now trail the gophers by 15.
The College of William & Mary had their best day of the season so far, finishing third with 35 points. Katie McIntyre, a junior intermediate rider from Virginia Beach, Virginia won twice while walk-trot rider Kim Palmer won the very last class of the day for the tribe. Three other William & Mary riders took reserve ribbons.
The gophers managed four blue ribbons and a very respectable 31 points. Lydia Davies won the first class of the day (open fences) and holds a thirteen point lead over teammate Emilie Sandler in the open rider standings. Sam Miller (also open fences), Jessica Jenkins (advanced walk-trot-canter) and Alisa Failor (also advanced walk-trot-canter) came out on top in their respective classes.
Host Richmond did something uncommon today. The spiders managed 30 points without anyone on the team winning a blue ribbon. Four University of Richmond riders placed second, including freshman open rider Brittany Yates, who was reserve twice. Richmond had entered the day with 40 points overall and ended up with 70!
Other undergraduate riders with blue ribbons on this day were Jennifer Mehalko of Hood College (open fences); Mike Gaches (open flat) and Stephanie Thompson (beginner walk-trot-canter) of St. Marys College; Lauren Reeves (intermediate flat) of Christopher Newport; Lindsey Riggs (novice flat) of Mount St. Marys; Brianna Bond (advanced walk-trot-canter) of the University of Maryland and Malena Lopez-Mara (novice fences) of George Washington. The colonials put sixteen points on the board today, and ended the day seventh overall in a field of sixteen. George Washington filled six of the eight divisions today and are capable of a full point card. Their 84 points are remarkable when one recalls the colonials only started showing (again) last March, at which time they earned all of three points for the 2003-04 season. Coached by Emmie Prettyman, who also coaches Maryland, the colonials are the most improved team in the IHSA this season. And if they can make up 26 points on Maryland over the final four shows, the colonials could even claim to be Prettyman's highest scoring team in 2004-05! The University of Maryland also scored sixteen on this day, though they were without standout open rider Derek Johnson, so the tie between the two Prettyman-coached teams must be taken with a grain of salt.
Two shows in two days for Richardson fans: The University of Virginia won their Region 2 show on the 13th, while Mary Washington won on the 14th. Both teams have one thing in common: A Richardson Sister! University of Virginia junior Lauren Richardson was first in intermediate fences and fifth in open flat at James Madison on Saturday while younger sister Erin won twice and qualifed for the Ride-off on Sunday. Their Mother was in attendance both days.
The Ride-Off: Walker, Richardson and McIntyre took part in a ride-off for high point. All three riders were tested thoroughly, including having to switch horses. McIntyre went on to win, with Erin Richardson placing second. Walker, who was in her fourth ride-off in five shows, was out of the ribbons here but still a winner. Walker had entered the University of Richmond Raffle, and was announced as having won a leather cleaning kit!
When asked if she had anything to say about her teams' effort, Mary Washington Head Coach Keri Pilling summed it up in one sentence. "They did Well," said Pilling.
Alumni keeps growing: With the addition of Katie Faraone, Adriane MeVay and Mandy Robertson on this day, at least twelve different alumni riders have competed in Region 1 shows so far this season. Robertson, a 2000 James Madison graduate who recently also earned her masters from JMU faired the best of the newcommers, placing second on the flat. University of Delaware graduate Ann Sherborne, who rode at IHSA Nationals in 1993 (her senior year) placed second in alumni fences for the second show in a row. However the day belonged to Trisha Prettyman, daughter of Maryland/George Washington Coach Emmie, and a former University of Maryland rider herself. The younger Prettyman won both alumni sections and moved to within three points of advancing to Regionals in alumni fences.
Almost the most recent show: Delays in completing this story meant that the November 14th St. Mary's show came first. On that day Mary Washington was again high point team, scoring 36 and moving into first place. Host St. Mary's and the University of Maryland tied for reserve with 34. The ride-off featured a slightly different group than the past few shows, with Diane Zrimsek of the host college earning high point rider honors while George Washington's Lopez-Mara was reserve. Most importantly, Mary Washington moved two points ahead of Goucher in the team standings, with the next hunter seat show not until the eagles host at Hazelwild Farm on February 20th.
---Steve Maxwell
Show Incidentals: Sunny skies, with temperatures rising to the low '70's. Start time: 10:09AM. Finish: 4:34PM. Coaches and Captains Meeting held prior to start of show. Point Cards posted in this Region? Yes. Alumni Classes held in this region? Yes. Judge: Sue Bopp. Stewards: Hooper/Christopher Newport University, Pilling/University of Mary Washington and E. Prettyman/University of Maryland.
Team Totals: Mary Washington College (High Point Team) 40; Sweet Briar College (Reserve) 39; College of William & Mary 35; Goucher College 31; University of Richmond 30; Mount Saint Mary's University 23; Hood College 22; St. Mary's College of Maryland 21; Christopher Newport University 18; George Washington University 16; University of Maryland 16; American University 14 and Catholic University 4.
High Point Rider - Katie McIntyre, College of William & Mary
Reserve High Point Rider - Erin Richardson, University of Mary Washington