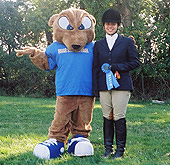 Goucher gophers win at home
Towson, MD - With Mortimer the team mascot roaming the sidelines, Goucher College won what had become the second zone 4, region 1 show of the season. The gophers tallied 40 points, seven more than reserve William & Mary. Gophers who tunneled their way to blue ribbons were Jennie Towner (open flat), Laquel Cuozzo (novice flat, pictured with Mortimer), Donna Cohan (novice fences), Lauren Salvitti (beginner walk-trot-canter) and Shelley Lloyd (advanced walk-trot-canter). In addition, seven other Goucher riders placed second in their respective classes. Goucher leads the region 1 team standings through two shows, the first time the gophers can make that claim in at least the past five seasons.
Though William & Mary was second overall, the tribe is only 16 points behind Goucher through two shows. Early on in the day, Sarah Martin (open fences) and Carrie Veneman (intermediate flat) won classes, while advanced walk-trot-canter rider Cristin Stickles ended the day with a first as well. In between, no less than six members of the tribe placed third, while Elizabeth Clark (open fences), Lauren Burns (novice flat) and Rebecca McAteer (beginner walk-trot-canter) all picked up red ribbons for Karen Greenwoods' team. Neither Goucher nor William & Mary has ever finished a season as overall high point team, though both look like better bets than in recent seasons, as the talent level is very even amongst the top five teams.
The three other teams who find themselves in the thick of the standings are Mary Washington College (the defending region champs), Sweet Briar College and the University of Maryland. Though they narrowly won the opener hosted by St. Mary's, the eagles ended the day 11 behind Goucher, yet there were many bright spots for first-year coach Keri Pillings' team. Lynsi Montgomery (open flat), Molly Gordon (intermediate flat), Erika Rozek (novice fences), Charice Frazier (walk-trot), Emily Florio (advanced walk-trot-canter) and Anna Craft (same) all won classes for Pilling and Mary Washington. The University of Maryland ended the day with 51 points through two shows, proving to be the most consistant team (26 points today, 25 at St. Mary's). First place ribbons went to Erica Baker (intemediate fences), Christine Vendemnia (novice flat) and Dianna Phillips of Emmie Prettymans' equiterps. On paper, the team who seemed to have the best day was Sweet Briar College. First year coach Melissa Bullock saw intermediate rider Lauren Graves and novice rider Meg Shortlidge both reach the three-way ride-off with Mount Saint Marys' Andrea Simpson, while Freshman Brooke Helburn won her first-ever IHSA class, a victory in open fences. Erin Gibbs also won her intermediate flat class for the vixens. However Sweet Briar ended the day with only 32 points, one less than William & Mary and eight fewer than Goucher. Still, high point rider went to Graves (first in intermediate fences, second in intermediate flat) while the vixens now sit in second place overall, nine points behind Goucher.
Zrimsek leads crowded open field: St. Mary's sophomore Diane Zrimsek won the very first class of the day (open flat) and placed third in open fences. Through two shows the resident of Cheltenham, MD holds a one point lead in the region 1 open rider standings. Heading into the day, Sweet Briar sophomore Megan Bennett held a three point lead over Zrimsek and two others, yet a second in open fences and a fifth in the open flat class which Zrimsek had won leaves Bennett one point behind for the moment. Zrimsek leads with only 18 points overall, while five others are in double digits with between 10 and 14 points. With no one distinguishing themselves so far, the race to represent region 1 in the Cacchione Cup competition at IHSA nationals will probably be tight into the new year, and the leader could conceivably be a different individual following each of the Fall shows. It should also be noted that the turnover from last seasons' open division has taken its' toll, with only Gouchers' Kate Fournel, the University of Marylands' Dara Eisenberg and William & Marys' Martin back from the top ten at the end of last season. Several members of the Mary Washington team indicated that Matt Lowe, who was high point open rider last season, and eagle teammate Gigi Beier were busy with schoolwork at the moment but might return at some unknown date.
A few more blue ribbons to go around: Also receiving first place ribbons were Adriane MeVay (open fences) and Michael Hurwitz (novice fences) of the University of Richmond; Leigh-Ann Farmer (novice flat) of Christopher Newport, and Simpson of Mount Saint Marys' (novice fences), who finished second to Graves in the ride-off for high point. Richmond head coach Adam Cramer had high praise for Hurwitz following what was perhaps his finest IHSA ride to date. Hurwitz himself was happy that he was able to "Count to the beat" during the course.
Oh you tricky judge!: Former Wesleyan College head coach Jon Conyers judged todays' show, and he had a suprise for the advanced walk-trot-canter riders up his sleeve. Conyers had each of the four classes pick up the wrong diagonal from the sitting trot. Florio, Craft, Lloyd and Stickles were apparently the best at doing the wrong thing. At least Conyers did not ask for the counter-canter!
If not one Prettyman, then another!: Lyndi Prettyman - Caruso, the eldest daughter of Maryland head coach Emmie Prettyman, rode alumni during the 2000-01 season with good results. Though Prettyman - Caruso has not ridden alumni since, her younger sister is giving it a try this season. Trisha Prettyman, who rode for the University of Maryland 1997-99 had a good debut in the alumni divisions, placing first in alumni fences and second in alumni flat. Kelly Utter, a 2000 Goucher graduate, also made her alumni debut, placing second to Prettyman over fences while edging out the two-time reserve high point open rider in the flat. The other three alumni riders were also making their alumni debuts, and each received the same ribbon in their flat class as they did over fences. Lisa Jordan, Goucher '02, placed third twice while former teammate Steph Williams, also Goucher '02, received two pink ribbons. In between with a pair of fourths was Ashley Hall, a 2002 William & Mary graduate who finished last season in the top ten amongst the open rider standings. Though they did not compete today, Mika Buffington and Kim Johnson, both 2001 University of Maryland graduates, are scheduled to ride alumni in the remaining Fall shows. St. Marys' head coach Jacqueline Falkowski - Schmitter, the 2001 IHSA National champion alumni on the flat rider who placed fourth in the same division at Nationals last season did not ride today. It was not clear if Falkowski - Schmitter will ride alumni this season, though the one time Mary Washington rider would be a strong favorite to return to the post-season if she competes from here on in.
New coaches abound: Besides Mary Washington and Sweet Briar, several other schools within region one can claim new head coaches. Pauline Creedon, though not present at todays' show, is the new head coach at Christopher Newport. Julie McCutcheon is finally head coach and Alicia Corkran assistant coach at Hood. McCutcheon was essentially a coach while riding for the team two seasons ago. Adam Cramer was involved with Richmond late last season, and he is now the fourth head coach since 2001 (he replaces Helen Thompson who replaced Mary Tinsley who replaced long-time head coach Paul Baker). Goucher has a new assistant coach, as Rae Holbrook, a 1992 Mary Washington graduate, replaces Gretchen Canova as the right arm of Goucher head coach Patte Zumbrun. The last of the new head coaches is Kerry Blackmer at Mount St. Mary's, who was not present at todays' show. Whatever she taught the mountaineers during the week paid off, as her team put 29 points on the board, and this was despite only one blue ribbon all day (Simpsons').
Maryland to host on new dates: Most outdoor activities in the Washington DC area were postponed during the sniper incidents, with the October 12th and 13th University of Maryland shows no different. The two hunter seat shows, each to be followed by a stock seat show, will now take place over the weekend of November 23rd and 24th.
Show Incidentals: Sunny skies, then chilly at sunset. High Temperature in the mid '50's. Start time: 11:02AM. Finish: 5:18PM. Coaches and Captains Meeting held prior to start of show. Point Cards posted in this Region? Yes. Alumni Classes held in this region? Yes. Judge: Mr. Jon Conyers, Fishersville, VA. Stewards: Greenwood/College of William & Mary, Falkowski-Schmitter/St. Mary's College (MD) and E. Prettyman/University of Maryland.
Team Totals: Goucher College (High Point Team) 40; College of William & Mary (Reserve) 33; Sweet Briar College 32; Mount St. Mary's College 29; Mary Washington College 27; University of Maryland 26; St. Mary's College 21; University of Richmond 19; Christopher Newport University 17; Hood College 12 and Johns Hopkins University 6.
High Point Rider - Lauren Graves, Sweet Briar College
Reserve High Point Rider - Andrea Simpson, Mount St. Mary's College