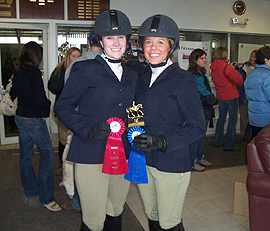 The University of Rhode Islands' Kelly Ferguson (left) and Arynn Regan took the top two placings in the second section of advanced walk-trot-canter at the February 18th University of Connecticut show. The Rams were reserve high point team, finishing only one point behind host UConn.
HUSKIES EDGE RAMS, GAIN FIVE POINTS ON BEARS
Storrs, CT - Throughout most of the current decade, Zone 1, Region 1 is known for a close team race and a close Cacchione race. On at least three occasions, the top team led the second place team by less than ten points headed into the final spring show. The Cacchione races have been even closer, with the 2002-03 race between Browns' Jamie Peddy and 2004 Connecticut College graduate Vanessa Stevenson ending in a tie, which was broken at Regionals in a ride-off won by Peddy.
While the Cacchione race got closer today, the team race is perhaps as one-sided as at any time since the '90's. The University of Connecticut, hosts for today's show (the sixth of ten Region 1 shows this season), entered the day 32 points ahead of Brown and increased the lead to 37, scoring a 31-30 win over the University of Rhode Island while Brown was third with 26.
The Huskies, who are trying to win the region and advance a full team to Zones for the second year in a row, were led by novice rider Heather Caswell. A freshman from Andover, Connecticut, Caswell forced a two-way ride-off for high point by winning the final jumping class of the day. Caswell then won the ride-off versus Katie Jenkins of the University of Rhode Island. It was the third time in six shows that Caswell had qualified for a ride-off, but the first time in which she won.
Caswell was certainly not the only UConn rider to win a blue ribbon. Lena O'Keefe (open flat), Maura Kenny (open fences), Amber Garland (intermediate flat), Sara Goldstein (intermediate fences), Cathy Lefebvre (novice fences), Kaitlyn Murray (advanced walk-trot-canter), Laura Bredehorst (beginner walk-trot-canter) and Jasmine Brooks (walk-trot) also won blue ribbons for the Huskies. Murray and Brooks have the honor of being undefeated, as both were making their IHSA debuts.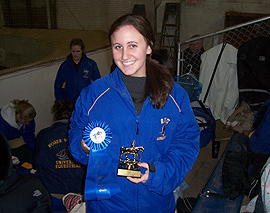 Meg Shiel-Logvin was one of two Roger Williams riders to win a class at today's show, besting seven others in a section of walk-trot. Shiel-Logvin holds both her blue ribbon and a horse statue that was given to each class winner.
Runner-up University of Rhode Island bested their previous high score of the year, which had been 25 points on two separate occasions. Jenkins, a sophomore from Shrewsbury, Massachusetts, won both her intermediate flat and fences while Lauren Korecky (novice flat) and Arynn Regan (advanced walk-trot-canter) won classes as the Rams scored 30 points.
Brown University came close, and even led most of the day. Peddy won the first class of the day, tops in a field of ten open flat riders (unlike the majority of IHSA shows, all of the flat classes were completed on this day before the jumping took place after the lunch break). Her third in open fences moved the defending Region 1 champion open rider within seven points of teammate Whitney Keefe, who has led the Region since day one. Other Bears with blue ribbons were Emily Cole (advanced walk-trot-canter) and Joyce Kwok (walk-trot). Eight different Bear riders won red ribbons to help boost the total to 26. Peddy and teammate Ariana Arcenas both advanced to Regionals, with Peddy doing so in open flat while Arcenas earned a ride in intermediate flat to go with a ride in novice fences she clinched during the fall.
Although they did not win a blue ribbon until the third to last class of the day, Connecticut College was fourth overall with 24 points. Maggie Meimeridis was a victor in novice fences while Camel teammates Becky Molk and Sasha Pikovsky were red ribbon winners in open fences and novice fences respectively. Pikovsky and Neerja Gupta (with a fourth in walk-trot) both exceeded 35 points and thus punched their tickets to Regionals on April 1st.
Listed in todays' program as Mary Turea Wilson, the Johnson & Wales freshman from Los Angeles prefers to be called 'Turea.' Wildcats Head Coach Dirk Fogg poses with Turea in the lounge at Horsebarn Hill Arena after she won her novice flat class.
Both Johnson & Wales and Trinity College tied for fifth place with 23 points each. Lindsey DeCourcey (open fences), Meaghan Mullins (novice flat), Turea Wilson (same) and Kaitlyn Petyo (novice fences) won blue ribbons for the Wildcats while Audrey Zahor's first in intermediate flat turned out to be the lone blue ribbon of the day for the Bantams. Though no other Trinity rider earned a first, the 23-point effort was the second best for the Bantams this season, only a point short of 24 earned on November 19th. J & W's Petyo qualified for Regionals with the first in novice fences.
Post University scored 17, with Jamie Salvensen first in open flat while Shana Quinn won the first of five novice flat classes held on this day (many Region 1 shows feature up to eight sections of novice flat, and many in attendance at today's show referred to it as a 'Short Show,' as their were fewer classes, yet each was made up of more riders than usual).
Despite being without an open rider, Rhode Island College earned a respectable 16 points. Christine Skibski earned RIC's lone blue ribbon of the day with a first in beginner walk-trot-canter. Rhode Island College has taken part in five of the six shows, and Skibski has placed in four of them. "I have two firsts, a sixth and a fourth," said the sophomore who is a member of the RIC team for the first time this season.
If you wrote down the totals for each team based on what the point sheets said at the end of the day, it would seem that Roger Williams had scored only four points. However an error was discovered after the show which brought the Hawks' total to eight points. It was simply an off-day, as Roger Williams posted 15 points fewer than their previous low score of the season. Ashley Smith won her section of open fences while Meg Shiel-Logvin won her walk-trot. In spite of the forgetable team score, Roger Williams is still in fourth place overall.
Rounding out the team point totals were both Central Connecticut State and Wesleyan University with four points. Heather Engle, who rode for Post in the fall, earned a fourth in her CCSU debut, which turned out to be the Blue Devils' best ribbon. Emily Pisetsky (open flat), Amanda Bon-Keen (open fences) and Sophie Pollut-Cohen (novice fences) each earned a fifth for Wesleyan, with two of them pointed to account for the Cardinals' four points.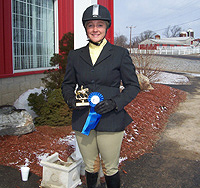 The last time Heather Johnson competed, her alma matter was still Teikyo Post! Johnson won the alumni flat class her first time back.
Johnson, McLenithan make Alumni debuts: If you had a copy of today's show program, the list of alumni looked peculiar. Two riders from UConn and two from Brown were listed, but in the team column the name Post was listed twice but with no rider names beside it! It turned out that 2004 Post graduates Heather Johnson and Chauntelle McLenithan had entered very last-minute (the former wore number 317 while the latter wore 338 for the record). Johnson, who once pointed out of both intermediate and open flat in the same season, won her first-ever alumni appearance, earning the blue in alumni flat. Though it was not her alumni debut, former Huskie Stefanie Kealey showed alumni for the first time this season, and the first time in several seasons within Region 1 (Kealey rode alumni last season in Zone 2, Region 1 while attending Columbia for graduate school). Kealey placed third while former University of Connecticut teammate Shay Meisinger earned more than the one point she needed to go to Regionals with a fourth. 2002 Brown graduate Amanda Forte was second, raising her total in alumni flat to 20 points (earned in only four shows). Fortes' former teammate Heather McCrea was fifth while McLenithan was sixth. Forte had yet to win a blue ribbon in seven alumni classes this season when she returned to the ring later in the day for the alumni fences. This time Forte came out the winner, with Kealey second, Meisinger third, McCrea fourth, Johnson fifth and McLenithan sixth. Noticably absent was former Huskie Jen Corti, who still needs six points on the flat and two over fences to join Meisinger (and probably others) at Regionals.
Don't forget the Huskies who pointed up: Goldstein in novice fences, Caswell in novice flat and Lefebvre also in novice flat are all headed to Regionals. UConn has 13 undergraduate riders and 14 undergraduate rides confirmed for Regionals so far, which will be hosted by the Huskies at today's site on April 1st but with horses brought in from the outside to even out the playing field.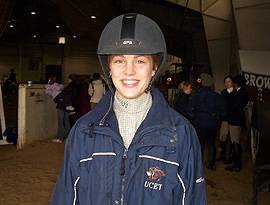 Heather Caswell of the University of Connecticut has been involved in 50 percent of the ride-offs this season. The freshman from Andover, Connecticut won her first IHSA ride-off on this day.
What's next? Wesleyan will host the seventh of ten 2005-06 Region 1 shows at Windcrest Farm on February 25th. It would seem as though the Huskies can put away the team race if they add anything to their lead at this point. However sometimes things turn on a dime, as was the case during the fall when Brown had the lead and UConn scored a perfect 49 points the last time everyone gathered at Horsebarn Hill Arena. The Cacchione race is more interesting, with Peddy and UConn's Meghann Jones within ten points of Keefe, the leader with 61 points. Five riders with between 42 and 46 points should also be considered in the race. The alumni could become interesting, as Forte seems to be returning to her undergraduate form, when she competed at IHSA Nationals three times for the Cacchione Cup, winning it in 2001. And who knows? Johnson could go undefeated in alumni flat, which would advance her to Regionals as well. One thing is for sure: The Regional show on April 1st will be the largest of it's kind, with more riders fighting for the top two spots in each class than anywhere in the country.
---Steve Maxwell
Show Incidentals: Sunshine early, then a snow squall, then clearing and sunny again. Windy, with the high temperature only about 32 degrees. Entire show held indoors. Start time: 9:06AM. Finish: 4:45PM - includes 70 minute Lunch Break/Coaches and Captains meeting and separate 18 minute schooling break. Point cards posted in this region? Yes, but with no rider names (class names listed only). Alumni Classes held in this region? Yes. Judge: Ann Jameson. Stewards: Fogg/Johnson & Wales University, Maloof/University of Rhode Island and Scanlon/Brown University.
Team Totals: University of Connecticut (High Point Team) 31; University of Rhode Island (Reserve) 30; Brown University 26; Connecticut College 24; Johnson & Wales University 23; Trinity College 23; Post University 17; Rhode Island College 16; Roger Williams University 8; Central Connecticut State University 4 and Wesleyan University 4.
High Point Rider - Heather Caswell, University of Connecticut
Reserve High Point Rider - Katie Jenkins, University of Rhode Island